ALGARVE-APARTMENT, PORTUGUESE LUXURY
ALGARVE-APARTMENT..
READ REAL REVIEWS
THEN SCROLL DOWN TO SEE THIS AMAZING APARTMENT

HOMEAWAY HOLIDAY RENTALS REVIEW FOR PROPERTY 431793.Do you want to confirm authenticity.Follow the link to HOMEAWAY HOLIDAY RENTALS. http://www.holiday-rentals.co.uk/p431793
Great place kevin uk/ire Review Submitted: July 17, 2011 Date of Stay: May 2011 We took the place 1st week of June. Flew to Faro, taxi to train station and hopped at the station next to apartment about 3 mins walk away. Very easy. Very well equipped apartment - everything there you could want.
Walk to Cabanas beach etc took us about 20 mins, but not really a problem. Good supermarkets around to stock up. Quite a few restaurants on the front, good value. Hop on the little ferry boat across to the main beach.
When we went it wasn't busy or too hot. We used the train a lot to go into Spain and to Tavira, cheap and easy.
Ken very helpful on setting up the trip. All good Recommended for: Age 55+, Tourists without a Car, Families with Teenagers, Families with Young Children, People with Disabilities
View Larger Map
ALGARVE-APARTMENT Belongs to east-west-algarve.com.Situated in CONCEICAO 10 minutes walk from CABANAS and fabulous beaches.Please scroll down to find out more and see pictures
You have arrived at our 2 bedroom ALGARVE-APARTMENT.PLEASE CLICK HEREWhen you wish to return to Main Holiday Rental Page
Or
PLEASE CLICK HEREIf you wish to return to Homepage Main Page.When renting from east-west-algarve.com you will get an official invoice and contract,a customer letter and a map with written directions.You are welcome to reuest a viewing of the Portuguese deeds and the full postal address of the apartment you wish to rent.You can then carry out any checks you wish.Please also use the contact us button to see and check on all our contact details.In these hard times we encourage you to do your homework as so many companies are dodgy today and we make this very easy for you to do.Please look around this site and see how many man hours have gone into producing it.It did not just happen and it is registered to us.You can be certain we are genuine.
Cost to rent our apartments.FROM:£100-450 per week.Price includes everything including the final clean but not cleaning during your stay.This is extra and must be ordered before arrival date..Lowest price is for winter lets and for those taking more than 2 weeks.Highest is for August and this is the maximum charge.The longer you stay the cheaper the weekly rate Price is always negotiable with-in reason
OUR RENTAL GUARANTEE(1)If you rent an apartment from us a small deposit is needed to reserve the apartment in your name.This deposit is returnable if you have to cancelTHIS IS GUARANTEED BY US.
(2)The deposit period ends 36 days before your arrival date in our apartment.This is when you must make your final payment.If you have to cancel during this final 36 days.YOU WILL GET SOME MONEY BACK.Exactly how much depends on circumstances and how close to departure date you cancel.In most genuine cases there will only be a deduction of any costs we have been incurred.
(3)If you have to cancel we will always try to arrange new dates with you.WE WILL DO EVERYTHING POSSIBLE SO THAT YOU DO NOT LOSE YOUR HOLIDAY.
(4) We own our apartments outright and can show you proof of deeds at your request.Because we have no borrowing.We can offer quality apartments far cheaper than most.The chances of us going bankrupt are as near ZERO as is possible
(5)When booking with us you can request a personalised copy of this guarantee if you so wish.In other words;this guarantee addressed to you and signed by us.
This luxury 2 bedroom Apartment has to be as good as Portuguese flats get for spaciousness and luxury.You know the feeling when you are somewhere that makes you feel special.In conceicao de Tavira;it is 10 minutes walk from the fabulous sandy beaches of Cabanas de tavira.10 minutes drive from Tavira and has a train station 2 minutes walk to take you very cheaply all over the Algarve.The new and getting very popular Three barrels pub is just five minutes walk.It is creating its own little international community.Scroll down to see pictures
I do not know about you but when renting the most important room has to be the kitchen.We finally managed to get a decent picture of this lovely kitchen in our lovely 2 bed ALGARVE-APARTMENT.We love this kitchen and it was indeed one of the main reasons for buying the apartment (not the only one though!).It is huge for an apartment,inviting you to sit and have meals in the room.Or you can have breakfast in the kitchen and evening meals in the dining area of the front room.You could not ask for more!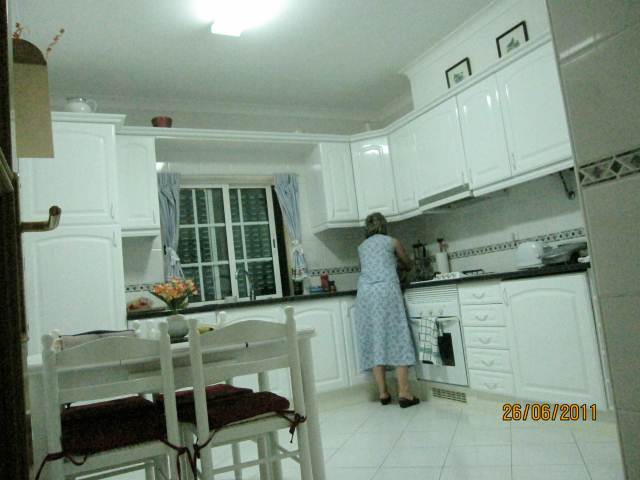 Below another picture of the White kitchen giving you a reverse shot showing the other end of the room.Hopefully both ictures help to give you a good perspective of the room and its dimensions and character.You really cannot beat white for cleanliness in a kitchen.It is fully tiled,floor to ceiling so is easy to keep clean.The quicker the better whilst on holiday,did I hear you say!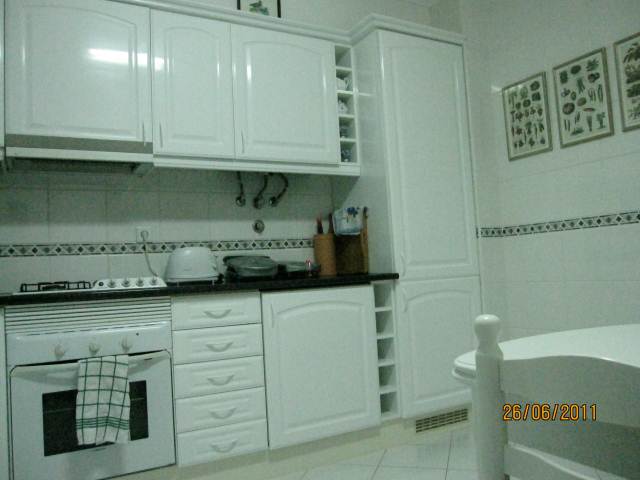 THINK YOU MIGHT WANT TO BOOK THIS 2 BED ALGARVE-APARTMENT BELOW in CONCEICAO,CABANAS DE TAVIRA,ALGARVE,PORTUGAL.Please use contact us to get the address so you can do your own searches..SCROLL DOWN THROUGH THE IMAGES AND YOU CAN CHECK OUT FLIGHT AVAILABILITY AND COST.(Want more than one agency,to compare prices)Go to" FLIGHTS BOOK IT" button on your left (We try to have at least 3 agencies for flights)
Picture below shows the tv area of the very large but still cosy front room.It is a lovely bright room having two full sized patio door sets.We think it is a fabulous room and so do all the people who have stayedin it so far.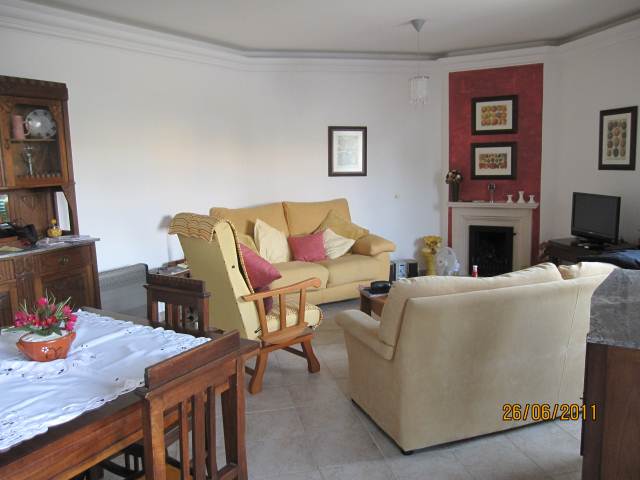 The other end of the front room,looking towards the dining area.With a dining area in the kitchen as well there are many options for fine dining.Breakfast in the kitchen,have lunch in the back courtyard and a romantic evening meal in the front room at night.You are right by the patio doors so it is almost like being outside.

We have not had any customer who does not love this beautifull apartment.Rent it and you should feel like you are spoiling yourself.We even have satelite tv with some 240 channels available.We offer our apartments very reasonably as we have no borrowing and manage them ourselves.We visit 4 times per year to make sure they are kept nicely.Not many can honestly say that.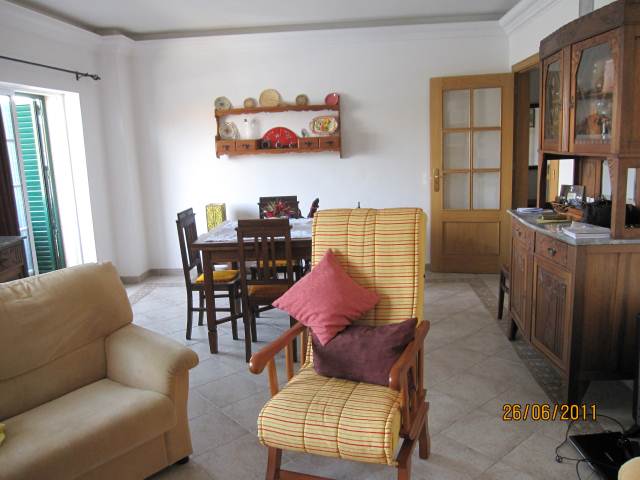 Our 2 bedroom flat in Conceicao,Just 10 minutes walk from the superb beaches of Cabanas de Tavira in The East Algarve.The very spacious front room,with cosy tv area at one end and dining area at the other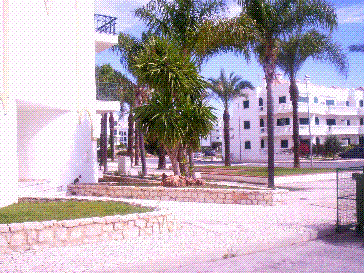 The wonderfull mature palm trees outside the 2 bedroom flat.Palms do add a luxdurious and tropical feel. These palm trees just give you a lovely relaxed feeling as you walk towards the apartment after a long day doing whatever tourists have chosen to do.The roads are massively wide so you will never feel overlooked or claustrophobic.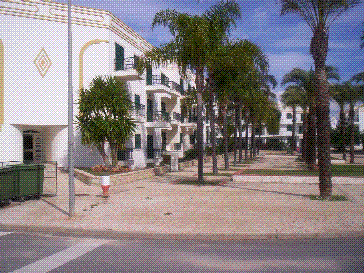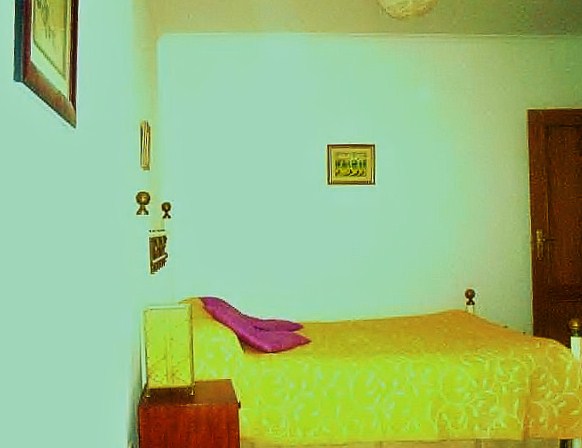 The Yellow bedroom of our stunning 2 bedroom ALGARVE-APARTMENT The berooms in this apartment are hard to decribe and even harder to get good decriptive photographs,so I have taken a series of pictures and hopefully you will get an idea of their spaciousness. EAST ALGARVE-APARTMENT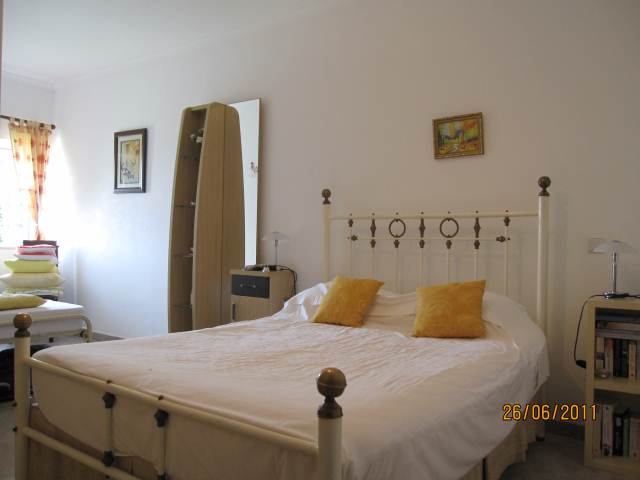 Another view of the yellow bedroom which has a double and a single bed.The bedrooms are in an L formation.Looking at the picture above the widest part of the room is where the double bed is situated.The narrowest point is at the other end by the window where you can see a single bed by the wall.
They are bright rooms but this is difficult to show in a photograph mainly because you are taking a picture towards the light source.As you can see there is a vanity and mirror unit against the wall,something tall was needed to break up that long expanse of wall.
In the picture below we show you a slightly different angle the large fitted wardrobes are situated by the foot of the double bed on the wall opposite the vanity unit. To the left of the flowers.There are fitted drawers inside the wardrobes.This is an ALGARVE-APARTMENT OF EXCELLENT PROPORTIONS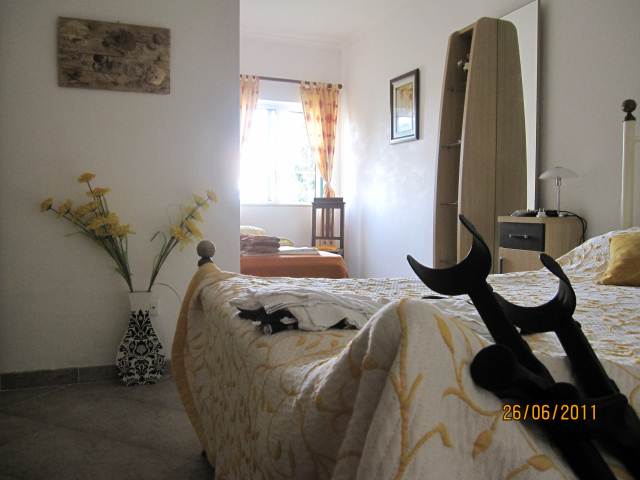 The fitted wardrobes seen below will give you adequate hanging and drawer space for most peoples holiday clothing.The unit nearest the wall is locked up containing our own private belongings.Both the front and back bedrooms have security shutters,making you very secure in this ALGARVE-APARTMENT in Conceicao on the Urbanizacao do Lagar.Very pretty development in the unspoilt end of the Algarve Portugal.There are plenty of restaurants within easy walking distance.All shops you could possibly need are just 2 minutes walk.Nice cheap supermarket,local store,hardware,diy,chemist,dentist,cafe,bars and a restaurant.The broken barrel pub is just five minutes walk and is very popuular.Plenty more night time entertainment down in Cabanas.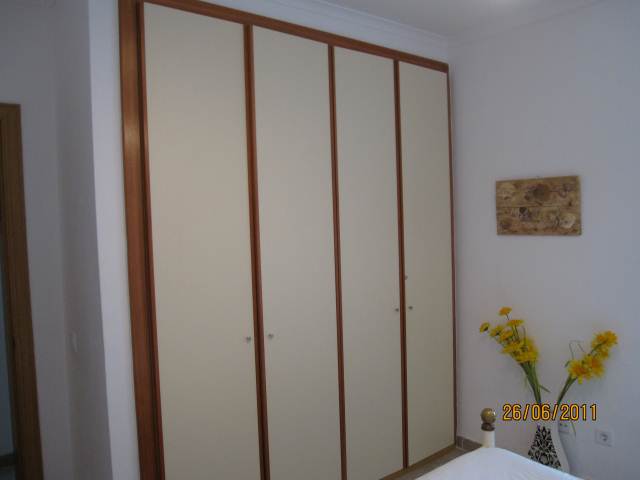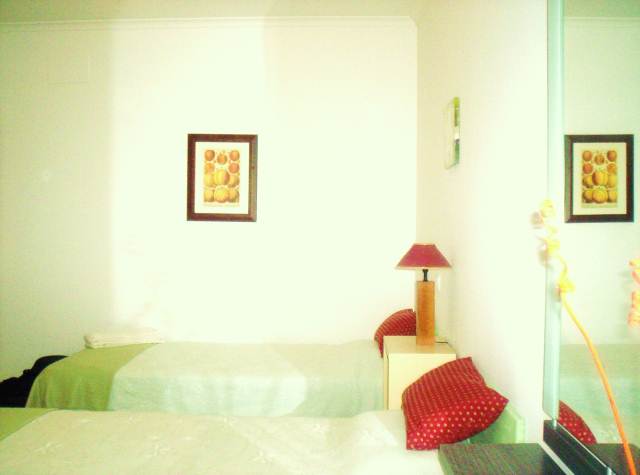 The Green bedroom in this lovely ALGARVE-APARTMENT;a lovely room to the rear of the apartment,has double french doors out into lovely garden courtyard.Good and safe childrens play area to.
Below is the latest picture of the back bedroom as of 1 july 2011.Hopefully we have captured the proportions of the room better than in the picture above.You can clearly see the french doors out to the rear courtyard which is very beautifull and where you can find shade or move out into the sunlight.This room has been transformed with more light coming into the room.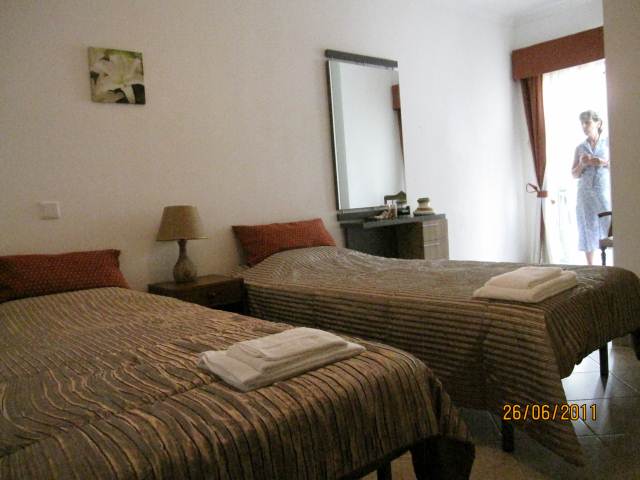 ALGARVE-APARTMENT,This shows the 2 bedroom flat owned by the site owner Chrissi.It is situated 3 km east of Tavira and is 3 mins walk from Ben Amor golf course.Golfers Paradise!
It is in a pretty village called Conceicao and shops and restaurants,all you need are a couple of mins walk away.There are many pools to use in the locality a superb one on a campsite 5 minutes walk away.
A very pretty railway station is sited a few minutes walk from our ALGARVE-APARTMENT.This will take a person anywhere on the COAST and is so cheap to travel on it is unbelievable.Conceicao is so well situated that a holiday maker could never run out of things to do.See another page for things to do in the east algarve
The delightfull fishing village of Cabanas is 10 minutes lovely walk away.This walk looking down to the sea always sends my spirit soaring.It never fails.Cabanas is the type of village you can lazily waste days.The shops and restaurants are situated right in front of the river lagoon.A very short boat ride across this shallow river one to the Outstanding beaches.Miles of them!.
rental-east-west-algarve Tavira is more than worth a visit.I googled it and it had a million and seven hundred and twenty thousand searhes made for the town.Tells you how popular it is.It is very Portuguese and there is nowhere else like it.Situated on a lovely clean river you can while away your time in a restaurant overlooking the water.Cafe life is very lively most of the year.There are lots of small shops to browse.There is also a large new shopping centre with cinemas etc just a short trip from the centre and many many other things to do.Including visiting the Isla de Tavira,a thriving island beach.
rental-east-west-algarve
There are so many places with-in easy reach of this ALGARVE-APARTMENT I cannot possibly mention them all.To name a few,there is Monte Gordo a large beach town very much for the tourist.Take a short train ride east to the Spanish border and take a picturesque ferry ride over to the Spanish town of Ayemonte,a must do!One can go to Seville in 2 hours and Lisbon is 2 hours by car.A ferry across to Morrocco is another must do .Not forgetting the Seaworld and the Dolphins;takes your breath away.Waterworld for the kids.I could go on and on and on.
Taking you back to the ALGARVE-APARTMENT, it is modern and situated in the prettiest Urbanisation.For a 2 bed it is spacioos (128 sqm) more than most three beds on the Algarve.Luxurious in the extreme.kithchen big enough for full sized table and chairs for cozy family meals.For some reason wine is de rigeur with meals in Portugal.My aura tells me this is Paradise on earth whenever I am here.
ViennaWonderful holidays and short breaks.Choose from a range of hotels,apartments,villas etc.Spend time in this gorgeous city.5 star luxury,Great prices! Dallas Texas Apartment Finder
Finding an apartment in dallas, texas is no easy task. But, now that you have found dallas apartment locators then you can rest easy knowing that we find you the best apartment for the lowest monthly lease rate available. Call us now to get started
ALGARVE-APARTMENT TO WORLDWIDE HOLIDAY LETS AND ADVERTISING WITH NO1 COMPANY WE USE
ALGARVE-APARTMENT, END.< p>