EAST ALGARVE RENTAL APARTMENTS TAVIRA
Hello again.You have arrived at one of our pages on lovely Tavira.Please scroll down for lots of information about this traditional jewel of the Algarve.Latest addition october 2011.our stay at Porta Nova Hotel.Scroll to bottom to read.
Please click here.When you are ready to return to the main Information index page
Please click here.When you wish to return to the east-west-algarve,Main Homepage Index
LATEST ADDITION TO THIS PAGE. HOTELS.LISTING HOTELS OF NOTE.Please scroll down.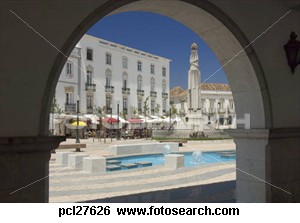 TAVIRA IS IN MY OPINION THE JEWEL IN THE CROWN OF THE ALGARVE.IT IS A SMALL TRANQUIL CITY DATING BACK TO ROMAN TIMES.WE GO TO THE ALGARVE THREE TIMES A YEAR AND VISITING TAVIRA IS TOP OF THE LIST.IT IS A BIT LIKE GLOSTONBURY IT RECHARGES THE OLD BATTERIES.CALMING AND REFRESHING.
THE HIGHLIGHT FOR US IS TO SIT OUTSIDE THE COVERED MARKET AT ONE OF THE CAFES OR RESTAURANTS WITH A NICE COOL DRINK;RIGHT BY THE RIVER.THE WATER IS SO CLEAR YOU CAN SEE THE HUNDREDS OF FISH PRANCING AROUND IN THE WATER
WINE AND OTHER BEVERAGES ARE SO CHEAP YOU CAN WHILE AWAY AS MUCH TIME AS YOU WISH,WITHOUT DOING TO MUCH DAMAGE TO THE OLD POCKETS.FOOD AIN'T BADLY PRICED EITHER.
Tavira is one of those places which keeps surprising you,the more you explore the more treasures it reveals to you.Venture further out of the centre and lovely architecture and flower and tree filled spaces just seem to spring out at you.The more you visit the more you fall in love with a truly timeless and quaint city.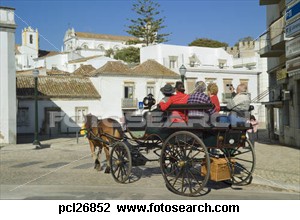 TAVIRA DATES BACK BEYOND ROMAN TIMES (SEE OUR HISTORY SECTION) AND STILL TO BE SEEN AND WALKED OVER IS A ROMAN BRIDGE.IMAGINE THAT PEOPLE HAVE BEEN WALKING OVER IT FOR 2000 YEARS AND YOU COULD BE DOING IT TOO.IT IS AN INCREDIBLE THOUGHT THAT.HOW MANY MODERN BRIDGES WILL LAST A HUNDRED YEARS.I will be taking a nice picture of my own when we go over again in september.It is not easy to get the best shots from a wheelchair but I usually manage one.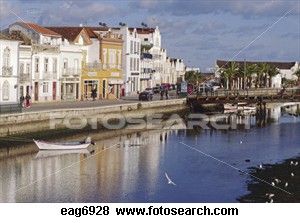 IF YOU WENT VIA THE TRAIN YOU WOULD COME OUT OF THE STATION AT THE TOP OF THE HILL.YOU CAN GET OFF THE TRAIN AT THE MAIN STATION OR THE PORTA NOVA STATION.(IN BOTH CASES YOU ARE AT THE HILLTOP).IT IS AVERY PLEASANT WALK DOWN TO THE TOWN CENTRE AND NOT TOO FAR.ON YOUR WAY YOU WILL PASS MANY OLD TRADITIONAL BUILDINGS AND MANY CAFES AND SMALL SHOPS.AT THE BOTTOM YOU COME INTO THE PICTURESQUE PLAZA WHERE MANY LOCAL EVENTS ARE HELD.THIS BACKS UP TO THE RIVER AND YOU ENTER LOVELY GARDEN SQUARE TO YOUR RIGHT.YOU CAN SIT AND RELAX IN THE GARDENS AND THEN FOLLOW THE RIVER TO THE LARGE COVERED MARKET WITH ITS SHOPS INSIDE WHERE YOU CAN WHILE AWAY THE TIME BEFORE WALKING OUT TO THE RIVER TO HAVE A DRINK OR LUNCH BY THE RIVER.
YOU CAN STROLL ALONG TO THE ROMAN BRIDGE AND CROSS OVER TO VISIT MANY TRADITIONAL SHOPS AND WALK INTO ANOTHER LOVELY GARDEN SQUARE.VENTURE INTO SOME OF THE SIDE STREETS AND YOU WILL FIND SOME REAL QUALITY RESTAURANTS WHERE THE BUSINESS COMMUNITY DINE.WONDERFULL MENUS ABOUND HERE.MY FAVOURITE COD WITH ORANGE SAUCE.STEAK PORTUGUESE STYLE IS TO DIE FOR.
NOW YOU CAN RECROSS THE RIVER AND WEND YOUR WAY TO THE GARDEN SQUARE CENTRE.VERY PRETTY IT IS A SHAME IT IS STILL OPEN TO TRAFFIC BUT THIS IS THE HUB OF THE CITY AND A MUST TO WALK AROUND.
THIS IS A PLACE TO VISIT OFTEN AND BELIEVE ME THERE IS LOTS MORE TO DISCOVER AND ENJOY
Beaches near by.
Ilha Tavira is as name suggests an Island beach reached by ferry and is delightful.Should be on your list to visit.Cabanas 4 km away is a superb resort with fantastic beaches on the idylic Ria Formosa.You will find a page on Cabanas in nav'bar left any page.Santa Luzia a huge beach very tranquil
Montegordo.This is the big fun seaside resort with beautiful beaches and Restaurants on the beach where you can dine on fish caught that day.Great day out.Many hotels etc and worth considering for longer stays.
There are many more little beaches to explore in the area.
GOLF FANATICS.Benamor golf.Lovely and high standard golf course,designed by Henry Cotton.Big favourite with many golfers.We have apartments for rent across the road.Luxurios see rent from us on nav'bar on the left any page.
For the less serious golfer there is a great nine hole course.Colina Verde
MAIN HOTEL
Vila Gale.Lovely four star hotel,with arabic decor;reflecting the areas Moorish past,still much in evidence.Quite reasonable prices depending on time of day.Very well equipped,with sauna and fitness centre,games room,spa,massage,billiards,jacuzzi,Turkish steam bath,indoor and outdoor pools and suitable for disabled.
TAVIRA Rent a Property Worldwide or Advertise your Holiday Home. HISTORY OF TAVIRA A short description by kennij from researched material.Now a small town it is set on the river Rio Gilao.This used to be an important trade route to Africa until the lower reaches silted up too badly for large ships to pass.
It has a very colourful history going back to prehistoric settlement.It was important as a port in Roman times for the more important Roman settlement of Balsa just a few kilometers away near Santa Luzia.One of the many enchanting and traditional resort villages which make the Algarve so enticing.The seven arched Roman bridge (Still in use by pedesstrians to this day)was a very important part of the trade route around the Algarve.
During the 700 ad the whole area then the Algarb was invaded by the African moors.They did bring a lot to the culture and architecture of the region.Which is still in great evidence today.Adding greatly to the appeal of the region.You can still visit the ruins of the castle up on the immediate hillside.It is believed this is built on an old Roman fortress.
The Moors remained in control for an amazing 5 centuries.One Dom Coreia being attributed with their defeat.They were not slaughtered but were segregated from the Algarve people in quarters just outside the city walls.
Portugal as I am sure you already know became heavily involved in the so called "Age of Discoveries".A period responsible for opening up a lot of the world to trade.TAVIRA because of its geographical location became most important in trade with Africa and became the most important town on the Algarve.So much so that it reached city status during the 10th century.
This led to great opulence for the area which lasted until the 1600,s;when the great African adventure came to its end.Around this time the river silted up making passage of ships almost impossible.
The silting up of the river changed the towns fortunes.This along with the plague hitting the ares in 1645 and then the famous earthquake of 1755 rocked the fortunes of this prosperous region.Some wealth was brought back to the area and the town for a brief period when carpets were manufactured during the 18th century.This did not last long probably because of competition from over the water by its close neighbours Morocco.From then till the mid twenties fishing was the main industry.Stocks declined around this time and so todays industry of tourism was set up.(kennij will continue researching the area for any fact of interest about TAVIRA)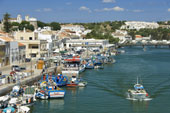 THINGS TO DO IN AND AROUND TAVIRA.
just a brief synopsis to give you some ideas
CRUISES OVER THE RIA FORMOSA
VISIT WATERFALL AT PEGO DO INFERNO
TAKE FERRY TO ILHA TAVIRA BEACHES
TUNA FISHING MUSEUM
TAKE TOURIST TRAIN
VISIT ZOOMARINE
LIVE MUSIC AT SKIPPERS TAVERN
VISIT THE CASTLE RUINS
WALK ROMAN BRIDGE
EXPLORE BACK STREET RESTAURANTS FOR TOP CUISINE
VISIT SANTIAGO CHURCH FOR ITS PAINTINGS,ALTER AND CHAPEL
SIGHTSEEING TOURS/www.algarve-tours.info/index.html
Page updated 13/8/2010.Please keep checking back for new info' or follow our blog (top left any page)which will inform you whenever we update the site.
Interactive Travel Guide
Explore over 20,000 worldwide destinations on an engaging interactive travel map with the web's premier travel mashup. Iguide blends 10 sources of travel information into interactive visual travel guides. Explore your world!
Fabulous 1 bedroom apartment,Conceica,;Algarve
Our own apartments.Read about in the above and below links.
Opulence and spaciousness in 2 bedroom apartment,Conceicao,Cabanas in the Algarve
TAVIRA HOTELS.
Vila Gale.Is probably the largest and major hotel in Tavira.It dominates just off the main central areas so is easy to find and access.Very nice hotel with just about every facility you could think of.Has a very good reputation
All 268 rooms are spacious and all have private terraces.

The Vila Gale has a very strong moorish theme to its interior decoration and definitely has that somewhat sumptuous feel of arabic influence.

Everywhere in the hotel has a Grand but not over the top feel.Makes you feel a little pampered and special.East Algarve and Tavira style and hospitality.Once visited it will become your favourite Algarve region.More traditional Portugal and destined to stay that way.Espescially the Tavira region which includes Conceicao,Cabanas where our apartments are.The authorities will not allow the east algarve to go the way of the rest of the Algarve.Nothing can be built over 3 stories and architecture is controlled carefully.

Indoor and outdoor pools;child's pool.Steam baths plus many more luxuries and pampering exist throughout the hotel.They actually are a group of hotels with properties all over the Algarve
VILA GALE Hotel in Tavira Portugal.Well worth checking out
PORTA NOVA HOTEL is literally less than ten minutes from Cabanas de Tavira.It is a great place to stay,just one of those happy hotels.Reasonably large it sits up on the hillside looking down into the town.There is a way to walk down to the town centre which only takes a few minutes.Really caters for the tourist does the Porta Nova and is very popular and has good out of season rates.Follow the safe link to their own website Porta Nova Hotel,East Algarve Excellent 4 star and worthy of all of them Great to see this hotel lit up at night,very spectacular a good place to stay if yoy want to explore the East Algarve.You can see a couple of photographs of this great east algarve hotel below.We will try to provide pictures of all the hotels we write about.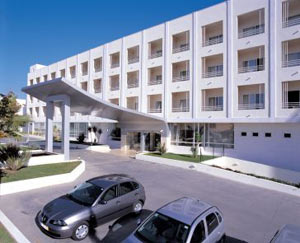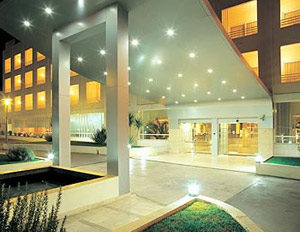 OUR PORTA NOVA STAY OCTOBER 2011
We decided to have a two night stay in this lovely hotel in october 2011,so Chris my wife could have a break from cooking.The prices at this time of year are nice and cheap and for the first time ever we opted for the full board option.
In these hard times one or two minor things could have been better but on the whole everything was superb.It has a really attractive exterior and interior,in my opinion and the staff are always attentive and courteous.I do wish the Portugueses would put kettles and tea and coffee in the rooms but if by now they have never done it,I guess they never will!I could not fault our room apart from that,though sattelite tv would have been nice.
The rooftop bar is fabulous,that is the only word for it!I think I have got some great night time photographs looking down on the lights of TAVIRA but I will not be certain till we return home and load them onto computer.If they are good,look for them here in a couple of weeks.We did not arrive at the hotel till 23.00hrs and there was no food available at all!We were told the full board ends at 23.00hrs and expected to be charged for our drinks that evening but there was no charge on leaving which was nice.
The next morning we were stunned by the breakfast selection.All nationalities stay in this hotel and there was something to suit everybody.The selection of food was quite astounding and I have never seen better in any hotel.Anywhere!Breakfast was leisurely and most enjoyable
We went down to TAVIRA after breakfast to work off breakfast and walked back up for lunch,which we did not really need and again the selection was good but we stuck with salads which was fresh and crisp.Dinner was nice too and as with all the meals was buffet style.The food we had was very nice but could have been hotter.This is the eternal problem with buffet style meals and was the only fault we could find.
In conclusion the Porta Nova hotel in our opinion is a great place to stay and we would stay again without hesitation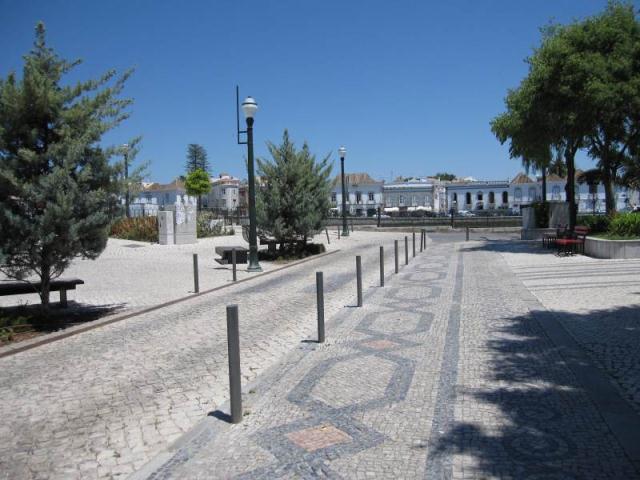 Eurotel Hotel Tavira
Quinta das Oliveiras-EN125, 8800-053 Tavira
This 3 star hotel just 5 minutes from Tavira offers,80 pleasant rooms and surroundings at very affordable prices .Most rooms have private balconies and the restaurant has panoramic views over the east Algarve coastline,viewing the Algarve mountains to Cabanas beach. Guests have good choices of meals in the attractive retaurant which offers traditional Portuguese cuisine along with many international dishes .
FACILITIES:
Outdoor swimming pool with a pool bar offering drinks and light meals plus the inevitable cocktails.
Warm colored rooms with wooden furniture a mini-bar and en-suite bathroom,plus satellite tv.
Bicycle rental to trip into Tavira or explore the wonderful local countryside.
Car hire for the less energetic to explore this lovely region.
Childrens playground and activity corner.
Tennis court.
24 hour reception.
Free private parking. Above is a scene of the main public square leading up to the amazing 2000 year plus old Roman Bridge.This square has so much character and appeal.Every time we walk into TAVIRA we feel ourselves relaxing and our spirits rising.It just has that atmosphere and it does not weaken after a few visits,as happens with many places.It is the epitome of "timelessness".You could never finish exploring or take enough pictures!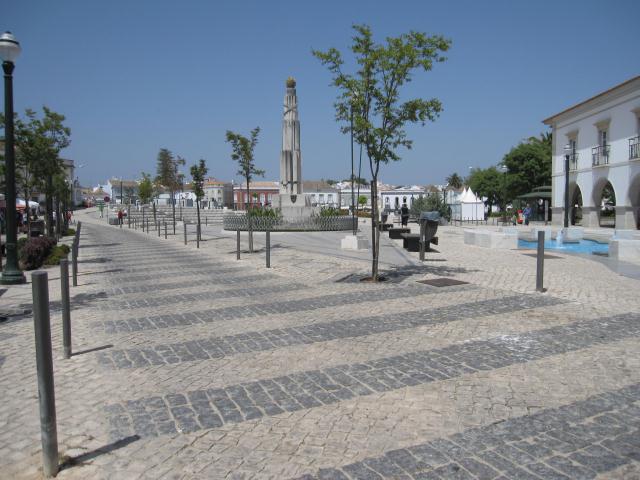 Above another scene of the peoples square.It truly is a city of trees and they keep planting more.Imagine the shade and character that will grow with these new trees.In twenty years it will look so different and amazing.I probably will not be around to see that but my children might well see it as we have just made our Portuguese wills making sure they get the 2 apartments we own and not the Portuguese Government.