PHOTOGRAPH-1 PICTURES TO BROWSE AND BUY
Hello and Welcome to another page of PHOTOGRAPH-1 this is 1 of 4 pages of pictures to browse and buy.Scrol to Bottom for newest addition,added 24/07/2012There are plenty of Algarve pictures,if that is what you are looking for.However there are plenty of plants and garden pictures and any general pics we felt worth including.Why keep it to one subject.
Have you come to the wrong page. PLEASE CLICK.to go to our Homepage
Or find what you want on the navigation bar to the left of page.
Tavira River view.
Taken in july 2012 stood on the beautifull Roman Bridge in the centre of Tavira.The bridge itself is some 2000 years old and architecturally unique.I do not know if the pavements are the originals as put down by the Romans themselves,but they are so old that they are curved deeply downwards in the centre,from the number of people who have walked accross through the centuries.Whenever I see these worn stone pavements I can almost see people in leather sandals and Togas walking accross. There is something amazing about this bridge of ages.It seems to talk to you,if you will stop and listen.Imagine what things it has seen throughout its fabulous history.The Romans were truly amazing builders,they built to last!Not like today where so many will be lucky if they pass the fifty years mark.The Romans it is believed were the first to invent the use of cement and concrete.Before that the great builders of the past used big stones very accurately cut.The sheer weight and precision cutting was what kept them in place.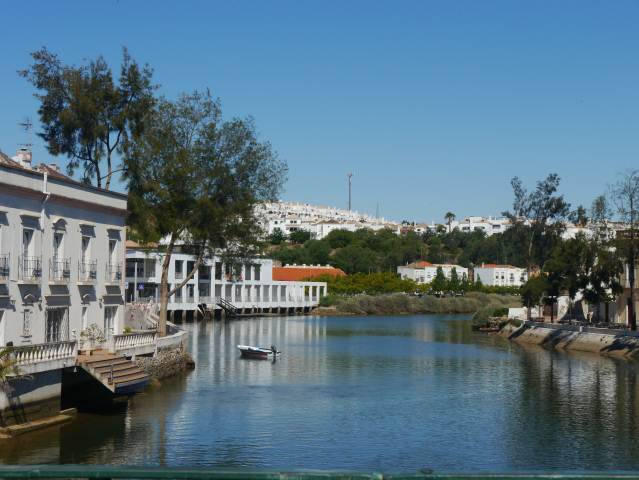 Another PHOTOGRAPH-1 Original.looking up river from the Roman Bridge right in the centre of Tavira.Is it me or is it harmonic and tranquil looking.I guess those builings in the foreground are pretty ancient and have seen many many boats.The river is lovely and clean and sparkles gloriously in the Portuguese sunlight.The river more or less disects the city/town into two halves each seeming to have their own life and character.Nowadays it is just smaller pleasure craft which use the river.
In the past it is believed that large sailing ships used to sail in from the not too far away Atlantic Ocean.Then as with many of the Algarve river estuaries,it silted up so badly that large ships could no longer navigate up the river to the towns.The same towns that were originally built because of the river and its closness to the sea.I often wonder what changed the environment causing trhis heavy and permanent silting up of the river mouths in the Algarve region.MORE PHOTOGRAPH-1 ORIGINALS COMING SOON
SUBURBAN GARDEN IN SPRING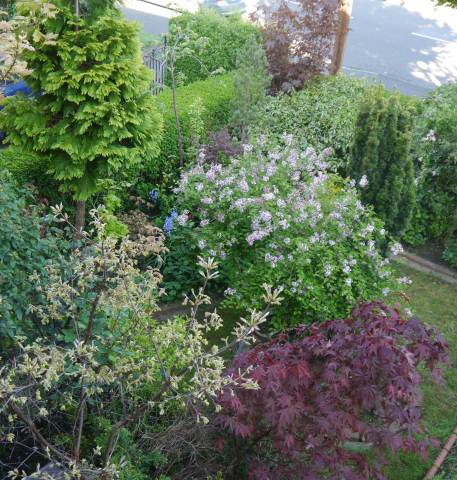 How about this for a colourful garden corner in early spring.That is our garden and shows just what can be achieved in a small suburban garden!
In the foreground is our own seedling purple ACER PALMATUM. We are very proud of this one as it changes colour many times in a year and usually goes blazing red in Autumn.That is an unusual trait for a purple Palmatum.Soon we will start taking cuttings so if you would like one get your name down with us,as they will be in short supply.
Front left is a taller acer 'Brilliantissimum",which has fantastic shades of cream,pink and cream in Spring.
In the middle we have a tall pillar of green,light and dark shades,this is a Variegated 'Taxus Baccatum'.(I will have to check my plant spellings again,as I have not been writing about them for a long time.Just to save you experts writing in)
In the back left corner is another acer 'Crimson Pillar',slightly misnamed I think as it is always purple. in our garden.Even in Autumn we have never seen any crimson.
Algarve Fruting Palm
A magnificent palm pictured in the front garden of a small villa in the village of Conceicao where our apartments are situated.Close to the fishing village of Cabanas and the quaint old Roman town of Tavira and 15 minutes drive from the Spanish border,with Seville just 2 hours drive.
What a place to take a holiday.take a quick peek at our apartments in this lovely village just 10 minutes from the Atlantic Ocean and white sandy beaches. Lovely 1 bed Algarve Apartment (Click here!)
PHOTOGRAPH-1
Or our huge but cosy and beautiful 2 bedroom coastal apartment. Conceicao,Cabanas Near Tavira 2 bed
The Palm tree pictured is one of literally thousands to be seen around Conceicao and Cabanas area.Some are 15-20 meters tall and more but For Photo's it is great when you find a shorter one with a rich large crown like the one in the graphic!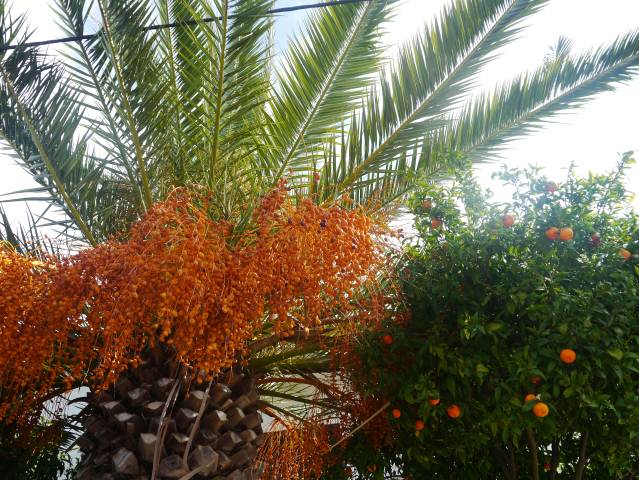 ================================================
ROSA ARTHUR BELL.
PHOTOGRAPH-1 Rose Arthur Bell was the first rose the author of east-west-algarve ever bought and planted. That was nearly 20 years ago and the plant is still growing strongly and flowering well today. I seem to remember paying around £5 for the potted plant. What a bargain. Such a good and beautifull rose led me to buy and plant many more roses in the garden.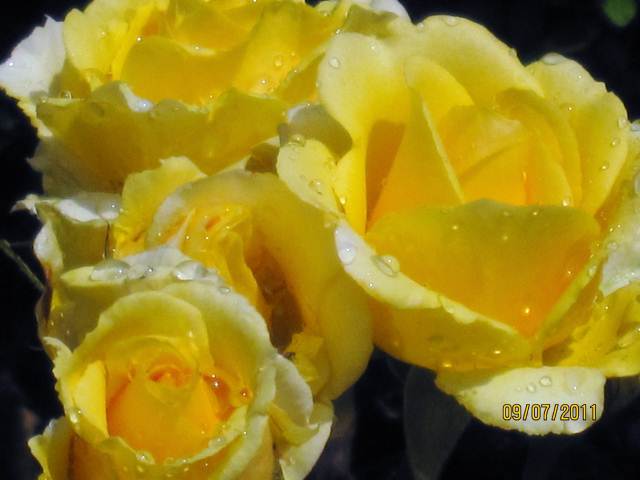 Rosa Arthur Bell is one of the best yellow roses ever bred. It opens a stunning bright yellow and has one of the best fragrances of any rose. In my garden at least,it beats many roses famed for their perfume. As the flowers age they fade to a delightfull cream. Many experts class this as a fault. I could not disagree more, When you see the two shades together they create a most enthralling combination,which in my experience charms all who see the effect. Experts can have their views,we can just get on and enjoy what nature has seen fit to provide us with.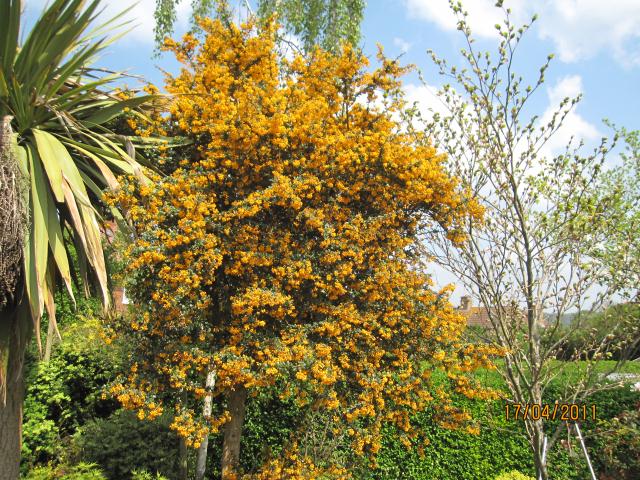 Berberis Darwinii
Named after the great scientist himself.I say great but that does not mean I agree with his theories.Because that is what they are.Theories!
The plant though is truly magnificent.The example in the graphic is one actually growing in east-west-algarve gardens.I managed against expert advice to grow it as a tall standard tree.Berberis Darwinii is one of the best,brightest and most reliable spring flowering shrubs for the garden.It can as you see in the picture get rather large but a once a year prune with hedge trimmers will keep it low and manageable.
All Berberis are very amenable to being pruned or hard sheared and because they have vicious thorns should be sited away from paths and kids play areas.Great for garden security as they are so dense and prickly few people could,or would want to push through them.
Another virtue of this shrub is that most years you get blue-black berries covering the branches after the flowers fade.They are large enough to be spectacular most years.It is evergreen so has great garden merit and has in fact got an AGM certificate.(Award of Garden Merit).
PHOTOGRAPH-1 Latest addition.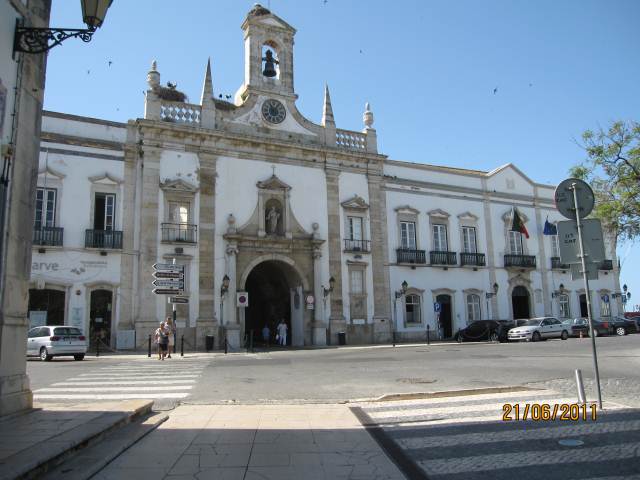 Inside the Walls of "Faro Old Town".
PHOTOGRAPH-1 SAYS.Ok got that wrong! This is actually the building with an archway into the ancient Old Town of Faro.
It is a very grand piece of architecture as so many of the old buildings in Faro happen to be.
This picture was taken in June 2011 when we stayed in an hotel for 2 nights before going on to stay in our apartments in Conceicao,Cabanas near Tavira. Faro is well worth visiting,as you can spend two or three days exploring the Old Town and surroundings.There is the Marina close by along with some very grand and interesting hotels.Plus there is a really nice shopping area with lots of smaller shops,many well known ones and some good Portuguese fashion shops.You could spend more than a day exploring these shops as there are so many.
Also very close by is the train station if you want to go exploring elsewhere along the Algarve region. Or indeed you could go up north to Lisbon and Porto. We have found this train is very cheap to use and it is great fun visiting many seaside resorts of the Algarve.
More PHOTOGRAPH-1 Additions to come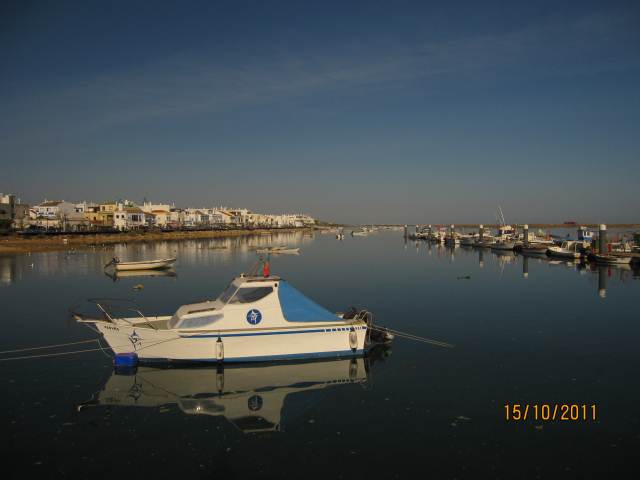 Cabanas Lagoon and harbour.The latest graphic for PHOTOGRAPH-1 is a shot of Cabanas Marina.It tries to show both the lagoon waters and the waterfront buildings.
In actual fact it captures less than one quarter of the waterfront lagoon side buildings. These buildings include many shops and cafes and bars.Nowadays there is a boardwalk running the entire length of Cabanas waterfront,some one and half km.
This is an old fishing village with a most magnificent sandy beach reached via boat taxis on the far side of the lagoon waters.This beach runs for miles along the Algarve coastline.One will swee many hundreds of small to medium size boats moored both to the marina and in the open waters of the lagoon.
Nowadays the economy of this old fishing village is mostly based on tourism but plenty of fishing still goes on.The fish caught now is probably more consumed locally in the close by restaurants.The area is blessed with many top class restaurants and of course fish and sea-food dishes are much in evidence. This is a great location to holiday with the Spanish border just 15 minutes away and the lovely large town of Tavira just 10 minutes away.More pictures from PHOTOGRAPH-1 coming soon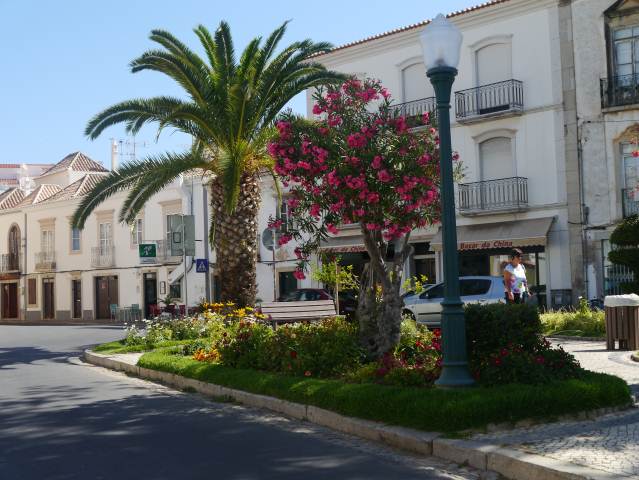 Tavira Square. Another Original From PHOTOGRAPH-1
The Graphic above is of a very attractive square across the river from the main square in the lovely large town of Tavira.
The picture shows just the end quarter of what is a reasonably large garden,shops and cafe area.In the Algarve they take great pride in their garden areas,thus keeping places attractive for the many tourists.
Tavira is a lovely large town to small city,set in the eastern third of the Algarve.It is known to date back to Roman times and evidence has been found of habitation in the area,well before the Romans.It is just about 20 minutes from the Spanish border.Nowadays there is a suspension bridge over the river Guidiana between Spain and Portugal and one does not need a passport to cross from one country to the other.
Tavira now has a modern and large shopping mall which whilst bringing the town into twenty first century.Has had rather a detrimental effect on the small shops which used to be so interesting.Progress and change are reaching into every area with enough population to support it.
One good thing about Tavira and surrounding areas is that the Camara (council) does not allow the building of property over three stories high.This is preserving the unique architectural heritage of the area and maintaining the quaint "olde worlde charm".
MORE PICTURES FOR PHOTOGRAPH-1 COMING SOON
The Castle Tavira,Algarve,Portugal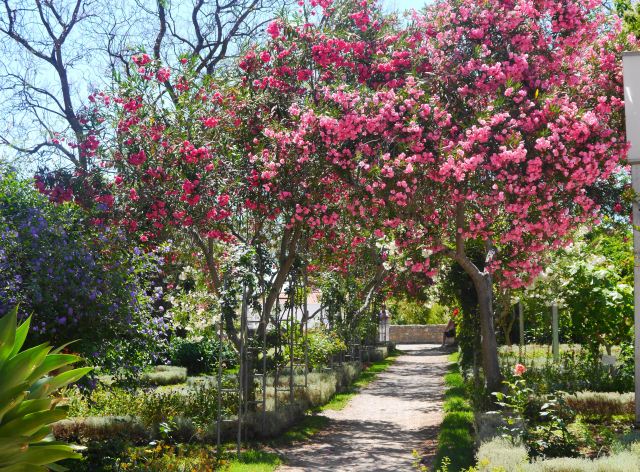 This picture a PHOTOGRAPH-1 original shows the inside of the Tavira Castle. How many castles do you know where the interior has been tuned into a garden.This one we photographed in June 2012 and it was just a riot of color.
The castle is nowadays just the outer walls and ramparts,which you can still climb the steps to walk around.
Our daughter is booked to get married here in August 2013,what a location to get married in!
It is not known for certain but is thought that the present castle dates back to the 12th century.Local historians believe there was a fortress built by the Phoenician sailors,which predates the present structure.Nobody is totally certain though.
What is known is there was a castle here when Tavira was retaken from the Moorish invaders in 1242,by King Palo Peres Correia.The castle briefly became the property of the "Knights of Santiago" in 1244,when the Portuguiese King Sancho II granted it to the Order.The Knightrs for some reason returned this generous gift some 30 years later.King Dinis ordered major reworks of the castle in 1293 as a defence against rampant piracy.The castle was badly damaged by the 1755 earthquake.
T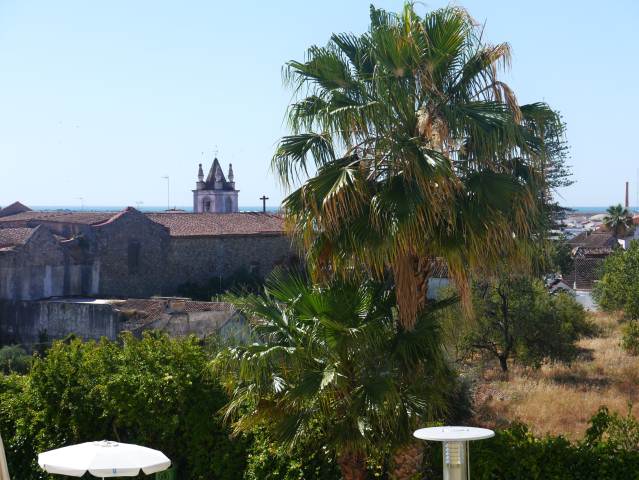 Scenic And Ocean View of Tavira
Another original from PHOTOGRAPH-1.This picture was taken in June 2012 from the Porta Nova Hotel.Sited on a hill the hotel overlooks the town and can provide the photographer with lots of scenic views.
In the foreground is a truly magnificent palm called Trachycarpus Fortunei.This is a particularly tall and lustrous specimen,very healthy looking.
Mid picture is a very typical Portuguese church tower in the traditional livery of Portugal and the Algarve.
Right out in the distant background is the magnificent Atlantic Ocean which provides the Algarve with its unique healthy air.Even when temperatures are 35 degrees centigrade and more,the heat is a lot more bearable than most.
The picture was taken in early morning,with the gentle blue sky which later will be really deep bright blue.The low sun shining on the leaves of the palm,showing off its highly polished leaves`.Early mornings in this Atlantic haven are truly gorgeous and we count ourselves as truly luck to be able to visit this paradise with its unique atmosphere and climate.
More to come soon on PHOTOGRAPH-1
Morocco In Tavira.
Colourfull lady in the the Algarve city of Tavira.It must be great to be able to dress like this daily.The lady concerned knew dfull well she was being photographed and enabled me to get plenty of shots so a could select the best.
So why was a Moroccan lady in the Algarve? Well,unless you study your maps you might not be aware that the continent of Africa is just a few short kilmeters across the mouth of the Mediterranean sea.
One can in fact book a 2 day trip from the Algarve on a ferry to Morocco. Morocco is the country on the opposite shore and so trade and tourism between the two countries is very common.Indeed many African traders traverse the Algarve with African made goods.
So it is not so surprising to see this lady in Tavira after all!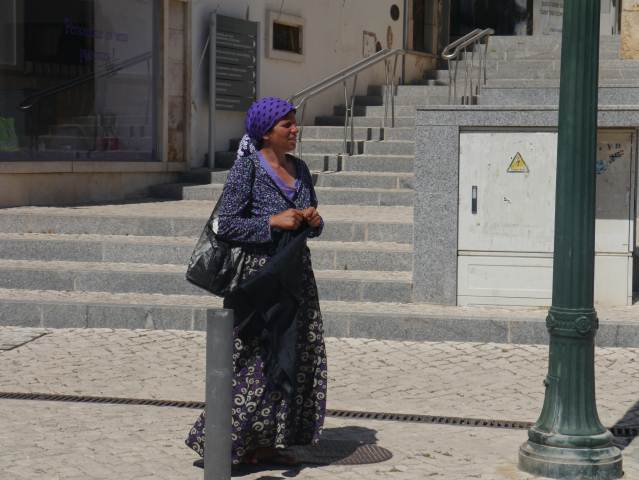 Mature Pink Oleander Plant.PHOTOGRAPH-1 latest original picture from the Algarve Portugal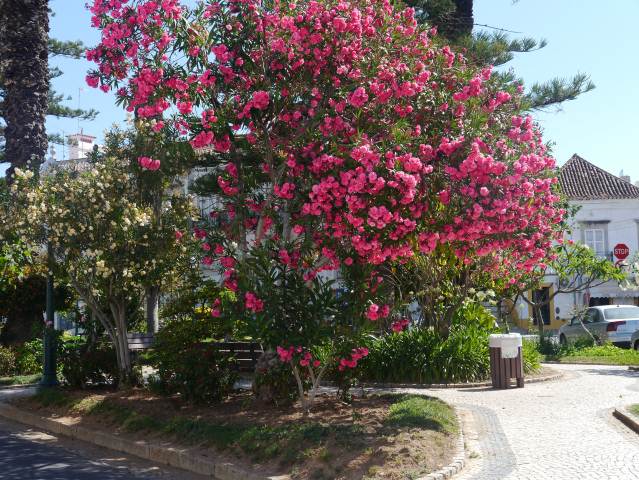 Cottage Amidst The Orange Trees
Latest from PHOTOGRAPH-1.This traditional blue and white painted cottage is situated just about 10 minutes walk from our apartments in the village of Conceicao de Tavira.
Just a short walk and you are in lovely countryside with ancient properties,selling home grown produce.On the other side of the narrow road is a short stone wall with fields of Orange trees and very ancient Olive trees.
You will pass the most charming cemetry.Hidden by a tall wall with beautifull high metal gates.This is such a private and personal place I have never even stuck my head through the gates,I would feel I was intruding.
Not like our cemetries in the UK,there appear to be wall cavities.I have just assumed ashes are contained in these wall recesses but I probably have it totally wrong.Whatever,it seems the most serene of spaces.We walk down as far as the railway lines but you can walk on down to Cabanas and its lovely beaches.Being in an electric wheelchair and not knowing exactly how far it is to the lovely fishing village,we are a little reluctant to to risk the batteries running out part way down this very countrified single lane track.
What more could you ask for when on holiday. Beaches fishing village and country walks,with a superb golf course which if you do not play golf you can use it for more countr walks and there is a lovely clubhouse to partake of a coffee or nice cold drink and one can even have a delicious meal.
Yet this little paradise is not cut off! It is only ten minutes walk from the lovely large town of Tavira and a brand new shopping mall.
As if all this was not enough for a great holiday,there is also a picturesque small railway station close by which is very cheap to travel on and can take one to the Spanish border where a ferry will take you over to stunning Ayemonte in Spain.This lovely Railway will also take you the other way along the Algarve coast to many towns and seaside villages.Or if you want serious shopping it will take you to the Algarve capital of Faro.
How many holiday areas can boast all of this and still more one can be in Seville in two and a half hours,or ditto for Lisbon.YOU CAN BUY THIS PHOTOGRAPH-1 picture for £2.50.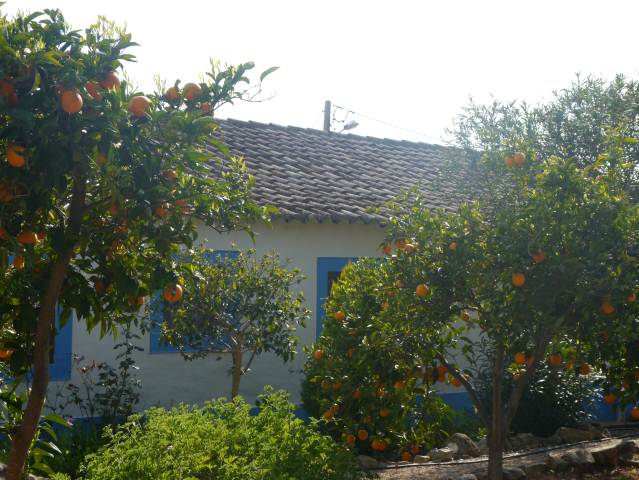 PHOTOGRAPH-1 TO Plants & Flowers