Diving Activities in the Algarve Portugal
Diving to stunning apartment East Algarve
Diving.
Welcome to another fantastic Algarve Activity.when you finish here why not Go to our main Activity and Sports page
If you fancy a scuba type holiday then the Algarve is well worth your attention.You have a long season of recommended months to practice this sport.The season lasts from early April to the end of september and probably longer if needed.There are more than twenty sites for you to choose from,so plenty of choice in location.The experts here reckon you will want at least five days stay to get a good grounding in the Algarve.
General water temperatures are reckoned to be between 16-20 centigrade andaverage visibility is 11 to 15 meters.The average depth is said to be around 20 meters and it is rare that any problem with currents will be encountered.Surface conditions you can expect to be flat.
The wrecks you will come across will be old wooden ships,some warships and artificial wrecks...Typical marine life would be Anemone;corals;cuttlefish;dolphins;grouper;jelly fish;lobster;Moray eels;nudibranch;octopus;rays;reef fish;sea urchins;shrimps;sponge;squid;starfish.
The shoreline in most locations is rocky and spectacular in the west and Central Algarve and there are many sea caves and caverns.The eastern end from Faro to Vila Real Santo Antonio on the Spanish border is generally lower and flatter with many lagoon type conditions before getting into the open Atlantic ocean.There are vast areas of nature reserves on this end of the Algarve coast.
The experts on tourism say that more and more people are coming to the Algarve to discover its scuba diviing.There are plans to scupper 4 old Portuguese naval vessels offshore which will improve conditions even more.When one thinks of the Atlantic harsh cold conditions come to mind generally but here conditions are superb with plenty of interesting marine life to view. are
couple of years.There is said to be something for everyone with massive conger eels on the D9 reef .Thanks to Portugals rich maritime history in the past the Algarve coast has plenty of ancient wrecks.There are many gorgeous reefs to explore between 8 and 20 meter depths and there are some huge reef walls.I have it from those in the know that if possible you should experience night time activity.They say it would be a real shame not to experience this form of Diving.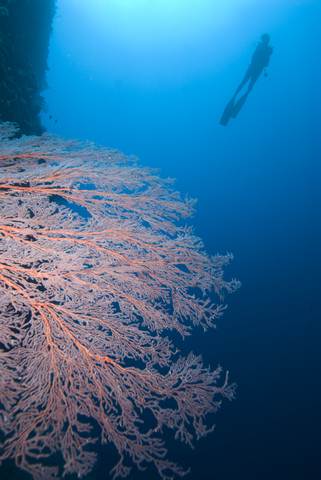 Tivoli Scuba Diving Centre.
Tivoli Scuba Centre are certainly amongst the best to teach you scuba in the Algarve.They can cater for the complete novice and experienced divers.For those who have never tried the sport they offer a 3 hour starter session for you to find out if it is for you.3 hours and you will probably be hooked for life.
Tivoli are situated in Central Algarve at Praia Carvoeiro (Praia means beach)."Scuba at the best spots in Algarve Portugal!" They are certified PADI instructors and offer courses from Discover Scuba and up to Instructor development..
.
They are the only company in the Algarve offering to teach with the Nitrox enriched air system.What is Nitrox?:Nitrox just means a mixture of nitrogen and oxygen Everyone of us has breathed nitrox.Nitrox generally has more oxygen mix than normal air and so is called enriched.It is said by some to be safer and may be so,with statistics slightly agreeing with this.Not everybody will agree but the feeling is as long as the school is expert in the use of Nitrox and keeps to all safety precautions,it is a good system.Some find they do not suffer so badly with the bends,this is not definite though..Decompression sickness.What are the advantages of Nitrox.Really it boils down to longer times on the bottom and less time on the surface intervals.So more "buck for your brass",basically!
Contact Tivoli Scuba
address:
Tivoli Carvoeiro Centre.
8401-911 Praia do Carvoeiro-Lagoa
PO Box 1299,Vale Covo
Algarve Portugal
Tel: 00351 282351194
Fax:00351 282351400
Mobile: 00351 963223892
Indigo Divers Albufeira
Aanother 5 star PADI scuba centre this time in the tourist capital town of Albufeira.They say they will cater for all levels of experience,"from total beginner,wishing to breathe under water for the first time to becoming a pro' under their instruction.PADI means Professinal Association of Diving Instructors Visit PADI at their Own Website.Click Me
.Indigo say..."We have extensive knowledge and experience here in the Algarve above and below the water.Our experieced and friendly staff will suggest the best excursion for you.We personalise our courses to suit your experience level,having beach and boat lessons along the ALgarvian coast.All lessons are guided by a PADI professional".
Indigo even have their own shop where you can purchase any of the asscociated equipment,once you have become hooked of course.Their experienced PADI trained staff will be more than happy to give you any advice you need.They were formed in 2006 in June and by August the same year had become an authorised PADI centre.By march 2011 they were awarded the coveted 5 star status because of their excellent training and customer service.They claim with pride that they only use boats fully licensed by the Portuguese authorities and are fully recognised by the Portuguese Tourist Office.They cover all their clients with specific personal accident insurance.
Contact Indigo Scubadive Centre
address:
16 Rua Alexandre Heculano
Areias de Sao Joao
8200-271 Albufeira Portugal
email: info@indigo-divers.pt
tel:00351 289587013 or 00351 913999913
DIVERSCAPE;Escola de Mergulho
Situated in Sagres western Algarve near the "Worlds End",Cape s Vicente.Escola de Mergulho is a great Diving Centre.Worth a lot of consideration when making your selection for scuba activity in the Algarve.
They are located in a very traditional fishing port called,Porto da Baleeira in Sagres .
Sagres is a great location to make your centre of activity for a holiday.It has much fascinating history and is believed to have been where Henry the Navigator had his sailing school.There is a fabulous fortress to visit and the area has a mystical feel rather reminiscent of Cornwall in England.Indeed one is Lands End the other is the Worlds End.
This is the rugged and spectacularly rocky end of the Algarve,known to be very windy and therefore the best place for watersports on the Algarve.You will find strange rock landscapes with secret canyons and golden beaches.Martinhal beach is famous for windsurfing and fishing amongst other activities,so if you have non diving members in your party there will be plenty for them to find amusement.
You will find a good variety of accommodation,from campsites to small apartments,to a 5 star hotel.Should you want to hire a car that is easily done locally as well.
Diverscapes Diving centre is run by experienced instructor Daniel Balmer,who has been practising the sport for at least 15 years and has been in the Algarve for 5 of those years.Education of course is to PADI standards .The centre itself is in Sagres and is very well equipped for your safety and great experiences underwater. Their boats can take up to 12 and all the equipment plus oxygen ,first aid equipment and life jackets.This business needs serious professionals in charge.
The program for the school is from 9 am -18.00hrs with 2 sessions/lessons per day and they say they are open every day.Of course they have dedicated area for novices and the experienced and night scubadives can be arranged by special request.
The ESCOLA DE MERGULHO headquaters.Picture from their site = Click to visit ESCOLA DE MERGULHO safe website.
Of course it would be of great benefit if we could give you some idea of courses,duration and most importantly.What does it cost? Can I afford it? ...Well as it happens we can help you a bit on these topics!
Beginners-2 hours program, min. age 8 years, Theory, then in the pool to practice at a maximum depth of 2meters with full equipment.Price 50 euros:
Discover scuba course:1/2 day program minimum age = 10years.Starts with theory,then pooltraining then out in open water to a maximum depth of 12 meters...Price including full equipment 80 euros.
DISCOVER SCUBA COURSE
½ - day program, min. age 10 years, Theory, pooltraining & open water dive, max. 12m deep. Including full equipment, without certificate.
Scubadiver course is a 2 day program,minimum age = 10 years.£X theory,followed by pooltraining,plus 2 open water sessions,includes full equipment and log-book,PADI manual and international certificate....Price = 240 euros.
4 DAY OPEN WATER COURSE.
.Minimum age =10 years...4 x theory,4 open water sessions.Includes full equipment and logbook,plu PADI manual and international certificate....Price = 380 euros....
Other courses are :
ADVANCED OPEN WATER COURSE = 320 euros.
RESCUEDIVER COURSE = 360 euros
DIVEMASTER COURSE = 750 euros.
They also do various speciality courses for the very serious.
..