Well according to the official view the Algarve region is holding its prices better than northern Portugal.Is this real?I think it might be partly true but only because of seasonal blips.There may be a few more sales simply because it is summer and you tend to get people suffering with sun stroke making impulse buys.They have plenty of time to regret this.Why?Well we do checks and there is always a discrepancy between what you get for a property and what you will get in selling it on.This is firstly because of market forces at work,sometimes known as estate agents making their mark ups.That is a fact of life and you cannot blame the guys.They have to put bread on the table.You can avoid this force by selling privately.Now this will probably take you longer but in Portugal as in Spain and a few other countries the costs of buying and selling is just ridiculous.In the Uk you can sell your property for 2% or less via an estate agent and ditto this for your solicitors fees.In Portugal and the Algarve they want 6% for the estate agents and the solicitor will hit you for as much.
This seems ridiculous to me and they should be cutting their cloth to suit the body they are covering.I cannot understand this attitude in Many European countries.It is just a fear of reducing profit per sale.Can you imagine what effect it would have if they dropped this down to 3% overnight.Suddeenly those potential buyers who have been holding off because the property they want is just a little to costly when fees are added on.
In America they have not bucked the economy when it comes to buying-property,they let prices drop to where they were before the economic housing boom.Is this harsh?Yes but sometimes you "gotta take the medicine".Europe should stop bucking the market as everything is stagnating due to the economists our govenments are listening to.America ,it is my bet will come out of recession sooner because they have allowed the market room to breath.I know people and business lost much property.However it is exactly the same in Europe and the economy has no room to adjust.At All!I may add to this tomorrow as I am a bit rushed at this moment (daughter and new dress for wedding.You sympathise.Yeah!Remember I never claim to be right,this is my view on behalf of this page Algarve buying-property.
When buying property in the Algarve the Portuguese government provide you with more protection than most governments in the world.This is good to know but you must still proceed with caution and buy a good book on the subject or get one from your library.A good general book on buying abroad (although it does not cover Portugal),is Where to Buy Property Abroad.An investors guide.Written by DAVID COX,RAY WITHERS,&KATE GODFREY.This covers all considerations and will set you on the right track.
Latest update in february 2011 for algarve-buying-propertyThe housing market has weakened considerably now and estate agents are reporting very slow trade.Apparently the only property selling at the moment is where the price can be beaten right down.The advice at the moment is not to buy unless you must for somewhere to live.Many people are running around buying up bargains but this is not a good place for your money.That goes here in Portugal and in most places worldwide.It is very possible that there is very much worse to come and far from picking up in a year or two the prices could crash far more yet in European countries.In America prices have been allowed to find their true level and for example a house that was $500,000 2 years ago is now on the market for $120,000.This is where the price should be so that property is affordable in America's current climate.European prices have been kept up artificially high and this is why property is not selling.This is why it is very unlikely for any pick up in the housing market.Even if you buy a real bargain it is still very possible that your money will be tied up for a very long time and if something happens you will be lucky to find a buyer and that property is not looked on as viable to lend money against.You could live to regret putting your money into property thinking it is a good investment..The only buyers of property in Portugal should be those needing a home to live in and who will not want to sell for many years and then only if you have the money or know your job will be safe for years.
This page algarve-buying-property will continue to monitor the property market to let you know if there is any change.
When I was looking for my first property in the Algarve I set myself a budget of £65,000 and one estate agent in an email asked if I wanted to know how much I could borrow.He got back to me a few hours later with an offer from a lender of just shy of £300,000.Now a lot of people DO jump head first into this.Do not take it!Stick to your own budget,they do not know your circumstances and you do.Overstretching equals misery.All they are interested in is their commission.

algarve-buying-property

Next what sort of property should you buy.Now everybody when first asked would say "Oh a villa with a pool".Now I know of many people who have bought villa' who regret it with a passion.Villa's with pools,You need a second budget for upkeep;you will need somebody to manage it,so the pool is kept clean (exspensive),cleaner,gardener etc.Do not believe you will be able to let it out for a full twelve week season.There are millions of villa owners now,all desparate to let their property.If you are reliant to pay for your property on the letting market you are making a BIG MISTAKE!
Do not buy a property in isolation unless that is all that appeals too you.If you do be prepared to spend on security and to pay a local to keep an eye on it.Just as at home emergencies can arise.If an emergency can be stressfull at home imagine what it is like hundreds or thousands of miles away.
For most people a townhouse or apartment is the sensible option.Then there is much more likely to be a friendly person to watch it for you.Much less stress!However do not let pretty properties rule your heart.Look for good solid structure where the building does not rise above or overhang next door.Falling masonry can cost a fortune.Do not be tempted to buy without a survey;you would not at home so DO NOT abroad!A few hundred now can save bankruptcy down the line.Also take into account the number of floors;the higher the building the higher the maintenance costs.
If yoy have children consider what playgrounds you have nearby and what sort of play surface is installed.
Tallahassee Swing Sets And Playgrounds
Tallahassee swing sets, playgrounds, design, installation and construction. Playground surfacing, pour in place playground surfacing, rubber mulch, florida playgrounds and more.
algarve-buying-property
Perhaps you are beginning to understand our first rule of a budget YOU can afford.There are so many other costs you need to consider;often forgotten in the desire to own a property in your own particular paradise.Being SKINT is misery! Now for the vast majority an apartment is the sensible option.In the Algarve they in most cases have security shutters,(how sensible}.There are usually people around and somebody who can keep an eye out.However another golden rule,(Which applies to all property types) Do not be tempted to buy without going to see.This is a case of buy at speed repent at leisure.How can you possibly know if something is right for you without viewing it.This applies to buying off-plan as well.When I bought my first time I selected five properties off of the internet, in my chosen area.They all sounded just the ticket.However ,come the viewing trip they all failed for varying reasons.Have patience and you will get it right.With all apartments your best bets are a ground floor or top floor they are the easiest to sell on.This is another important consideration.If I need to sell how easy will it be.It is tempting to think,this is just right for me,why would I want to sell.You are growing and changing all your life.If you are thirty how can you possibly know what your needs or preferences will be when you are forty or fifty.You change with age.Never forget that!
algarve-buying-property
So we come to estate agents or private sales.It really does not matter as long as you stick to the above rules.Always bear in mind that the only person who cares is YOU!Estate agents train to gain your confidence.They will show you property you cannot afford if you let them and it is very easy to let your heart rule your head when shown something wonderfull.Remember act in haste repent at leisure!
So now we come to solicitors.In the Algarve you are better protected than in many countries.Solicitors are highly regulated in Portugal and can be imprisoned if they step out of line.However one thing to bear in mind;however you come by your solicitor,before you let him do anything,ask to see his badge and his identification number,ask for a copy and let him know you will check up on him and do it.Go to the local council office known as the Camara in Portugal and ask how to do this.So when booking your viewing trip give yourself time to do this.It can be done easily on line now ,ask him or an estate agent for the email address.If he is genuine he will understand.
We will keep updating this page from time to time so please come back.
algarve-buying-property As of august 2010 Generally Portugal does not seem to have done too badly.If you have to sell of course you will take a financial hit but the overall drop in prices is not too bad considering everything.The secret to this is that prices in Portugal were always fairly sensibly priced.Other countries were touting unsustainable prices.
Some new builds have lost their investors a lot of money.This is because people go in with blinkers on :if there is no work to do and some white goods etc thrown in;they seem to throw caution to the winds.I have seen people paying up to £100,000 plus over the top because they believe the builders hype.When buying property you have to research the market;A LOT,get your own barometer for what properties are worth.You literally cannot trust anybody else in these times.When you find something you like;you must find similar properties listed in estate agents,on the internet and some private sales as well.Then you can get some feel as to what the right price could be.Rule of thumb,is everybody estate agents as well overprice property by at least 20 per cent.Never ever pay the asking price.It will be too much if you have to sell.It is essential to get a bargain price if you are not to get your fingers badly burnt.
Update 2011 January...algarve-buying-property ..Prices in the ALGARVE ARE DROPPING NOW.Talking to estate agents in the region and generally doing my own research.I can tell you there are bargains to be had,everywhere in the Algarve.Many people got caught buying at the very peak of the market.This was disastrous not just because of dropping prices but also the curious demise of the pound against a very weak euro.This has created a double whammy for British buyers.
Those who had to pay their deposits and further payments suddenly found it was costing them cosiderably more to exchange their currency.The more you had to pay the worse the financial penalty.in many cases those who had paid deposits found they were unable to continue with the purchase and thus losing thousands overnight.Not just loss of deposits but almost certain ruin to come because of legal action to come for breach of contract.
Those who managed to complete their mortgages found the cost of running the property had gone through the roof.The weak pound meant their mortgage was costing a lot more because they always have to convert their payments into euros.the same applies to all other running costs; rates gas electric etc.
This has left huge numbers of property purchasers in the position of havinmg to sell as soon as possible.This then has caused prices to drop.However the bargains are the ones where people have to sell.
Now so many of us have an aversion to takimng advantage of those in trouble.You should not fall to this sentiment though.If you have the money to be in the algarve-buying-property ,;it is certain you will be doinmg a favour to a person who needs to sell.Whatever you pay will be far better than if they are left to the investor sharks;who really will fleece them. they are ruthless to those in trouble.you at least are likely to have some compassion when deciding what you are prepared to pay them.You will actually be doing them a favour by saving them from the sharks.Keep reading this algarve-buying-property page for more unbiased advice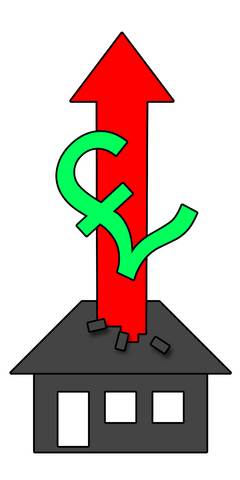 Some think they will see this picture being relevant in a year or so.However many of us believe the damage is too severe this time and we at Algarve buying-property concur!.It could be many years away to even modest recovery!.When buying think cheap,then stop!Think even cheaper.Only buy because you want it for good;chances are you will struggle to sell it.Money tied up in a house is exactly that,"tied up".If you need money in a hurry do not look to your house to provide it.If in a hurry to sell you will have to virtually give it away.
The best place for money now?Isa's and straight forward higher rate deposit accounts;spread around as much as possible and be prepared to move it around to get best rates.Loyalty used to pay but now they think you are a simpleton and take the "mickey".Move it often!Take it from Algarve buying-property page and please come back.We will keep monitoring the housing market worldwide!

Latest news 18/03/2011.
The price crash is finally hitting Portugal;now is the time to really hang on to property.The only people who should sell are those who have for whatever reason,no Choice! We are seeing some panic now in the Portuguese market.More so in the Algarve region.So many people borrowed too much and are now frantically trying to offload their property.No buying-property now!We are seeing some sellers offering property that they paid in excess of euros 150,000 for last year;at euros 95,000.
These may seem tempting but best advice is no buying-property unless you have too.Capital put into property is unavailable capital;Banks will not lend against property and you are unlikely to be able to sell.Put any money into safe accounts.
Do not be tempted by your bank or anybody else to invest in high interest schemes.The charges they take from your money are astronomical!It will take you years to make back what they have taken out of your capital and probably never.Be happy to get low interest and move your money annually to another bank offering better rates to newcomers.If you tell your present bank you are moving your money and what interest rate you can get,they might offer to match it.If not move it!
To control your money easily you really must sign up for Internet Banking. This way you can find out who is paying the best rates and move your money in minutes.Do not be afraid of electronic transfers;they are very safe.People move billions every day this way and you can check immediately if the money has been entered to your new chosen account.If you cannot use the internet,then get somebody to teach you.Even take a short course at your local college but learn to do your banking via the internet.This way you will be able to keep your money growing.Make sure whoever you are moving your money to is a member of the banking guarantee system.Do not be tempted by high rates to go to any unsafe financial institution and no buying-property ! Some time soon interest rates are liable to go up and your money will grow better (than through buying-property ) but still operate in the same way and never be tempted by unsafe high interest gambles,you will never win!They are the experts and they intend to make money from you.Yes even your bank! You will be glad you refrained from buying-property
So will this property crash end any time soon? Honest advice from me; who is not trying to make money from you,(just trying to help you keep what you have and keep it growing)Is,I do not think so! Wages are unlikely to grow for a very long time and house prices in most places are too high.Yes even those seemingly cheap ones,it is unlikely you will make money on buying-property .Of course there are people who are going to say that I do not know what I am talking about! Just remember I have no angles here,I am not trying to make any money from you or trying to boost property (or the buying-property) by giving false advice.At this minute I believe that things are going to get a lot worse yet.
If you really must invest in property go to America where the prices have been allowed to fall to their real market value.America is the place for buying-property. I will continue to monitor the housing market and keep telling you how it "Really is".If I find my advice is wrong or things change and it is time for buying-property I Will Tell You!
LATEST NEWS AS OF 30/APRIL/2011.From Algarve buying-property>Everywhere I look companies are cutting back and in my view dangerously so as far as numbers of employees.People are being expected to do more with fewer work mates.The businesses are making great profits out of this because employees will do anything to keep their jobs.The trouble is they are overworked and over stressed.Already more of them are waking in the morning and feeling too tired to go to work,buying-property or investing.Those in work are having to cover for the workers not coming in;as tight fisted bosses are refusing to pay for any cover.
At Algarve buying-property we say this is a totally unhealthy position and is going to lead to dire problems.Employee health is going to deteriorate and more and more days are going to be lost to illness.Those covering for them are going to become the next victims to ill health and mean bosses will still be expecting fewer workers to do more and more.
The worst thing is that wages are not rising to reflect this heavier workload or the cost of buying-property.In the past Governments have stepped in to protect the employees from this slavery.I very much doubt if this one will.They want the poor poorer and they want wages driven down.My advice to employees is take off as much time as you possibly can;yes all of you.Hit the fat cats hard and keep doing it.Those employees who are expected to do their work,start doing less and take more time off.Heck have a national strike!It is the only way you are going to get fairness from your bosses is tyhecadvice from Algarve buying-property says.The alternative will be more ill health and a shorter life for you if you keep carrying this overload and stress.
Property prices in Portugal.Oh dear it is getting worse in Lisbon and Porto and the Algarve is only slightly better.Prices are dropping and I still expect them to fall further as the economic gloom is getting worse and worse in Portugal and everywhere else.It is still not the time for buying-property.The thing for you British is that the pound is still ridiculously low against a badly ailing euro.This really is not market driven.This is being forced politically so big business can be competitive in Europe.There are many people making big bucks out of this at the expense of property owners abroad.
No buying-property yet unless you have no choice and then beat the price down as low as you possibly can and make sure you like the property you are taking on is the advice on buying-property .It is liable to be a very long time before you can sell it.Buying holiday homes I suggest is a bad idea and a sure fire way to lose lots of cash.Not just in property prices but in massive fees in most European countries now!

I still advise the utmost caution on invetment of your cash reserves.If your bank or anyone else comes to you pretending to give you financial advice;SHOW THEM THE DOOR!Remember this sound advice,they are visiting you to make themselves money;NOT FOR YOU!Whenever you invest through financial advisers even from your own bank,you are liable to lose Thousands of pounds in fees to them.They keep this really quiet!Do not fall for it.Keep your money in the best savings accounts you can get,safe ones of course.Isa's are great but move them every year or your bank will be dropping the interest rates down drastically.It is easy to do if you bank online.Algarvebuying-property advises .As always find an hour to drop into any bank paying good percentages and ask them to transfer your Isa for you.You really must do this or your money is not going to grow.Remember the interest you earn becomes capital next year so you want to earn as much interest as possible.It also pays not to let one bank have total control of your money.Never Ever give in to those Financial advisors.They are only thinking of their own interests.It will cost you thousands that you cannot make back even if you actually got the interest rates they flaunt at you and I can promise you ;you have no chance at all of making their projected rates.Keep your money safely in your control and take time to move it every year.Take an hour off work to go and do it if you do not bank via the internet.As I said one visit to a new bank and they will do this for you.You do not have to move your current account and all your direct debits and standing orders.Just your savings accounts.As always we only give straight advice as we see things.Somebody else will say "what does the page for Algarve buying-property know".That is for you to decide but make certain you ask any financial adviser exactly how much their charges will amount to and get their figures checked before you part with any money.Always make them wait so you have time to think.This is vital.Learn to say no,I need to think about it first.At Algarve buying-property we say they will always try and frighten you into doing it now.Just be firm,if it can not wait a few days you know something is wrong. buying-property.To Rent fantastic 1 bed apartment on the Best holiday location you can find .In Cabanas de Tavira

BEAUTIFULL ALGARVE APARTMENT SEE NOW
Links to buying-property
Cape Town Holiday Accommodation

Cape Town Accommodation - Holiday accommodation in Cape Town and the Western Cape South Africa.
Puerto Rico is the favorite choice for a vacation destination in the Caribbean. There are so many places to visit and so much to see. We created this Vacation Guide to help you find all the information you need to plan your next holiday to this island.
BRILLIANT TRAVEL BLOG.TIPS EXPERT ADVICE.PHOTOS' & LOTS MORE
buying-property
Visiting Singapore
Real life experiences of how to get the very best from your visit to Singapore, including where to stay, how to get around, best places to visit, tips & advice on all things Singapore and buying-property
Mexico Best Value Properties
Looking for houses, apartments, beach lotes, comercial building, farms and more? We will help you to find the best value properties in cancun, puerto morelos, playa del carmen, puerto aventuras, akumal, tankah, tulum, the maya riviera, majahual. .Buying property in Mexico relevance to buying-property .
Link to buying-property
Link to buying-property
Singapore Home Loans
Loan $upermart provides the most comprehensive mortgage loans and the best rate. We offer unbiased advice.Finance,Mortgage,property
algarve-buying-property
buying-property end