Plants Photographed by East-West-Algarve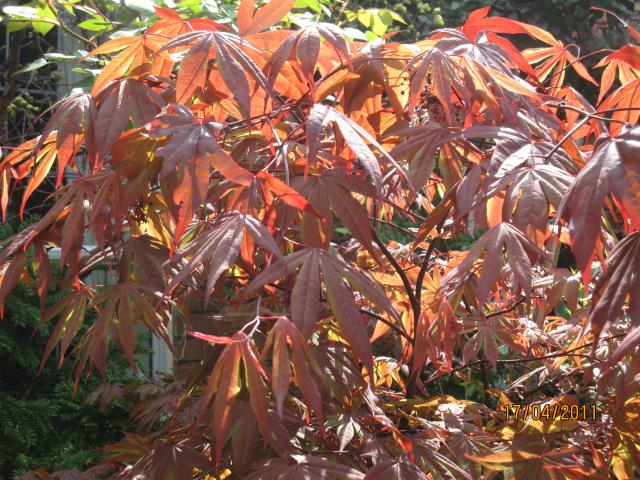 Plants
Shrubs & Flowers..
29/07/2012.New addition to our pictures "Rosa Gertrude Jeykyl".Please scroll down to view.
"SUNLIT JAPANESE MAPLE"
What a Cracker of a Japanese Acer (Maple).This actually is our very own seedling so there is only one in the world untill we start propogating it.It is a real beauty which changes with the seasons.This was photographed in spring 2011.As you can see the leaves are fairly transluscent and pinks are mostly evident.In summer it goes deep purple and you will be seeing its fiery red Autumn livery in another picture.
Not an Algarve photograph but "heck" we can put up any beautifull pictures for sale that belong to us.We feel this photograph is great for a calendar or a get well card or just as a picture for your wall.Itt would make a great large poster or a fabulous framed art piece.Many ways you could use it,such as those writing articles on Japanese Acers which are in fact smaller versions generally than the standard Maple.
Price £1.95.Please use the paypal button to pay and use the email link to tell me what you are buying and leave your email link to send you your standard file download. kennethjefferies2@gmail.com
If you want the photograph in any other form like a card or larger version just use the email link above to tell me exactly what you want and then leave everything to me.I will get back to you with a firm price for you to agree on.If you prefer you can ring me on 0117 9683244 or call/text 07774 330634.
If you do not like Paypal you can pay by whatever method you want.

Species Tulip Bulb.Here at east-west-algarve we love our garden and Plants.This pictureis a close-up of a spring tulip taken in early march 2011.It is a natural species tulip not one of the blousier hybrid tulips.The fiery colours just asked us to take a picture.You can see the glossy sheen of the petals.We think this would make a great poster for a wall or even a framed print.Good for gardening articles ;of course and anything else you can think of.
Price £1.80.Please use the paypal button to pay (or if you prefer you can pay by cheque or postal order)
.Use the email link here to tell me what you are buying and leave an email address so we can send your download.This is for a standard file .
If you would like a bigger poster or anything else like a card;just email me using the email link above and leave everything to me.I will get back to you with a price before we do anything.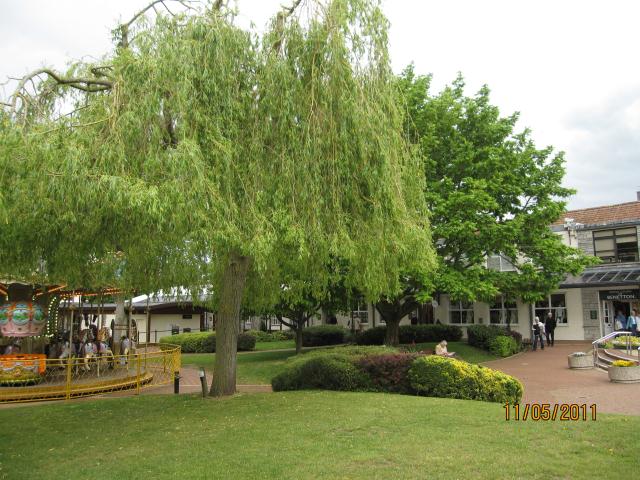 WEEPING WILLOW,GLOSTONBURY.Ok Ok;Glastonbury is not in the Algarve but we do not just want Algarve pictures.We need variety.Right!
Willows are so often planted overhanging lake and river banks and sometimes the dangling branches can almost touch the water.By the tidy crown I do not think this is very old.
I have seen willows growing in the Algarve Portugal.So this somewhat belies the thoughts that they need lots of water to flourish..
Back to location it is actually in the shopping centre known as Clarks Village in Glastonbury England.Such a pretty place with lovely old buildings and lots of mature trees and flowers.I did get quite a few good photographs of Plants and buildings.
Price £1.80.Please use Paypal button below and make sure you email me to leave an email address to send your download to you.(Do not worry we do not store email addresses to spam you later.We do not agree with that and we have better things to do.)
Email: kennethjefferies2@gmail.com.
Please contact us if you would like the picture in some other form.I will get back to you with a price before doing anything.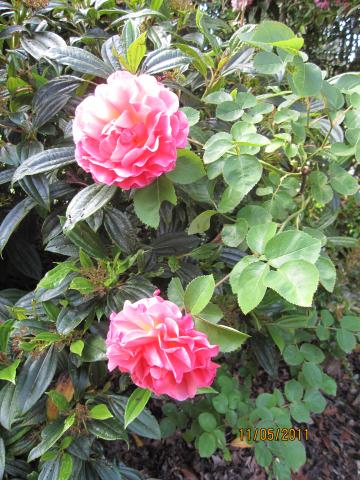 Rose Lillian Austin. Here at East-West-Algarve we do have a lot of roses.We do get good blooms from our red clay soil.This is one of the famous English roses by David Austin and it is truly beautifull in bloom.This picture was taken in early may so nearly the first to flower.It was just beaten into bloom by the red climbing rose Dublin bay.
Apaart from it lovely colours,lillian Austin does have a very nice scent.The other plant next to it is Viburnum Davidii a very usefull and attractive evergreen plant..
This would look fantastic in a simmple frame with a white border around it.Of course for any articles on plants and gardening.
Price £1.95.Please use the paypal button and make sure you use the email link here first to tell me what you bought and leave an email address for me to send your download to. .kennethjefferies2@gmail.com.
If you want the picture enlarged or made into a card,use the email link to tell me what you want and leave everything up to me.I will get back to you with a firm price before doing anything.
When you have paid,Paypal will take you to our thank you page where you can contact us again if you need to.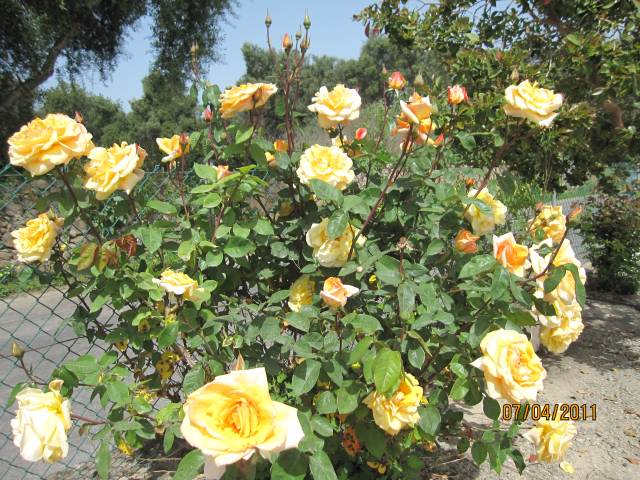 THE YELLOW ROSE OF THE ALGARVE PORTUGAL
Found this superb rose growing in a little Algarve pottery,just halfway between Cabanas and Tavira.We often walk there when we are staying in our apartments in Conceicao close to Cabanas.I should say my wife Chris walks I ride in my electric wheelchair. Roses do seem to do well over in the hot climate of Portugal.I have not seen much in the way of the dreaded Rose disease;black spot.
.It appears to be flourishing without much attention from man.I have to say that I have found roses do better if not pampered and definitely no chemicals.
What rose is it? Well first of all I thought it looked very much like one of the yellow Harkness roses but the leaves did not look quite right.It is possibly an unknown European rose.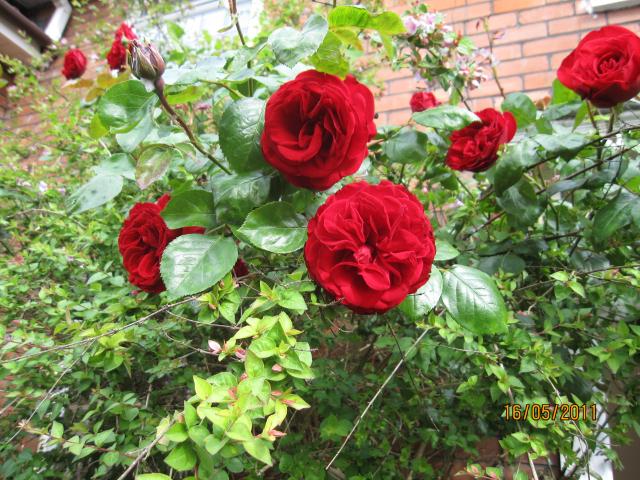 CLIMBING ROSE DUBLIN BAYWhat a cracker!Another superb rose from our very own garden.This is 'Dublin Bay and is one of the very best climbing roses in the world.Its only fault is it does not have much scent.
To make up for the lack of perfume it is the most perfect shade of bright red.The blooms are exquisetley shaped and are produced with great abundance.
Another major plus is is so easy to grow and is very healthy against those pesky' and soul destroying rose diseases;mildew and the pernicious blackspot.As you can see the leaves are green and clear..
This picture captures the blooms in all stages of development,from a bud through to a fully opened bloom.All Plants grown in our gardens are grown organically;no chemicals at all are used and the longer we have gone without using any the healthier the plants get. We do not use fertilisers either andc still get plenty of floweres.It is my proven belief that everything plants need is in the air and in rainwater.For plants in pots we use a very small amount of organic fertiliser ie home made garden compost.The Algarve region of Portugal is hot on growing organically.Speak to any locals and you will find they are all very proud of the regions organic credentials.
The photo' would be great for those writing gardening articles,especially as an example of an organically grown rosec bush.It would make a lovely natural wall poster or card.
Price: £1.95...For a standard download file.If you want the picture in another form please use the email link to tell me what you would like and then leave everything to me.I will get back to you with a price.Email: kennethjefferies2@gmail.com.Please use the paypal button to pay unless you would rather pay by cheque or postal order.

PAEONY SARAH BERNHARDT PLANTS
Grown in the gardens of east-west-algarve.com.This is the tall paeony called Sarah Bernhardt.The most beautifull sugsary pink but not so pink as to fight with other Plants in the garden.Late May is her flowering time and she is very weather resistant.Or the blooms are weather resistant.These plants are very long lived,getting bigger and bigger with more blooms year after year.So they are very rewarding plants to grow as long as you have patience.Paeonies are very easy to grow and are very tolerant of neglect.In fact they are best left to themselves and not fussed over.
They do not suffer from many diseases and bugs and slugs etc do not seem to like them.They never seem to be eaten by anything,neither the blooms or the leaves.One of the most reliable flowerers in the garden.Our Sarah Benhardt Paeony has been growing in our garden fo over 10 years and I can say she has flowered every single year she has been planted.
This picture really captures the beauty of the blooms and the pkleasing colour and structure of the blooms.There are some almost imperceptible white tones which capture the light inside the flower.
I have not cropped the picture so you can do what you wish it.Price £1.90 for a standard download file.
If you would like anything done with the Photograph please email me and leave it up to me. kennethjefferies2@gmail.com.If you are buying please use the paypal button (or use the email link to ask about sending a cheque or Postal Order)
.Make certain to email me your email address use the email link above or copy it if the link does not work for any reason.You will be taken to our thank you page after purchasing so that you can contact us again if you have questions or forgot to email us before you purchased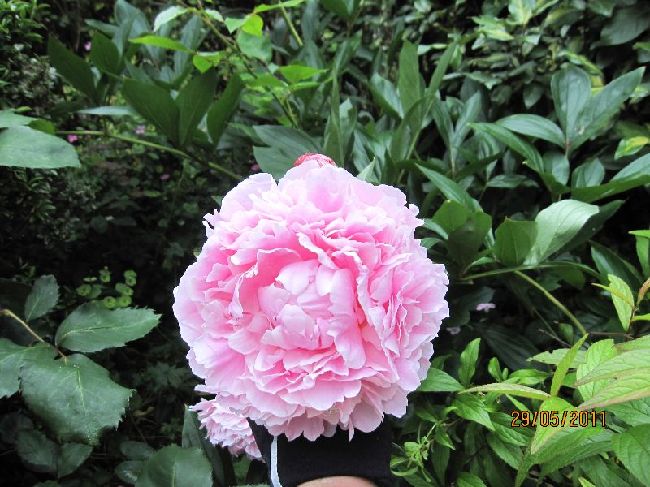 BLUEBELLS BY EAST-WEST-ALGARVE.
Wild bluebells in our garden.They have been there long before we bought the property and we have lived here for 22 years.Some wild plants can just take over your garden but these have not.We have about 4 clumps in our front garden,the clumps get bigger and brighter each year.Plants like this are worth their weight in gold in any garden giving a nice natural look to the planting areas.
Bluebells can be difficult to get established from purchased bulbs.If they do not like the soil or the aspect they will just disapear.When the owner of east-west-algarve was a child he lived on a hilltop with 3 acres of woodland on the slopes behind the house.The bluebells had taken very well in these woods and at the right time of year,it was just a sea of blue under the tree canopy.No exageration it was like a blue and green carpet.Nature does marvellous things,that us human gardeners cannot hope to achieve and where plants are happy you usually do not get many pest and disease problems.
This is a lesson us gardeners have to learn if we want a successfull garden.Either grow the right plants for your soil or aspect or suffer massive problems and always have an unatural looking garden.
Price= £2.50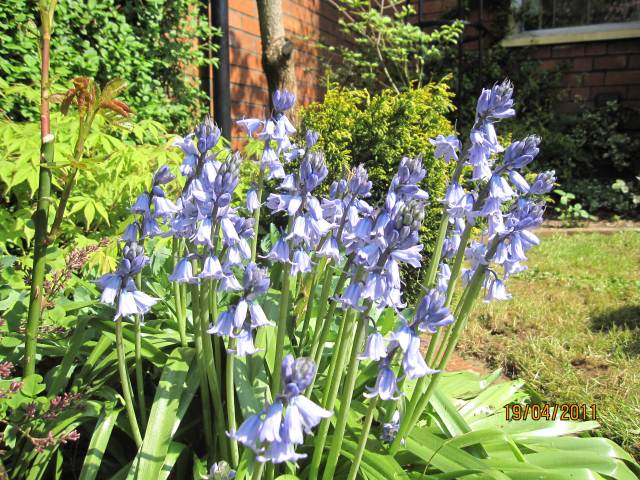 ROSE "ROSA TYNWALD"
From the gardens of east-west-algarve comes this beautifull cream rose called Tynwald.I believe it has some heritage from Germany.It is a very tall and healthy rose which stays fresh looking in the worst weather.Having a very strong neck its flowers look upwards in even the heaviest rain and blooms can last for weeks.
Undoubtedly one of my favourite roses with a delicacy of bloom which belies its extreme toughness.The cream colour is just sumptuous!
If you would like to buy this picture please use the paypal button below and make sure you email me your instructions.If you prefer to pay by postal order you can if you so wish.
£2.50 for a standard file.Price =
If you would like the picture in any other form such as card,calendar,poster,just use the email link and I will get back to you.Or you can ring if you prefer.All our contact details are at top left of blue buttons.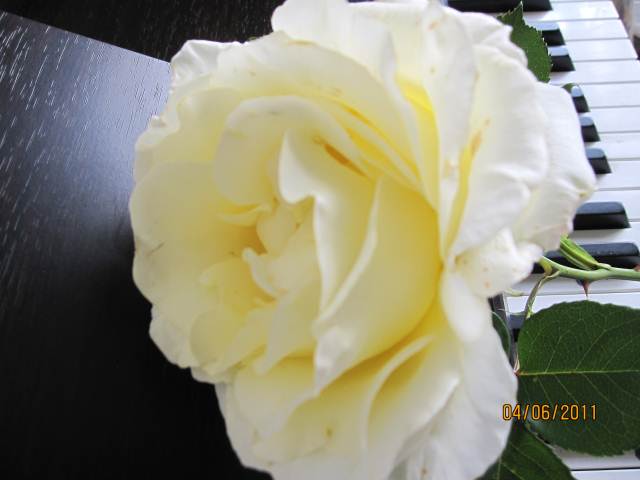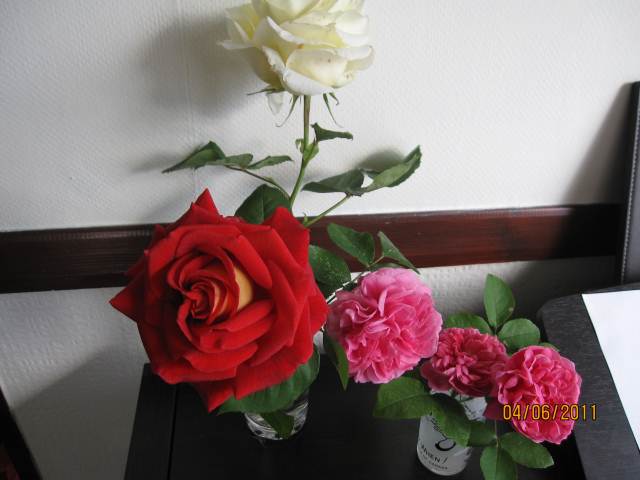 Rosa Cleopatra
Another photograph from our gardens,this time a lovely red and gold color combination.Rosa Cleopatra is a very gorgeous flower with amazing clarity of colors.It is a rose that has won awards and been trialed quite extensively in Europe.The rose plant itself is very strong and bushy.The plant tends to defoliate a few times in summer going into Autumn but always seems to recover putting out fresh dark green new leaves.It does bear a good number of blooms which are very tough and beautiful.Just what is needed from a rose grown in a garden in a tough climate such as the United Kingdom gives us most summers.It is often flowering into October and even November.
What more could you ask for!I will provide a choice of photographs to choose from.The first picture is of Cleopatra with a few different rose blooms playing support.
Price =£2.20.Please use the paypal button provided to purchase this picture and you will be taken to our Thankyou page after paying where you can email me any instructions and your email address to send your download.

Below we have 2 pictures of
"Rosa Audrey Wilcox"
From the gardens and Plants of east-west-algarve comes the photograph of a very beautifull Rose v"Audrey Wilcox".Her colours can vary quite considerably but essentially are in the deep tp pale pinks,sometimes with creamy undertones,sometimes salmon and peaches can be seen.Whatever,it is always stunning and has a lovely scent.
It is one of the healthiest rose plants we grow,never getting blackspot or mildew.The flowers always sit up proudly on strong necks and the bush is very tall in our gardens.
It also makes a lovely and long lasting cut flower whose scent can fill a room.
I enclose two pictures so you can choose the one you prefer.
Price= £2.50 for a standard file.As always if you want it in any other form please just jump to the CONTACT US button (top left any page).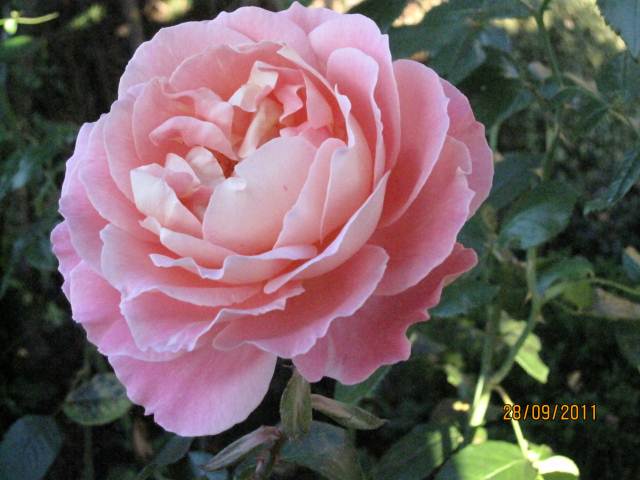 ---

Plants from our gardens,this bouquet was picked in the summer of 2010 by my wife.Because I am often confined to one room my wife often picks bunches of flowers from the garden to cheer me up.
Before I was disabled gardening was my hobby and joy.Any spare time I had was either spent in the garden or in a garden centre.It was often said a garden centre was like a "sweetie shop" for me and it was!
I am pretty certain that the central yellow rose is "Teasing Georgia".A stunning rose from David Austin's New English Roses Collection.The blooms are usually a gorgeous shade of yellow (refreshing yellow not custard yellow as many are.)often getting slightly paler towards the outside of the bloom.Ending always with almost white, transluscent petals in the outside row of petals.
This rose can be grown as a bush or as a climber and in our garden it has turned to a climber by just growing taller than the plants around it.So the flowers hover in the air and look down at you in a most endearing way.
You can buy this picture as it is or as a card,calendar or anything else you want.
Price = £2.60..Please use paypal button or go to CONTACT US TOP LEFT ANY PAGE IF YOU WISH TO PAY ANOTHER WAY.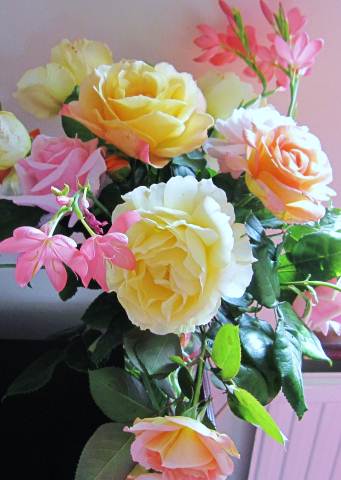 ---
"Rosa Arthur Bell Dew Drops"
Arthur Bell is a fairly old rose and still one of the best.It does get a little blackspot after first flowering nowadays but it does recover and repeat flower.It is a really bright cheerful yellow rose and flowers in clusters like a floribunda rose.
Its fault is supposed to be that the flowers fade to cream! Ourselves we do not find that a flaw in its appearance as the cream flowers contrast delightfully with the newer bright yellow blooms.
It was the first rose I ever bought nearly 20 years ago so it has really given me its "fiver's worth".Rose Plants have to be one of the most valuable flowers for the garden,as long as one chooses varieties known to be healthy.Meaning they do not normally succumb to rose blackspot and mildew.Both can look really disfiguring on a bush.This is why many people will not grow them but they only need to do a little reading of rose books to be able to pick good reliable cultivars.The only thing is that most of these healthy roses you can only get from specialist rose growers like "Fryers Roses etc.
Price = £2.80 for a standard file download
Please contact me if you would like anything special such as cards,calendars or posters.Please use CONTACT US button top left of this page (any details you give us remain very strictly private and we delete those when business with you has concluded satisfactorily.We never store your details to pester you as most companies do.We believe customers contact us when they need something)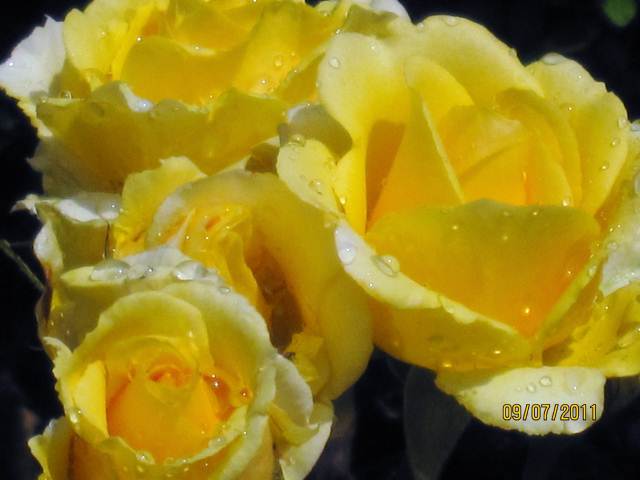 Rosa Gertrude Jeykyl.Below left.
This is one of the David Austin "New English Roses".Albeit one of his older catalogue roses and one of the most popular ever and one of the most fragrant.I believe it has been awarded an AGM.An award of garden merit which is awarded by the Royal Horticultural Society to plants they have grown and monitored to test how good they will be in peoples gardens. We have this Rose in our east-west-algarve garden,probably over 10 years and it never lets us down and is a good long lasting rose for the vase.The fragrance is just lovely as is the shade of pink and the formation of the petals,giving the flowers a delightfull form.
This is one of those colours which seem to glow across the garden making certain you know it is flowering.It demands attention and always greeted with great pleasure as it flowers for the first time each summer.The main flush is generally in June with some more flowers september or October.We have even seen flowers in our sheltered garden in mild novembers or even december.Obviously this late in winter it is only one or two blooms on a leafless plant.
atest addition to PHOTOGRAPH-3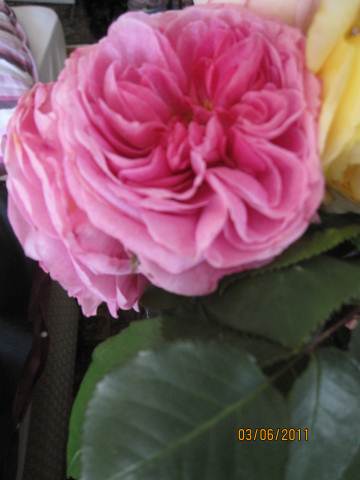 Rosa Mary Pope below right
Mary Pope as you can see is a most gorgeous and colourfull rose.Very "Photogenic".Since we planted this rose 6 years ago it has proved to be extremely reliable in flower and pretty healthy too.If she does drop any leaves she quickly recovers.
This has been our best year ever for rose blooms.Since we have had such a wet year we can only assume it was because of all the rain.Now I cannot believe the amount of rain we have had this year has been really beneficial for "Rose Plants Roots"!
So what then has caused this heavy flowering this summer 2012.Could it be the rose Plants feel so stressed that they are trying to set as much seed as possible to ensure the survival of their particular species.Perhaps the continuously wet roots make the Plants feel so ill that they think they are dying.
I am not totally convinced by that explanation but it is a theory.What makes me wonder against that reasoning is the blooms are all so strong and colourfull.Surely if the Plants are that unhealthy at the root the blooms would be weak looking. No I shall keep pondering this matter and keep asking God the question I find the answer always comes!No I am serious here,if I want the answer to any question that is exactly how I get the answer.At least an answer that I feel solves any mystery.
Oranges In The Algarve
These orange trees are very close to the village where we have apartments in East Algarve .No country grows oranges like the Portuguese.They taste of the year round sunshine and are all grown organically.
They are known to be the best tasting oranges you can buy.
These are growing in the little village of Conceicao close to the gorgeous town of Tavira,both of which are very close to the Spanish border.I summer people buy up the oranges and set themselves up with large juicers in the towns and sell what is the freshest and healthiest orange juice money can buy!.
In the Algarve orange trees can grow to nearly twenty foot high with a similar spread and they can become really laden with the fruit.So it follows that those with land set up large orange groves and they have no trouble selling all they can grow.Personally I cannot think of a nicer way to make a living.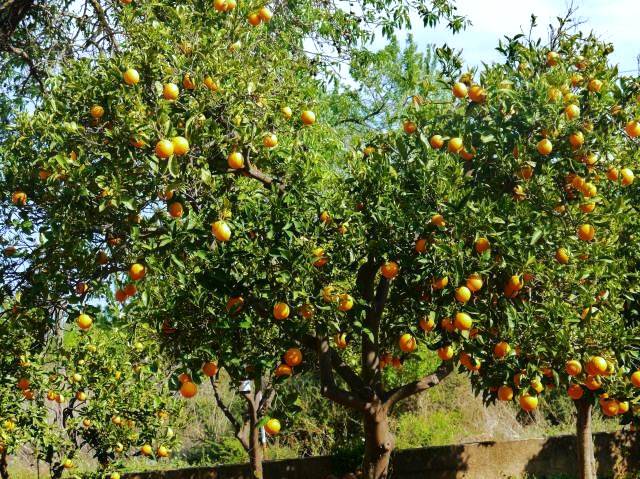 Hibiscus Redheart. This Photograph was taken in Tavira,The East Algarve,Portugal.Another original for our Plants page. This is sited right at the end of the main traffic square and the cars actually have to go around this little flower island to go go back up the other side of the one way system.
I wonder how many drivers even notice this delightfull plant. Not many "I'll be bound". It really is amazing how little people take in even when driving right around something. My bet. If you stopped drivers 100 yards up the road and asked what they passed as they came back up the one way system. Most would not know they passed an island with stunning flowering shrubs in it!I bet they would not even remember passing a chap in a wheelchair in the middle of the road taking photographs of said flowers.Unless they remember swearing in Portuguese at the idiot in the centre of the one way system,ignoring them all!