Aljezur West Algarve Beach and Market Town
Welcome to Aljezur!
As you see it is a pretty little town nestling sweetly in a lovely valley.
Please Click Here.If you want to return to Algarve Information menu
Please Click Here.If you wish to go back to homepage menu
This is a quaint little seaside and market town.It sounds Arab doesn't it? No surprise really the moors really left their heritage all over Portugal but in particular the Algarve and this nice little West Algarve town is no exception.
As many of the regions towns it is situated in a nature reserve,known as The Costa Vicenta Natural Park.So of coursse the area is going to be like a magnet to walkers and wildlife enthusiasts
The town is split into two very distinct parts which are divided naturall by a valley made very fertile by a river flowing along its length.There is the old and new town,the old town being dominated by a hilltop castle of Moorish origins and history abounds in its cobbled streets
.Its tourist credentials apart from the Natural Park are enhanced by several superb beaches in the locality.These are particularly unspoilt by tourism which has not been allowed to destroy the Western Algarve and thank goodness for that.The tourists who want that overdeveloped,nightlife dominated type of tourism are well served by the Central Algarve Region.
This region then is for the wild watersport enthusiasts and those who like the wilder style created by its location as Europe's most westerly point.The spectacular rocky coastline speaks volumes about the windy wildness of the Atlantic Ocean at this "Worlds End" as it is still known today.Sort of North Devon in the UK with added sunshine.Some of the rocky outcrops are of extraordinary shapes,being former parts of the mainland that the ocean has stolen from the mainland and the stealing goes on as the ocean carries on its never ending wind abetted onslaught. It was settled by the Moors in the 10th century and re-conquered in 1246.
Several spectacular, almost unspoiled beaches are located in the vicinity. You can easily reach Amoreira, Monte Clerigo and Arrifana from the village of Odeceixe, 18km north to Aljezur on the N120.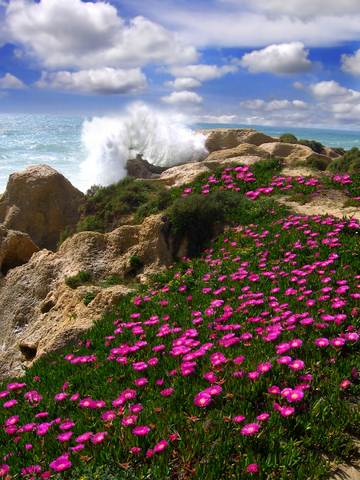 Just 10km from the closest Praia (beach).You need to make a pleasant drive through the prettiest countryside getting amazing views of the Atlantic as you go.All of a sudden you are approaching the Praia de Monte Clérigo.
---
At certain times of year the cliffs are decorated with wild flowers and can be rather awe inspiring.With a greeness of grass not often seen in the Central Algarve setting off the multi coloured flowers.
---
If you are lucky you can see farmers ploughing the fields with oxen and old manual ploughs.I can tell you it does amaze your eyes to see this ancient practise still carrying on.Your mind finds it hard to accept.
Get out of the car and take a walk over the spectacular cliffs you are very likely to see water sport enthusiasts,surfing or windsurfing and diving.This because of the windier nature of this western region is the watersport capital of the Algarve and you will probably see a few white sailed boats tripping gracefully through the waters.This is a good area to learn how to sail and of course there is plenty of fishing to be had both on shore and afloat.
History
Aljezur was invaded and conquered in the 10 century; by the Moors who ruled here for almost six centuries and have left there architecture in evidence all over the town;or should I say has been preserved by the Portuguese.They were evicted by the christians aound 1250 ad
Archaeological finds around the area tell of the presence of man since prehistoric times, for a period around 4,000 BC. and into the Bronze Age. Then later there is evidence of Romans who we see all over the Algarve.Agriculture was the main part of its economy for hundreds of years and probably much longer. The cargo being shipped out through a port which it is thought sat on on a creek close by the town .Eventually silting from the rivers made the port unusable for large ships.Then a road to Lagos became the principal means of transportation.
The earthquake of 1755 rendered massive damage to the town and much reconstruction ensued;with a new settlement being built.It was ordered by the Bishop of the time Francisco Gomes and was known as Igreja Nova.He rightly saw this as a way of encouraging the people not to leave the town. Aljezur as we heard earlier still carries on with its agriculture but nowadays this is supplemented by tourism.
>Total population of Aljezur is aproximately 5,300 inhabitants. The towns name has been derived form its Arabic name "Aljuzur" Which oddly means Island as scholars tell it.

The remarkably well preserved castle.From here the views are just incredible!Of course this is no accident they placed them so the soldiers would have lovely views!
Ok;Ok It was all to do with with defence.The earlier you spot the enemy;that sort of thing!
---
Activities
---
There are plenty of things to do around Aljezur.It is claimed that the waves are some of the best in the World for surfing and other watersports,such as wind surfing and body boarding.You should always find a fair few of surfing crowd around the beaches and there are facilities like schools and equipment hire.
Fishing is also well developed around the area and a huge variety of fish can be caught by the keen angler.Sea bass abound here,as do sea bream and conger eels plus many of good fish local to the Algarve.Go out on one of the many boats and the selection gets even bigger and you go big game fishing and the catches are said to be huge in thee milder waters.Other activities are tennis,golf,hiking and cycling and Kayaking.
The beaches as with every where on the Algarve are just superb and huge and unlikely to be jam packed as in the Central Algarve.Amoreira is the favourite with families as small pools form where the river meets the beach and are great for children.The sea water is just crystal clear.
You will find plenty of accommodation to suit your individual needs.Whether you like an hotel or luxury villa,apartments and guest houses.There is plenty of choice.You can easily situate yourself with views of the Monchique mountains and the Atlantic ocean and you should see some fantastic sunsets.
Sagres a larger town is only aproximately half an hour and there are plenty of little fishing villages and more than half a dozen different beaches to visit.Even if you like to move around a lot, visiting different places you should easily be able to find enough to keep you busy for a fornights holiday staying in Aljezur.
===========================================================
Well preserved examples of Portuguese windmills.They are classic of the Portuguese design.This is what you will see so often on Algarve hilltops.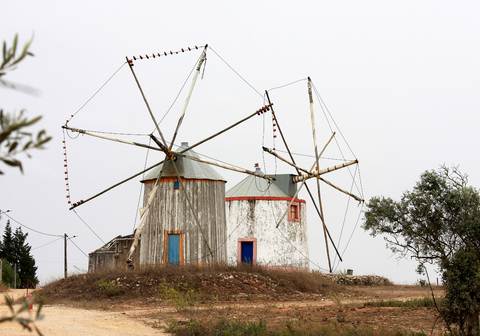 Aljezur accommodation
Amazigh Hostel Aljezur:Hostel with great reputation.This hotel cum hostel has many glowing reviews to its name,I cannot claim to have been there.I can only report from people who have stayed .They say it is friendly and clean it is a hotel style hostel with dormitories and private rooms, all with bathroom. Amazingly friendly staff who are always concerned about the well being of the guests and has lots of information around the public areas and in rooms.
The rooms come in different sizes and bed sheets, towels, secure lockers and reading lights are included in the fee. Also included is a nice breakfast and free wifi internet . Facilities include a guest kitchen and two large common rooms plus sun terreace on the roof. There is a great outside area with a high natural stone wall giving it a nice organic atmosphere. Aljezur offers great beaches and surfing, hiking trails and lots of nature. The hostel is just a short walk from the bus stop of Aljezur and the tourist information office, cheap supermarkets and restaurants are also nearby.So the hostel is great for those with a car, there is lots of free parking all around.
THINGS TO DO IN AND AROUND ALJEZURPlaces to visitThis Western region of the Algarve is still relatively undeveloped by tourism and there are vfew if any resorts built up around the beaches. The beaches are just sand and ocean and few people. This is what leaves the region so special to be enjoyed by those who appreciate a more natural area to visit. How long can the local people resist the powerfull investors who want to ruin everything for a quick buck.
Windmills you can still find around the area and you can even visit to see how they work.On a hill above the village of Odeceixe you can watch the grain being ground in the ancient way.Of course you will also find amazing views as the winmill is atop one of the highest points to catch the strongest winds.See the wild beauty of the river Seixe way below you.
You will find another windmill not far from the village of Rogil that welcomes visitors to browse over the tools and machinery of the past.
Do check up on the opening times of these places before you visit.
Museums and Galleries Aljezur suprisingly has many museums and art galleries for the tourist to brush up on local history and culture of today and pastimes.
Municipal Museum.
Address: Largo 5 de Outubro, Aljezur.
Opening hours: 09.30 to 13.00 and 14.30 to 17.30 Closed Saturday, Sunday and Public holidays.
==================
Municipal Art Gallery.
address: Largo 5 de Outubro, 8670-053 Aljezur.
Tel. 282 995 019
Opening hours: Monday to Friday - 9.30 to 13.00 and 14.30 to 17.30 closed on Saturday, Sunday and Public holidays.
=============
Espaço Mais gallery.
Address: Rua da Escola, 8670-130 Aljezur
Tel. 282 997 181
Opening hours: Monday to Friday - 10.00 to 17.30
==================
Casa-Museu Pintor José Cercas: The home of the artist from the 20th century ,is now a local museum with collections of his art work along with others local craft makers and fellow artists.
Opening hours: 09.30 to 13.00 and 14.30 to 17.30. Closed Saturday, Sunday and Public holidays.
======================
Museu Antoniano: This building was the Chapel of "Santo Antonio resident of Aljezur,built in the 17th century.Now a museum which displays curiosities of the locality.
Opening hours: 09.30 to 12.30 and 14.00 to 17.30. closed Saturday, Sunday and Public holidays.
========================
Museum of Sacred Art.
Opening hours: 09.30 to 13.0