Alcoutim Algarve town on the Guidiana river.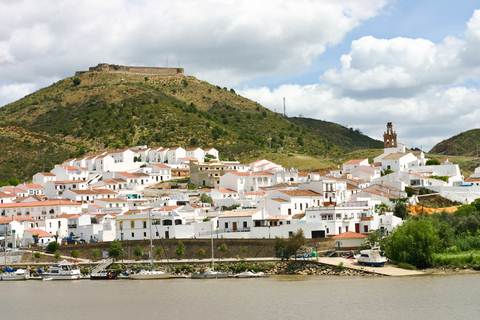 Alcoutim

Welcome..I always find it amazing how little places like this take so much pride in the appearance of their town!
Please Click Here.If you wish to go back to our main Algarve Information Menu.
Please Click Here.To go back to our homepage and Main Menu.
Just a bit different from the normal coastal fishing villages of the Algarve.This one owes its existence to metal mining and from beeing perched on the banks of the Guidiana river.It is a charming little huddle of mainly small white houses set onto the hillside above the river.
The most important area being the lovely prommenade along the bank of the river.There has been a settlement here going back to Prehistoric times because of its situation on the tidal part of the river.In the past the ore carrying ships could be tied up here for days waiting for the right time to sail out to the Atlantic Ocean.It does not take to much imagination in this timeless little village to imagine the ancient mariners passing away the hours in the dock side drinking establishments and eateries gathered around the promenade.
Set in the East Algarve this lovely little town with its hilly cobbled streets,is well worth visiting.Situated some 40km from Vila Real the journey inland passes through some very scenic unspoilt countryside making for a most enjoyable trip.
When you arrive in Alcoutim the history seems to hit you immediately and you know instantly you are going to enjoy a pleasurable few hours roaming around the cobbled streets.The boats bobbing gently on the keyside and the shops and bars gathered around them give you a feeling of calm and history.It is not so hard to imagine Roman soldiers or the ancient mariners the Phoenicians strutting there stuff around you.This little villages history goes way back beyond these ancient civilisations.They both came here because of the metal mines further up the river.
Three important metals were extracted in the upriver mines;copper,iron and manganese.The ores were originally brought to Alcoutim to be smelted there before transportation down the Guidiana river and out to the Atlantic Ocean.
The town has a 16th century church,or rather there has been a church on the site since then.It has had to be rebuilt on a number of occasions.I believe it may have been destroyed at least once by the Spanish in Sao Lucas just over on the opposite bank.Probably lobbing canon balls over the waters during the Castille wars.In fact king henrique and Fernando the 1st sat in boats in between the two towns and signed a peace treaty.
There is also the remains of a 14 th century castle which now houses a small museum.For such a small town it has seen so much history and featured in important events.
The countryside aound consists of rounded rolling hills and is delightfull for walking in and often through the year is covered with native wild flowers in bloom.Perfect for hikers and naturists who will appreciate the unspoilt landscapes.
Alcoutim to Worldwide holiday properties direct from vthe owners.Book a holiday and accomadation now and check and book flights without leaving the site.
Guerreiros do Rio River HotelI do not think Ihave seen better reviews for any Algarve hotel.It is known for its cleanliness and frienly staff.People rave over how big the pool is and how clean to!
It is located on the shores of the Spanish border river,"The Guidiana".I was surprised to find out this is only the 3rd largest river in Portugal.(Then you remember all the mountains up in Northern Portugal and maybe it is not so hard to believe).The hotel has breathtaking views over the river;which flows straight down to the sea,somewhere between Monte Gordo and Vila Real st Antonio.Both these places are well worth you visiting if you stay in this outstanding hotel in Alcotim.(you will find pages for these two towns on the left hand navigation blue buttons).
This hotel is built with nice clean modern architecture and sumptuous surroundings.It is set out with plenty of space giving a nice open aura in your psyche.Having 26 luxuriously spacious guest rooms.All rooms have air-conditioning,wireless internet and broadband plus cable tv.
The hotel has its own river pier for the use of all kinds of pleasure craft.So hire a boat and arrive for you stay in grandeur!
Nearest beach? Is wonderfull and exciting Monte Gordo;just 20 minutes drive and there are many other beaches in easy reach.Monte Gordo is the epitome of a tourist beach resort,with massive hotels and one of trhe best beaches you will ever find.Heck!Come on down in your boat!Plenty of activities for the family.Make sure you take advantage of a coastal cruise.You have to do one of these and that is an order!
So Alcoutim and the superb Guerreiros do Rio River Hotel can offer you a superb holiday with a riverside twist.'What more could anybody possibly want.You can find it on the Tripadvisor website.
The Restaurant serves delicious regional cuisine including;from a sample menu;Fried Eels, Eel Stew, Monkfish Rice, Grilled fish, Chicken in Bread and Chickpeas, Lamb Stew and Cock "Cabidela" style.
This is a fantastic area for hikers,with river walks and endless meadow fields,teaming with wildlife.There are golf courses nearby which are beautifull and very natural.Much exploration will turn up all sorts of delights such as river dams and lots morwe.
Guests of theGuerreiros do Rio River Hotel can also enjoy the picturesque town of Vila Real de Santo António.Which has padestrianised shopping areas with myriad colourfull small shops selling locally made goods and textiles.The ferry trip over the river Guidiana is a must;over to the fantastic Spanish town of Ayemonte.There is also a modern and exquisite marina.So bring that boat of yours again!
Other facilities for you to take advantage of at Guerreiros do Rio River Hotel,in Alcoutiminclude ,Wireless Internet,Wake-up call service,Transfer/ShuttleCar rental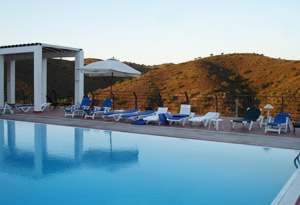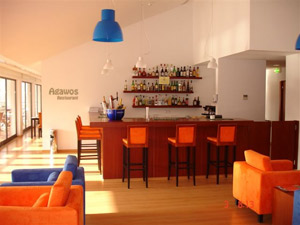 Alcoutim YOUTH HOSTEL
I was suprised to find that a little town like this has a very good Youth Hostel with a fantastic swimming pool, which calls for you to have a dip in it, especially in the summer.The the Guadiana River separates and acts as a border between the hostel and Spain. The Hostel is around 40 km from Vila Real de St António.Set in a stunning landscape, the Hostel is the ideal place for you to spend a few days with your friends. Discover the beauty of the inland Algarve plus partake in some do water sports such as Kayaking on the Guadiana river.THE HOSTEL
Hostel rooms ROOM WITH.... 2 Beds per room
ROOM WITH....4 Beds per room
ROOM WITH....6 Beds per room
Opening times
Opening times Mon-sun = 08.00 – 24.00
Opening from 01 January - 18 October and 15 November and 21 December - 31 December......
ADDRESS....Youth Hostel
Alcoutim
8970-022
Portugal
TELEPHONE +351 281 546 004
Fax. +351 281 546 332
EMAILalcoutim@movijovem.p.....