ALGARVE-MAPS FARO TO CABANAS & OUR APARTMENTS
ALGARVE-MAPS


Hello there!You have arrived on our maps page.
PLEASE CLICK HERE.To return to main Algarve info' page
View Larger Map
ALGARVE-MAPS.Use this google map to locate our apartments.They are on the Urbanizacao do Lagar,Conceicao,Cabanas de Tavira,Algarve,Portugal.So easy to get to.You just follow n125 following signs for Espanha.How far from Faro airport? Just about 35 kms.We have been in a cab that picked us up a little late for the return to the airport and he did it in 35 minutes.They sayto allow up to 45 minutes.So it is a reasonable journey and will not produce too many,"are we there yet" cries;from the young and old!
Please use this map in conjunction with the distances between towns chart at the bottom of this page.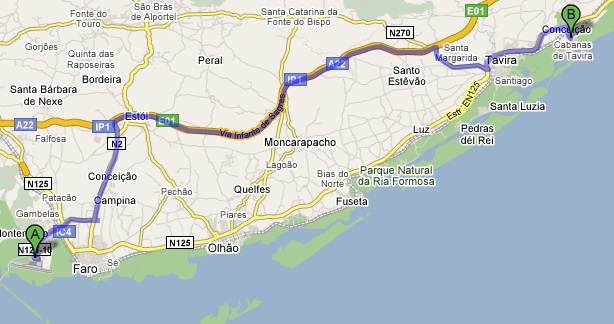 Hello Nice to see you again!.You have arrived at our maps page.
Please click here If you wish to return to the Information main page
Please click here Should you wish to return to the east-west-algarve homepage
This is just to give you some sort of perspective of the region and the journey from Faro to Cabanas where our apartments are located.
ALGARVE-MAPS.Here on this page we hope that we can help people coming to Portugal or those thinking of going; to get some understanding of the area you are going to.Just understanding an area and having some mental pictures of it,increases your confidence and makes a decision to visit a lot easier
We will add various maps as we find good examples which will be usefull.
ALGARVE-MAPS
This first map is to show you where our apartments are.It is Faro to Conceicao de Cabanas.Conceicao is the little village the apartments are situated in.Just 10 minutes walk from Cabanas ans its fantastic beaches.
So if you were trying to get an idea of how far it is for you to travel after you have landed at the airport.You would land at Faro airport.Voted favourite european airport.You emerge out to usually blue and sunny skies.You can see from the map above that it is a pretty straightforward run to your destination.All you would need to remember is that you follow the signs for Spain and Tavira.You will by-pass Olao a busy fishing town on the n125 When you reach Tavira you by-pass it by following signs for Vila Real St Antonio.Ten minutes from Tavira you will be in Conceicao.You will know because you will see a big white water tower on Benamor golf course on your left.You have arrived.How simple is that!
Just a little more information on this map and the location.The sea is the Atlantic.Cross that and you would be in Brazil.Just the same as Uk is opposite New york and America.Going along the coast eastwards towards your destination you are getting closer to Spain and The Mediterrenean sea.Morocco is on the other side of the Med' from Spain.All close to where you are thinking of staying.How good an area is that to stay in!
ALGARVE-MAPS TO RENT A VILLA OR APARTMENT ANYWHERE IN THE WORLD
The map below gives a slightly different perspective and demonstrates just how easy a tour of The Algarve would be.Indeed you could start in the West, the more rugged Atlantic end favoured by the water sports addicts.Progress to the Central region of Lagoa and Albufeira;the touristy hot spots.Move on to Tavira in the East Algarve.Then to Vila Real St Antonio the Spanish border town and even move on into Spain.Wonderful Seville is about one and a half hours away.
Nowadays the N125 makes it quick and easy to travel from one end to the other.You can miss an awful lot of delightful places by just following this motorway though.This region is so rich in lovely seaside towns large and small and officially some of the best Pria 's (Beaches) in the world.
Also the climate is accepted to be one of the most beneficial in the world.Please use the map below in conjunction with the distances chart near the bottom of this page.Just scroll down and you can find out the kilometers between most Algarve towns.

===========================================================
Below more of the great ALGARVE-MAPS and this a great geographical map of the Algarve.Note the Monchique area.This is a must to visit by all who visit the region.Best visited on a coach trip to really appreciate the scenery going up and coming back down.The road is a bit like a Swiss mountain pass route;where you sometimes wonder why the vehicle does not fall off the edge.
The Monchique mountain scenery is spectacular and mysterious and acts as a background for so many golf courses,hotels and holiday resorts.We will be doing a dedicated Monchique page soon;it does need its own!
There are quite a few more mountain areas as you progress eastwards towards Spain.Not as massive as Monchique but still wonderfull to visit and experience the real inland Algarve.It is something you must do if at all possible.The coast off course is the magic draw with its rugged and spectacular coastal scenery in the west of the region and then the flat sandy beaches of Central and Eastern Algarve. ALGARVE-MAPS will hopefully help you to imagine the Sandy beaches which have no superiors anywhere.Combined with all the pictures on this site we hope the maps give you another more imaginative insight to this fantastically beautifull and geographically diverse region.The local Portuguese people of the Algarve have made tourist hospitality something rather special.
The same applies as you go further inland the hospitality of these people is amazing.
We continue all the time to look for good and unusual ALGARVE-MAPS to bring some reality of the region to this site.You can use the map below with the chart at the bottom of this page to plot how far from Faro any town is.Or the distance between any two towns of your choosing.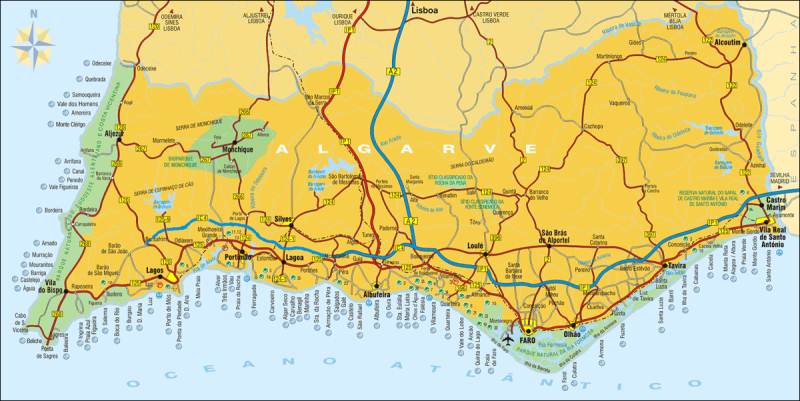 The inland Algarve has every bit as much to offer as the coast.As you can see on the map above there are numerous lake areas which are laden with wildlife.There is nothing here to pollute the waters and it shows when you visit.You can see there are numerous rivers running down from the higher grounds and again the waters are crystal clear and undamaged by pollution.If you do manage to tour inland it is something you will not forget whatever time of year it may be.Even in their wintertime you can find superb sunny days to get out of your vehicle and explore the wildflower covered mountain slopes and river banks.In Spring there is just an explosion of wildflower colours
Hikers and bikers will love the magic of inland Algarve and activity holidays are easy to find and are well catered for.
You can click on this interactive map from google.
If wanting to locate exactly where our apartments are;they are on the Urbanizacao do Lagar,Conceicao,Cabanas de Tavira,Algarve,Portugal.
Below DISTANCES CHART..Just to make life even easier we now have a distance between towns chart on our ALGARVE-MAPS page.So now if you want to know how far it is from Faro and the airport to ,for example Lagos,just look it up on the chart below.
Part of our sevice to you is to always be thinking about what will be usefull to our customers.What could be more usefull to the visitor to the Algarve than to be able to plot routes and the kilometres you will need to cover to get to your destinations.
Even if you want to visit some tiny village that is not on the chart you can find out which is the nearest town to that village and take that mileage and estimate how far the village is from the bigger town.You should not be far out.
If you think of anything else that would be usefull on this page or indeed any page on www.east-west-algarve.com then please use the CONTACT US button at the top of any page.We are alwys delighted to hear from our readers and we will certainly act on your suggestions if it is humanly possible.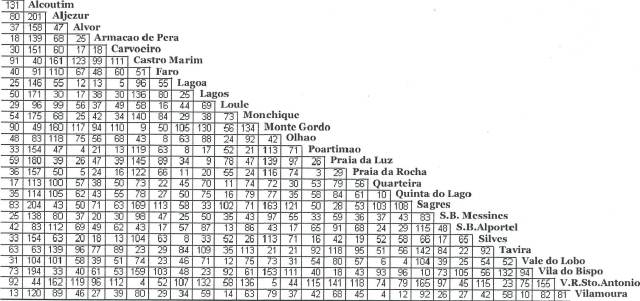 ALGARVE-MAPS END