Albufeira Touristic Capital of Central Algarve.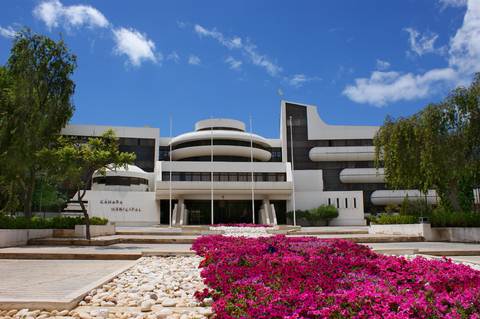 Albufeira

.How's this for a clean and attractive town hall.This town has lots of great architecture for you to tour and photograph.What more could the Tourist want.!
p>
Hello and Welcome.You have arrived at our page on the town Albufeira.
Please Click Here.To return to the main Algarve Information menu
Please Click Here.When you wish to Return to our Home Page Menu
The town has grown immensely since the sixties when people like Sir Cliff discovered the delights of the algarve.It nowadays has a population of around sixteen thousand and considerably more in the main summer season.
When its hotels, holiday villas and apartments,are jammed full. Golf courses, beaches, local events and restaurants,are overflowing.This is for the young and those who want beach all day and then the bright lights all night. The former fishing village has expanded since the 1960s into one of the Algarve's major holiday resorts. The old town centre is a major draw with its plentiful collection of shops, bars, clubs and restaurants filled-up with tourists from all over the world.There is a real wow factor the first time you walk into the old square.You walk around the shops and then find you can walk straight out onto a most attractive beach.
The town has some of the best beaches in the Algarve, from Praia da Falésia in the west to Praia de S. Rafael in the east. There is also a large recently added Marina.
The city of Albufeira (It became a city in the 1980's) receives a considerable slice of the estimated 5 million tourists who visit the Algarve every year.It used to be just the rich coming here for the summer season but now with the advent of cheap flights tourists are arriving all year round.It is for visitors of all ages and from all over the world.
The exceptional climate, with more than 3000 hours of sunshine per year and the extraordinary light and air.Plus the friendliness of the people persuade many foreigners to move to the region, either temporarily or permanently. More and more people select Albufeira as their favoured destination because of the many and varied attractions,such as; the lively nightlife, the beautiful beaches, varied water sports,numerous golf courses and the local foods.
The name of Albufeira like most Algarvian towns goes back to the Moorish occupation when its name was Al-Buhera.This was when it became an important port during the 8th century.Trading in all kinds of Arabian luxuries.
There is plenty here to keep the excitable tourist happy for a two week holiday..There is much to visit in the nearby towns of the Central Algarve.Including a very exciting Gypsy market,where everything appears to be 2 euros.According to the very loud voices of the rather large female stall holders.Do not let them stop you or you will never get away from them.
Golf courses abound in this region and indeed all over the Algarve.see our golf courses page which is under construction if you like golf.Please Click Here..To see GOLF-COURSES of the Algarve
The coastline of this region stretches for around 30 kilometres and there are some 25 separate beaches.All having the wonderfull fine golden sands for which the Algarve is so well known.They are nearly all of a high standard of cleanliness and the infrastructure for tourism supports them very well.Hotels,bars and retaurants abound and there is something for everybody.It is certainly the throbbing centre for nightlife in the Algarve.You will find that all activities are very well catered for.
Watersports are well developed with many facilities for both the experienced and the learner.There are many golf courses which you can find on our GOLF-COURSES page.Bicycle hire and tours are many and varied.Coastal cruises are many and often and not to be missed because of the spectacular coastline.Fishing is well catered for with much sea fishing and even big game fishing to be found.If activities are your bag do your homework before you go.Visit our activities section,Please Click Here.For Activities in the Algarve.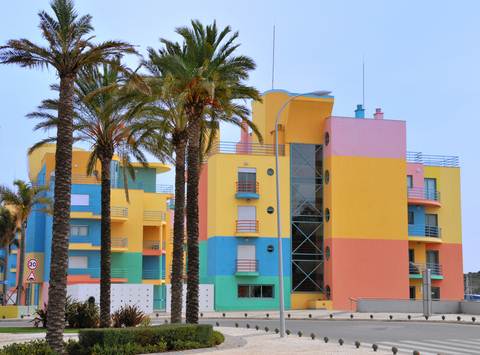 These stunning buldings are part of the architects design for the new and very Modern Marina.Some like photographers will love them.Others will detest them!.
Albufeira Travel information.
If you do not want to hire a car then the city has a number of options for getting around.To be honest these options are a lot better and cheaper than hiring a car;especially in the summer months when traffic is heavy. There about is the 'tourist train' that runs between the 'strip' and Albufeira 'old town' and the superb local "Giro" minibus network. If you want to go a little further such as the water park Aqualand or the Algarve's most popular and amazing theme park Zoomarine,Click here for Algarve Zoomarine.On this site.Come back Though.
Albufeira Travel information has details about the 'tourist train' that runs between the 'strip' and Albufeira 'old town' and the excellent local "Giro" minibus network. If you want to visit one of the water parks such as Aqualand or the Algarve's most popular theme park Zoomarine, there are several agencies in Albufeira offering very reasonable prices for transportation and tickets and with pick-up points near the main hotels it's both convenient and cheaper than hiring a car there are several Transport agencies in offering very reasonable rates for transportation and which have pick-up points near the main hotels.This option is both convenient and cheaper than hiring a car and driving on the "wrong side of the road".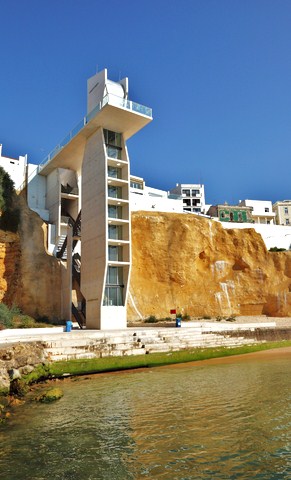 ALGARVE BEACHES
If you like beaches you will be spoilt for choices in and around Albufeira.
Fishermans beach.This is the beach in the town.The old town to be more precise.To get to this beach you walk through an alleyway and an arch and there it is.A very nice charming sandy little beach.You cannot take your car though!You will have to park up outside the old town and walk into the rather lovely "Old Town" square.This is paedestrian only.It is a good beach and of course you have plenty of shops.
Albufeira Beach:The main beach is about fifteen minutes walk from the center of the town. It is quite easy to miss as the entance is not too obvious fom the road so look out for signs that point to a path and small road that takes you to the beach.This is more your, 'traditional tourist beach'.There is a good sized car park at the end of the small road.In the main summer season of july and august;be warned the sand can get very hot on lily white tourist feet and so plenty of wooden boards are laid out to walk on to avoid getting burnt.The water can be quite shockingly cold,this is the open Atlantic ocean so brace yourself when taking your first dip.After your first dunk it becomes more refreshing.
Sunloungers and umbrellas can be hired for a few Euros.Well located behind the close by sand dunes is a nice bar 'cum' restaurant with plenty of room to sit inside or out. It has a good reputation locally for its friendly service and very tasty food.Plus for a beachside 'foodery' it is reasonably priced.
If you like to visit different beaches then there are plenty more just a short drive away from the town. Sº Rafael,has a lovely beach though partly owned by a large hotel,nowadays.It is a lovely little bay type beach with rocky cliffs aroun the sand. Albufeira.Other beaches worth visiting,are Falésia and the always pleasant and sandy Carvoeiro beach.Always good white sand and the sparklingly clear,refreshing lovely bright blue sea..
Read more: http://www.virtualtourist.com/travel/Europe/Portugal/Algarve/Albufeira-293601/Things_To_Do-Albufeira-Beaches-BR-1.html#ixzz1O0MRmapz
So this is the worlds largest diving board.Set back from the waters edge to allow for "The curvature of the Earth".WHAT YOU DON'T BELIEVE IT!"..............Ok then its not a diving board.I bet some "muppets" have tried it though!They would have to "just because 'innit"....No what it actually is,is an elavator down to an Albufeira beach.No cost spared for the Tourist in the Algarve.
Please Click Here.To see South African Holidays.Great website loaded with information.
Albufeira,to Holiday Villas and Apartments Worldwide.Direct from the Owners
Albufeira attractionsThere are a great many attractions and festivals to enjoy in the touristic capital many of them all year round.Perhaps the biggest one is Zoomarine which is exactly what it says a zoo of marine animals and the dolphins are the major attraction.to find out more follow this safe link to our Zoomarine page,CLICK TO GO TO ALGARVE ZOOMARINE
Another great attraction is Aqualand or waterworld which again is fantastic entertainment for everyone but especially families.Loads of water rides and shutes,just pure fun.
Coastal cruises are another great activity but can be a little expensive but if you can afford it,it is "must do".The major operator is Algarve Seafaris they sail out from Albufeira Marina and they offer an amazing opportunity to enjoy the magic of the Algarve! Their base is at Marina de Vilamoura but they collect their customers from Albufeira Marina. There most popular trips are to visit several of Europe's largest caves carved out of the most amazing rugged rock formations and cliffs. Algarve Seafaris cruises are without doubt the best way for taking in the natural beauty of the Algarve coastline and you might get to see some dolphins as they are often to be seen frolicking in the crystal clear waters of the Atlantic Ocean!
Algarve Seafaris's most popular attraction is the Full Day Cruise which sails along the Algarve coastline to Carvoeiro, admiring the stunning rock formations along the way.The stunning Catamaran boat called Liana then stops for guests to explore the caves by dinghy and allow time for customers to have a swim and enjoy lunch in the sunshine on the beach! Algarve Seafaris also run half day cruises and fishing trips and their fleet is also available for private charter!
Cape Town Holiday Accomodation
Holiday rental accomodation in and near Cape Town. A selection of apartments, Bed and Breakfast, Guest Houses, Hotels, self catering and other holiday accommodation.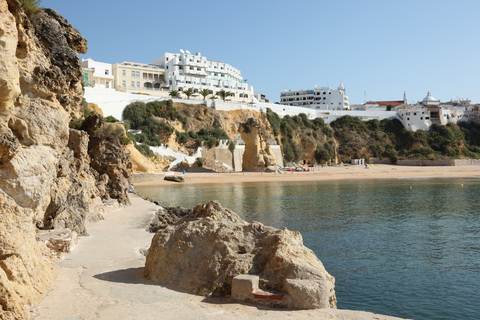 Above,on the beach at Albufeira looking up at clifftop houses.All whitewashed as is so often the case in the Algarve
The coastline of Albufeira runs for around 30 kilometers and contains up to 25 separate beaches.Virtually all are golden sand and spotlessly clean.The Atlantic water is so pristine here and is beautifully warmed by the summer sun.
Most beches here are blue flag or have other awards vouching for how clean and well kept they are.The Portuguese value their tourists and everything is kept to the highest standards.This town is certainly one of the major tourist hot spots and has everything for the holiday making family or young couples or groups.Night life is abundant,as are beaches and there are plenty of golf courses and other activities.
For Activity holidays and sports,why not go to our activities pages...Please Click Here to visit our Activities Page.
Whatever it is you like to do you will probably find it somewhere near this bright Algarve town.Definitely the Quintesential holiday resort town with wall to wall sunshine.