ALGARVE-HORSE-RIDING INFORMATION
ALGARVE-HORSE-RIDINGSPOTLIGHT ON TIFFANY'S RIDING CENTREOne of the better riding centres on the Algarve,Tiffany's Riding Centre is very easy to find being on the main EN125 which goes right through the region.You will find it 7 kms past the town of Lagos,heading westwards.It is situated between the villages of Espiche and Almádena less than ten minutes drive from the resorts of Lagos, Praia da Luz, Burgau and Budens. Address:
Centro Hípico Tiffany's
1677-E Almádena
8600-102 LUZ
Lagos
Portugal

Tel:
00351 282 697 395
e-mail:
enquiries@teamtiffanys.com
The Hipico is set in beautiful countryside with many trails over coastal, hilly, floral and forest tracks all leading off the farm.Ideal countryside to maximise the enjoyment for your ALGARVE-HORSE-RIDING holiday.
Their facilities include a floodlit sand arena approximately 42 by 35 metres,plus a woodchip arena of approximately 1200 sq m.There is also a lunge arena, wash-bay for the horses' a Dressage arena>For the advanced rider they have International Show Jumps and Cross-country jumping, classroom and car parking.If you have your own horse-trailer they have suitable parking for this as well.

Hello and Welcome.You are on our ALGARVE-HORSE-RIDING page.
Please Click Here.When you wish to return to the Main Activity menu
Please Click Here.When you wish to go to our Homepage Main Menu Another great activity that is well catered for in this lovely region of Portugal.How would you like to arrange your holiday.Do you have an area you know in the region where you would like to stay and want to find the nearest stables to your destination.
Or do you not know this region of Portugal at all and would like to do some research into stables and find the one you would most like to use and then match your accomodation .What you need is a directory of stables so you can do your research and even ring and talk to the people who run the establishment.This last being vital to give you best chance of finding the place and people you can get along with and so increase your chance of a good holiday.NEVER leave this to chance,always ring the stables.One short call and then you can probably get their email address to keep costs down.
As you can see below there are stables all along the Algarve and of course they cater for just about any ages and all levels of experience.You can even get beach riding which surprised me as Ihad thought the stables were all further in land.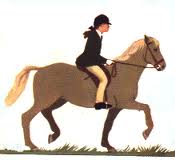 DIRECTORY OF RIDING IN THE ALGARVE
ALBUFEIRA RIDING CENTRE TEL/FROM UK 00351 289542870
CENTRO DESPORTIVO ALFA MAR/FALESIA,ALBUFEIRA TEL
ALJEZUR HERDADE BEICUDO HORSE RIDING TEL FROM UK 00351 28297318
ALJEZUR CENTRO EQUESTRE TEL 00351 282991150
ALMANCIL CENTRO HIPICO PINETREES RIDING CENTRE TEL 00351 289394369 WEBSITE www.pinetreesridingcentre.com
ALMANCIL QUINTA MARTINS RIDING CENTRE TEL 00351 289395529.
ALMANCIL QUINTA DOS AMIGOS TEL 00351 289393399
ALMANCIL HORSES PARADISE TEL 00351 289394189
ALMANCIL CENTRO HIPICO PARAISO DOS CAVALOS TEL 00351 289394189
LAGOA QUINTA DA GILL RIDING CENTRE TEL 00351 966619136
LAGOS TIFFANYS RIDING CENTRE TEL 00351 282697395 CASTRO MARIM CENTRO QUINTA DO CAVALO EQUESTRETEL 00351 281531385
LAGOA QUINTA PARAISO ALTO RIDING CENTRE TEL 00351 282687263
LAGOS CENTRO HIPICO ATALAIA TEL 00351 282761921
LOULE RANCHO DO CAVALO LOUCOTEL 00351 289415051
LOULE RED HORSE RANCH TEL 00351 962685293
LOULE ESCOLA DE EQUITACAO DA GNR TEL 00351 289416351
LAGOS HERDADE DO CASTANHEIRO TEL 00351 282687502
OLHAO CENTRO HIPICO CASAL DE SAO JOSE TEL 00351 289703198
PORTIMAO CENTRO HIPICO VALE DE FERRO TEL 00351 282968444
PORTIMAO CENTRO HIPICO BELMONTETEL 00351 282476020
PORTIMAO HORSE SHOE RANCHTEL 00351 282471304
QUINTA DO LAGO CENTRO HIPICO QUINTA DO LAGO TEL 00351 289396099
SILVES COUNTRY RIDING CENTRE TEL 00351 917976992
SILVES CENTRO HIPICO DE SILVES TEL 00351 282444120
TAVIRA CENTRO EQUITACAO OTA DAS OLIVEIRASTEL 00351 281322107
VILAMOURA CENTRO HIPICO VILAMOURA TEL 00351 289322675
ALGARVE-HORSE-RIDING
One of the biggest and best equipped is Vale Ferro Centro Hipico.(You might have guessed Centro Hipico is Portuguese for riding centre.)This stable is in western Algarve near Portimao.They do cater forv everybody and as with most businesses you will find nearly always have English speaking staff.So you should be finev with any ringing up.
Vale Ferro arranges a lot for riders taking in beaches and even the mountains of Monchique.They also offer dressage courses for the more experienced riders.It is fair to say they are very proud of their stallions.They apparently use only Lusitano pure breed stallions for the dressage courses and they are all very highly trained so I think if this is for you;it is going to be something very special.They have around thirty horses and for beginners offer a basic seven day course.For the more accomplished they have their riding under the sun holidays or you can combine this with a dressage course.Why not visit them on their very own website.  See ALGARVE-HORSERIDING
Keep a lookout for more ALGARVE-HORSE-RIDING.See below for latest news.
INTERNATIONAL OPTION "FAR AND WIDE"
If you prefer there is an international company that arranges HORSE-RIDING Holidays worldwide.If you are not sure where you want to go this could just spark that inspiration as you look through the places you can go.Plus you will know the companies must have been checked to make sure they are up to standard.
They very originally call themselves FAR AND RIDE.Rather clever really!
So what do they offer you? They have a very comprehensive selection process for you to use.
You can search under:ALL RIDING HOLIDAYS:
This shows you all the holidays in a single list.Great for leisurely browsing.
Then SEARCH COUNTRIES:
Good option if you know where in the world you want to go HORSE-RIDING.Or you want to get inspiration on a country to visit.
Search:HOLIDAYS BY TYPE:
See a list of the type of holidays on offer.Find something matching your criteria.
Search HOLIDAYS MAPS:
Take your inspiration by browsing world maps.We are all different in how we enjoy searching.
Search:OFFERS AND DISCOUNTS:
With so many different HORSE-RIDING holidays.There could well be some offering great discounts to pick up some extra trade.
Do you want to "go take a look"...Click to visit Far and Ride..Another option from ALGARVE-HORSE-RIDING
ALGARVE-HORSE-RIDING.To Holiday Rental properties Direct from the Owners
END:ALGARVE-HORSE-RIDING..