ALGARVE-GOLF:EAST ALGARVE GOLFING HOLIDAYS
ALGARVE-GOLF
<
You have arrived at Algarve Benamor golf course page.Please scroll down for golf breaks in east algarve Benamor golf course.We will be adding more golf breaks later.Or if you made a mistake you can Please return to the main Activity page where you can find whatever you want to read about If you want to find hundreds of golf properties in the Algarve or woldwide.Please click here for a vast selection,where you will be able to contact individual owners..For golfers who play in the East Algarve we have two apartments in Conceicao,literally just over the road from Benamor Golf Course.There are plenty more in the l;ocality for those who like to try more than one Golf Course.
We own these apartments outright so can be very resonable in the rent we charge.Our 2 bed is huge and can sleep up to six.Modern and bright and on the ground floor with security shutters for the safety of belongings.It is beautifull and well equipppied and shops, cafes,bars and restaurants are just 3 minutes walk away.
Rental Prices:
From:£130 pw in winter-£450 pw in August (main holiday season.Please see a phoptograph below or for maximum information:Click for 2 bed apartment east Algarve,Conceicao de Tavira
An ideal apartment for up to six people.Golfers or any group at all.The Photograph shows one end of the 20 foot plus front living room showing the cosy area with tv.You can just see the table and chairs for eating and drinking or playing cards or board games.There is also a very large kitchen with its own dining table and chairs.So people can really spread out and find their own space,especially with the 2 large bedrooms.One of which leads out to a large courtyard to sit out.Great for ALGARVE-GOLFER>
It's all about golf!.Do you Love Golf?Visit Golfing Paradise
JAPAN LIVING &TRAVEL INFORMATION
ALGARVE-GOLF
Loading
ALGARVE-GOLF:DO YOU FANCY A GOLF BREAK OR HOLIDAY THEN OUR APARTMENTS ARE SO CLOSE TO BENAMOR GOLF COURSE IN THE WONDERFULL EASTERN ALGARVE,In Conceicao;ten minutes walk from Cabanas and ten minutes drive from Tavira
Holiday-Rentals Tavira region holiday apartment
.THAT YOU CAN ALMOST FALL OUT OF BED AND START PLAYING.SERIOUSLY THOUGH THEY ARE JUST 2 MINUTES WALK FROM WHERE YOU WILL BE STAYING.SO NO NEED FOR A CAR.SAVING YOU POTS OF MONEY.BENAMOR GOLF COURSE IS A WORLDCLASS SITE.IT IS ALSO VERY BEAUTIFULL.YOU WILL NOT FIND BETTER SCENERY ANYWHERE.I KNOW GOLFERS DO NOT ADMIRE THE SCENERY BUT WHETHER YOU REALISE IT OR NOT THE SCENERY ADDS TO THE GENERAL ATMOSPHERE AND MAKES YOU FEEL HAPPIER (AS LONG AS YOU ARE NOT HAVING NIGHTMARES WITH YOUR SWING).For more general topics on Golf in the Algarve Please visit our Golf-Information page by clicking this link
THE PICTURES ARE OF THE ACTUAL BENAMOR CLUB AND WE WILL BE ADDING MORE IN A FEW WEEKS.BELIEVE ME IT IS VERY POPULAR WITH GOLFERS.
The Algarve is a very popular destination with golfers.Out of the main summer season the climate is just about perfect.With more hours of sunshine than Florida per year!I see all the golfers at the airport and I fly over 3 to 4 times per year.So I speak from experience when I say the Algarve is popular with golfers.
This page is mainly for Benamor golf course,close to our apartments.For much more widely ranging golf-information, PLEASE CLICK HERE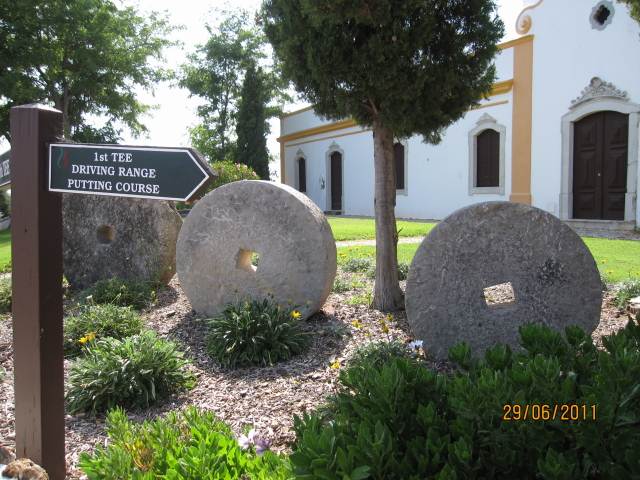 ALGARVE-GOLF
YOU CAN SEE THE APARTMENTS WE HAVE ON THE BUTTON NAVIGATION LEFT HAND SIDE OF PAGE.THEY ARE LUXURIOUS MODERN AND SPACIOUS SET ON A DELIGHTFULL URBANISATION WHERE BOTH ENGLISH AND PORTUGUESE LIVE.YOU WILL BE VERY HAPPY IN THEM.YOU SHOULD BE ABLE TO SLEEP UP TO 10 GOLFERS IN THESE TWO AND NOT FEEL TOO CRAMMED- IN THEY REALLY ARE ROOMY
IF YOU WOULD RATHER STAY IN A HOTEL YOU CAN BOOK THIS AS WELL;JUST CHECK OUT THE NAV' BUTTONS.YOU CAN ALSO BOOK YOUR FLGHTS ,CARHIRE AND AIRPORT TRANSFERS (IGNORE THAT THE TRANSFER LINK SAYS BUDAPEST AIRPORT JUST USE DROPDOWN ARROWS TO GET YOUR DESTINATION)

ALGARVE-GOLF
WE CAN GIVE EXTREMELY CHEAP PRICES TO GOLFERS AS WE OWN THE APARTMENTS OUTRIGHT,SO BE PREPARED TO GET A SURPRISE WHEN YOU REQUEST A QUOTE.WE CAN CATER FOR ANY SIZE PARTIES FROM 1 UPWARDS,IF THERE ARE MORE THAN TEN OF YOU THEN WE HAVE ACCESS TO OTHER APARTMENTS ON THE SAME SITE.SO HOWEVER MANY OF YOU THERE ARE JUST CONTACT US USING THE CONTACT US NAV' BUTTON
WE ARE KEN & CHRIS JEFFERIES AND WE LIVE AT:54 SYLVAN WAY SEA MILLS BRISTOL BS9 2LE:TEL:0117 9683244:EMAIL:KENNETHJEFFERIES2@GOOGLEMAIL.COM
PLEASE FEEL FREE TO CHECK US OUT,WE ARE VERY OPEN PEOPLE AND YOU ARE WELCOME TO CONTACT US AND ASK AS MANY QUESTIONS AS YOU WISH.WE WILL BE DELIGHTED TO HELP YOU IN ANY WAY WE CAN.YOU WILL FIND US FRIENDLY AND FLEXIBLE TO YOUR RECQUIREMENTS.

ALGARVE-GOLF:FINALLY JUST A LITTLE ABOUT WHERE YOU WILL BE STAYING.YOU WILL ACTUALLY BE IN A LITTLE VILLAGE CALLED CONCEICAO,IT HAS EVERY FACILITY YOU COULD POSSIBLY NEED JUST 2 MINUTES WALK FROM YOUR FLAT.THE BARS AND CAFES ARE PRETTY CHEAP AND THERE ARE SOME LOVELY RESTAURANTS,CHEMIST,SUPERMARKET AND PLENTY OF SMALL SHOPS.YOU WILL BE 10 MINUTES WALK FROM THE VERY POPULAR FISHING VILLAGE OF CABANAS WITH ITS LAGOON AND SUPERB BEACHES,MANY TOURIST SHOPS AND SOME GREAT BARS AND SUPER RESTAURANTS.CABANAS EVERYBODY SAYS IS JUST GREAT AND VERY RELAXING.JUST SIT IN ONE OF THE MANY CAFE BARS WITH A NICE COLD DRINK LOOKING OUT OVER THE LAGOON.MANY OUTSIDE CHAIRS AND TABLES FOR RELAXING AND SUNNING YOURSELF.YOU WILL LOVE CABANAS.
THE AIRPORT YOU WILL FLY INTO IS FARO WHICH HAS BEEN VOTED AS A FAVOURITE WITH TRAVELLERS.YOU HAVE A JOURNEY OF 30-40 MINUTES TO YOUR APARTMENT IN CONCEICAO,SO NOT TOO FAR.THE LOVELY CITY OF TAVIRA IS 10 MIN,S BY CAR.OR YOU CAN USE THE TRAIN.
THERE IS A LOVELY LITTLE RAILWAY STATION 2 MIN'S WALK FROM THE APARTMENTS AND VERY CHEAP TOO.FINALLY THERE IS AN ENGLISH LADY ON SITE IF YOU NEED HELP OR ADVICE.VERY REASSURING WHEN STAYING ABROAD.
,ALGARVEGOLF.
FOR MORE DETAILED ALGARVE GOLF INFORMATION.CLICK HERE ALGARVE-GOLF TO RENT HOLIDAY PROPERTY.WORLDWIDE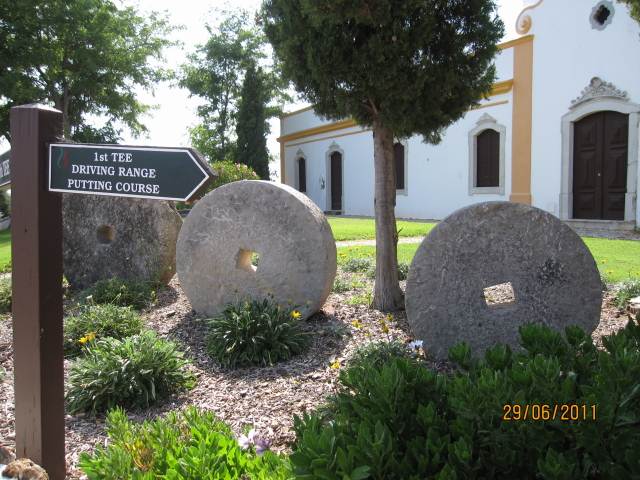 ALGARVE-GOLF
Above is a scene of Benamor golf course near the clubhouse and car park.This is typical of the whole place.There are water scenes everywhere you go,even in the distance you get spectacular views of the Atlantic ocean.I apologise I cannot get photographs out on the course at the moment.I am in a wheelchair so it is not possible to get around the course.So my photographs are around the entrance and clubhouse.
You do not have to play golf to enjoy this tranquil place.We checked at the reception and they do not mind anybody walking around the course and you are free to use the clubhouse to have a drink or a meal.Just remember for meals they are not open late in the evening.
The course was designed by Sir Henry Cotton an award winning designer and he kept as many mature and ancient trees as possible and indeed utilised them as hazards on the fairways to make tthe golfers produce their best accuracy