ALGARVE-LAGOS ATLANTIC PARADISE.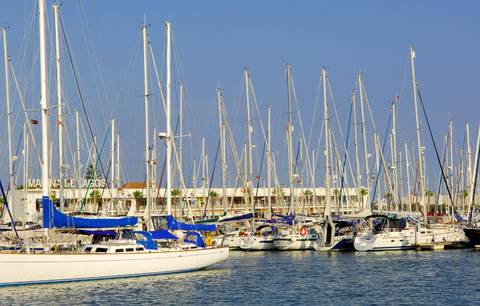 ALGARVE-LAGOS

Part of the busy Marina in the town.It does have a lovely atmosphere!
You have arrived at our page about LAGOS lovely town of western Algarve region.
Please click here.If you would like to return to the main information menu.
Please click here.If you wish to go to the Home page main menu
Lagos is one of the very nicest towns on the western end of the region.Its only drawback being that it is a bit longer and costlier journey from the airport at Faro.This obviously does not put off tourists from making it their base.Better though for those hiring their own car.
It probably has one of the best marinas on the Algarve.It has loads of character and is pretty traditional of Portuguese towns.It has a well developed street cafe culture and should definitely be on your tour list of places to visit if staying elsewhere.For example there is an "Historic Algarve" tour which is a must;as it takes you around the Algarve in a day and you get a short stop in lagos.This was how I first saw the town and I remember it left me wanting to come back and see more.
Being on the western end the coastline is more rugged and spectacular,with plenty of cliffs and wonderfull rocky outcrops carved into amazing shapes by the more aggresive Atlantic sea and its robust winds around .The beach however is the usual glorious clean golden sands that seem to go on forever.
Hotels abound here with tour operators advertising 50 lagos hotels.Travel republic describe 45 hotels in the area..Please click this safe link to Travel Republic and their LAGOS- Hotels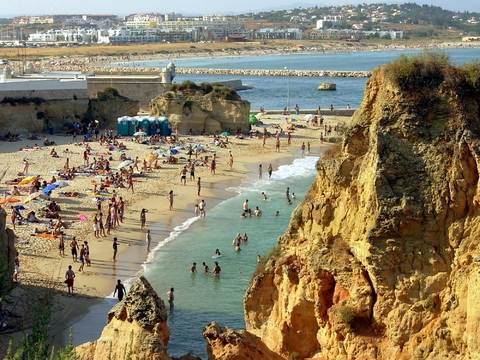 Panoramic shot of Lagos Town and Beach.Another Algarve Atlantic Paradise!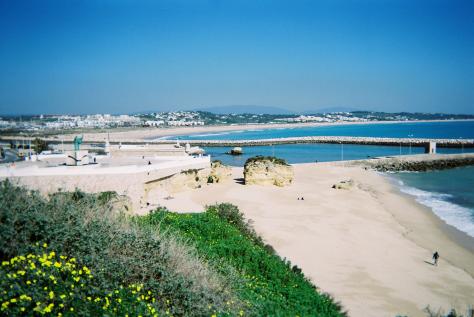 In summer these beaches are full of people.So this is a low season shot.Look at the sky.We regularly see skies like this in January!
Lagos has many small bars and cafes that stay open late,restaurants to are abundant and excitingly varied.For the club disco scene one has to venture a little eastwards on the EN125 a couple of miles.There is another club going towards Sagres.The people of ALGARVE-LAGOS you will find on the whole are warm and inviting.beware it is a place one can fall in love with and need to keep coming back to.
script type="text/javascript">
Lagos History.
The city of Lagos is thought to have some Celtic origins;this belief comes from its old name,Lacobriga.Its origins are put at around 2000bc.It almost certainly has been an important port from the beginning.It is known to have been used by those prolific traders;the phonecians.
It really flourished during its years of occupation by the Romans.By the 10th century along with much of Portugal it was taken over by the Arabs,who fortified it heavily against Christian attackers.By 1249 aprox' it had fallen to the Christians
Real prosperity came in the 15th century when Portugal became a great maritime nation along with Spain and Britain.
During this period it became a centre for trade in gold,silver and iron as well as many exotics from Africa.Bankers and merchants of all nationalities were drawn here and were responsible for the wealth that built many fine houses and chuches.
The 16 century saw real importance when it was the residence for the govenor of the Algarve.
Bad times came with the massive earthquake of 1755 and the tidal wave which destroyed much of the city.Recovery from this natural disaster was slow in coming.Prosperity not really returning till the 19 century when once again it started to regain its long lost prosperity.
Today it is a proud bustling city befitting of its proud heritage.(Dont't you dare yawn!)
ALGARVE-LAGOS Things To See and Do
Fortaleza da Ponta da Bandeira
An ancient small military fortress, located at end of the present day promenade was built somewhere around 1680 to defend Lagos from marauding pirates entering the bay.ALGARVE-LAGOS was very prone to these attacks as it was a very wealthy port with many very rich traders residing here.This is one of the most remarkably preserved examples of a military bastion and features a moat, turrets and a small chapel. Nowadays the fort is used for exhibitions and other local activities and because it was built for military visual advantage,you get some magnificent views of Lagos bay from the battlements.You seriously need to visit this attraction when in Lagos.
There is a museum within the fort with the main focus on the "Portuguese Discoveries".This is all about the history of Portugals great years when along with Spain and England they sailed the oceans discovering the then unknown places of the world.The website "Lonely Planet",lists this fort as number 28 of 71 things to see and do in ALGARVE-LAGOS. We will be coveing many of them so please bookmark this page or follow us by using the Orange feed button top left of page and this will let you know when we add new content.
Also keep a lookout for our newsletter coming soon.You will be able to subscribe to this and find out all that is new and special offers on our luxurious apartments.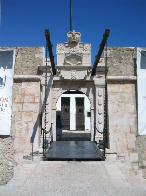 ALGARVE-LAGOS.To Holiday Rentals Worldwide direct from the owners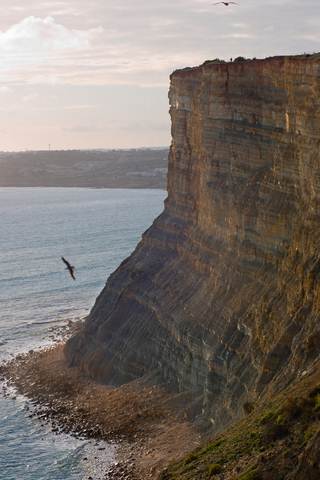 Below picture shows a scene you would see on the "Grotto Tour".Imagine if you will being in a tiny boat at the bottom of this huge cliff face which drops down hunreds of feet to greet you on the Atlantic Ocean.You might feel rather small and awestruck.Definitely a "must do"!More things To See and Do in Lagos "Grotto tour".ALGARVE-LAGOS. If you have not been here before then one of the "must do" trips is the "Grotto Tour".In simple English this is a boat tour of the cliffs along the West Algarve Coastline.You can take one of the official insured cruises where you purchase a ticket near the Marina or a beach.Of course these are relatively expensive but you get "what you pays for".Some people who only have themselves to worry about take one of the small fishermen's boats which wait on the beaches to take you out onto the ocean and act as your guide around the amazing cliffs.You can let a local fisherman be your guide but do ask if he has insurance and lifebelts,especially if you have children with you.However you get out to them you need to witness from the Atlantic Ocean, the "once seen never forgotten",rugged and magnificent cliffs that surround the Lagos area. Your guide will take around and through the amazing rock formations, will steer you into caves and letting you see many hidden and secret beaches scattered around the coastline of this gorgeous town tow.
You can catch a boat at Praia Dona Ana (Praia is Portuguese for beach) or at Ponte da Piedad. The fisherman bring the boats right to the beach, and you can generally get a good rate hereApproximately €10 to €20 per person,remember though,they might not have insurance.As a very least he should have a life belt for every person,if not you would be very foolish to get in his boat to go into the Ocean,however calm the water looks.
Below,another scene from the famous "Grotto Tour".This time see the height and the fantastic rock formations rising straight out of the Atlantic Ocean.Look closely and you will see the caves carved out by the sea over millenia.During an ALGARVE-LAGOS holiday you really must do this trip.Set some money aside specifically for this and do not forget your camera.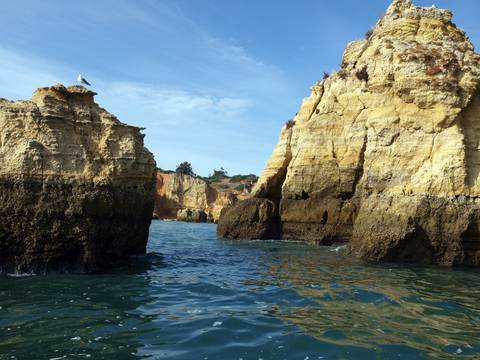 ALGARVE-LAGOS END