Cabanas-Photographs Plus Tavira & Conceicao
Hello and welcome to Cabanas-Photographs.
When you finish here why not go to our most popular page Algarve Activities.Here we showcase more pictures taken in the Cabanas region.This page will cover from Tavira to Conceicao and Cabanas.Scroll down for latest picture 02/01/2012
Picture below taken on the lovely terrace outside the clubhouse of Benamor Golf Club.The ducks behaved for all the world like a family out for a stroll.Mum in front followed by the kids,followed by dad keeping control.It was captivating
Below ia a scene as one walks down from the apartments in Conceicao to Cabanas.Not much to tell about it other than it is part of a quaint cottage which is now a local estate agents.Just thought it was rather pretty for a picture.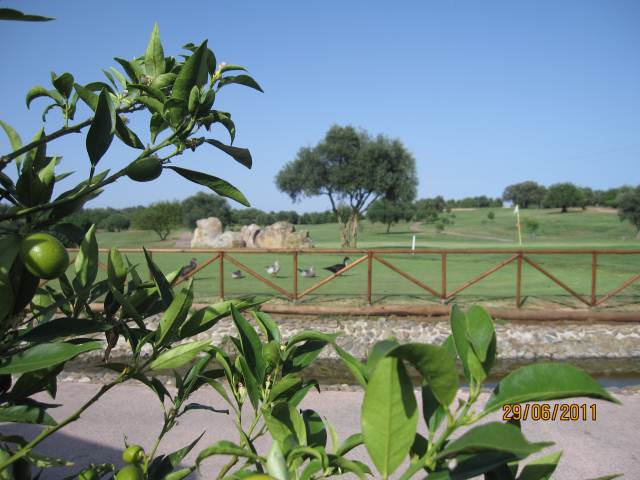 Benamor golf Course is within easy walking distance of our apartments in Conceicao.
Quick Link to See Our 1 Bedroom apartment on this website.Totally safe for you browse this site
Also See Our 2 Bedroom apartment on this safe websiteThe entrance is just a couple of minutes but then you have a beautiful countryside walk of about fifteen minutes to the clubhouse.Even if you do not play golf it makes a fantastic afternoon stroll with a drink or even a meal in the clubhouse bar.They welcome everybody!Why would they not,if you put some euros in their till.
You can buy this picture as is or as a caendar or any format you wish.Perhaps a card.Just go to CONTACT US at the top of the yellow navigation bar on your left.When you arrive there scroll down to the quick form.You do not need to leave any more details then you want to (We promise to use your contact details only the once and delete them.We do not contact people or spam them unless we have been asked to)
Below ia a scene as one walks down from the apartments in Conceicao to Cabanas.Not much to tell about it other than it is part of a quaint cottage which is now a local estate agents.Just thought it was rather pretty for a picture.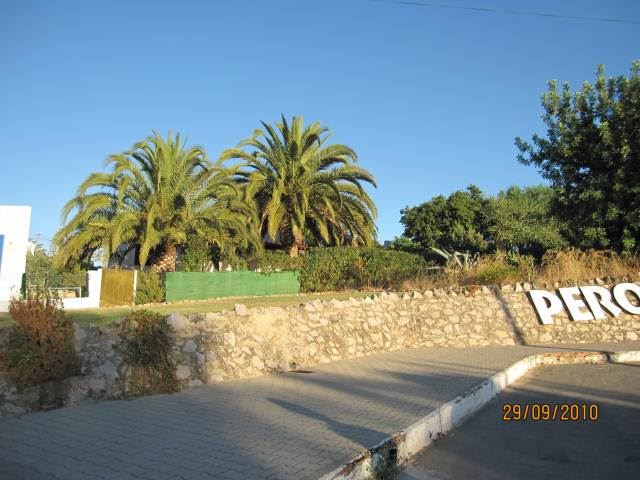 Lagoon Beach Taxis.The beach taxis are one of the unusual extras that give cabanas beach so much of its character and appeal. Everybody I have known thinks Cabanas beach is the very best.I cannot myself say exactly why because being in a wheelchair I have never made it over there. However all the tenants and people I have spoken to whilst in Cabanas and Conceicao sing the praises of Cabanas beach.Cabanas-Photographs show in the accompanying image the boat-taxis plying their trade across the lovely lagoon.I can tell you it adds great excitement for the children to their summer holiday.I know you have to pay but I understand that children do not pay and adults it is about 1.50 euros.From the words of all tourists it is well worth the money because the beach is just so good.
When you get across the lagoon there is a ramp and walkway over the large sandbank over to the miles of sandy beach.I know there is a cafe-shop-restaurant but as is the time honoured way with these things,everything is really expensive.No problem these days when a cool bag is so cheap you can pack a great picnic.The children can still have their ice-lollies "right dad",yeah'!
You do not just have to stay with the beach at Cabanas as there are many more great beaches with-in a short car ride.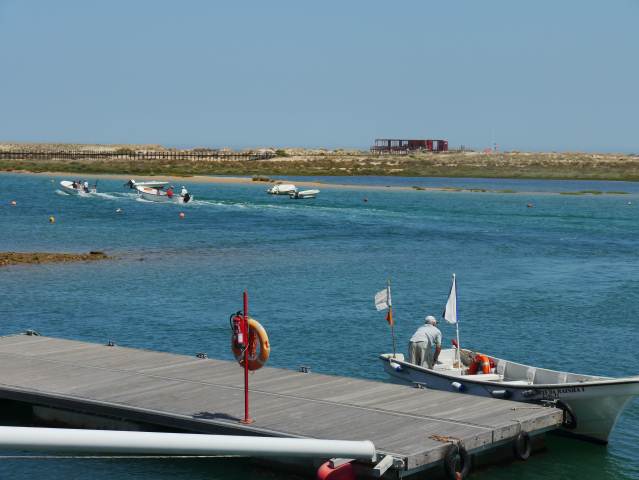 Cabanas now has a much improved marina on the lagoon.Fishing is still a very active pastime here along with the pleasure cruise industry.This makes the lagoon a fairly busy location.'Passers by' can now walk along the new boarwalk which must be around 1 and half kilometers long.Running the full length of the village and following the edges of the lagoon for its entire length,this has to be one of the best boardwalks in Portugal!Let alone in the Algarve!
Below picture captures a fishing boat about to "set sail" the lookout has already taken up position and the Skipper is getting ready to board.We asked him what his task was for today.To which he replied,"just fishin' mate,just fishin"
Below 'tall story' by Cabanas-Photographs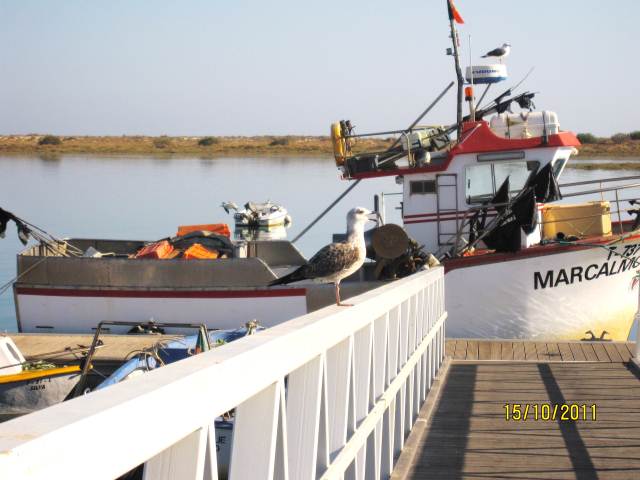 The new marina and boardwalk have made a big difference to to Cabanas,pulling the fishing and tourist town into the 21st century,without ruining the village feel of the place.The local camara (council)are very concerned about keeping the integrity of the village,whilst helping it to thrive.There have been a lot of new builds in and around Cabanas and so the camara has benefited greatly with the boost to its local rates revenue.It is pleasing to see that they have spent some of it for the benefit of the inhabitants.That would not happen in the United Kingdom
.To me it appears to have increased the number of boats in the lagoon area and a lot of them look to be fishing vessels.That can only be good as it will add to the vibrance of Cabanas unlike those marinas where you see nothing but privately owned pleasure boats.These arew boats which stay moored up for 49 weeks of the year and do nothing for the local economy.I can tell you there are a number of marinas like that in the Algarve.Well done to the CAMARA!
Below from Cabanas-Photographs,you will see many colourful fishing boats morred up on the marina and many moor moored up around the lagoon.It is part of the charm that dozens of small,varied and colourful vessels are scattered around the lagoon.So when you sit at a waterside cafe you will always see the comings and goings of local fishermen.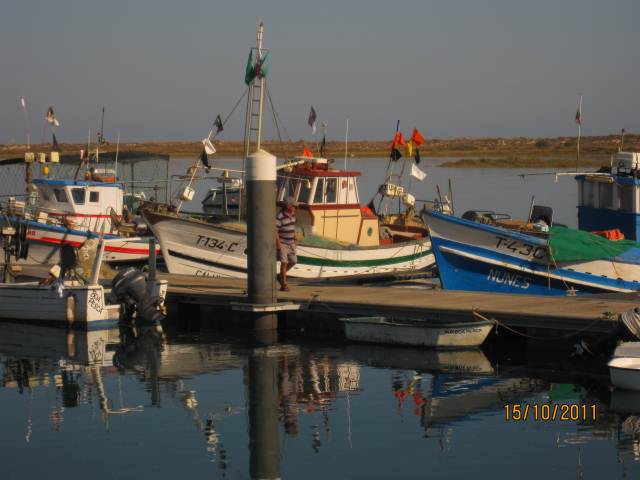 Below is another shot of the marina and lagoon in Cabanas.I think it shows the colorfulness of the fishing vessels both tied up to the marina and moored up out on the lagoon.So vital to the local economy and especially for the local inhabitants,unlike the pleasure craft which hardly ever move..Cabanas-Photogaphs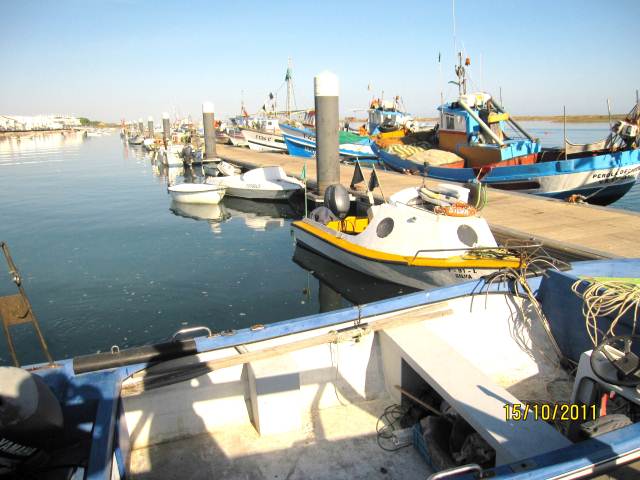 More Cabanas-Photographs.

Below is on the Urbanizacao do Lagar opposite our 1 bedroom apartment.....Click to see our fantastic 1 bedroom apartment EastAlgarve.....This is just one of the lovely garden areas which abound all around the estate.Stand on our balcony on the ground floor of our building and this is what you can see.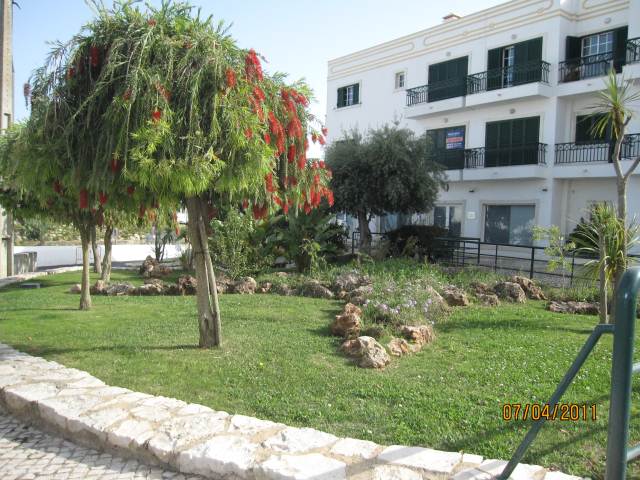 The Urbanizacao do Lagar was built by the local Camara (council in Portuguese),to be the showpiece for the village of Conceicao.It was designed for Portuguese and English and other nationalities to mingle together and that is exactly what has happened.There are Portuguese who live there permanently and many English who have made it their permanent home. With a booking office on the estate for trips all over the Algarve,across to Spain and Seville and up north to Lisbon,just to mention a few.You can even book to go the Zoomarine and the dolphins and seals etc.Or you can go to Aqualand a family water park
I should also mention you can pop over to Morocco on a ferry,usually a two day trip.There is so much to do here and recently a swimming pool and pub called the "Hairy Lemon have opened up along with a lovely Restaurant,has opened up.It is within sight of the 1 bedroom apartment when stood on the verandah and only a short walk from our 2 bedroom apartment....Click to see our stunning 2 bedroom apartment in East Algarve.
More Cabanas-Photographs to come very soon!
Cabanas-Photographs,The Benamor Scenic Walk
The Benamor walk is so good and so pretty I found I had loads of good photographs that I could show a series of pictures ,to give you an idea of how good it is.
Below is an old church,sadly no longer in use.It is just behind the clubhouse and as you can see it is kept very neat and is really picturesque!
The walk from our apartments to the clubhouse at Benamor Golf will probably take half an hour walking quickly but for a leisurely afternoon stroll perhaps three quarters of an hour.Take a break and a drink or a meal and it can make a very relaxing afternoon.The walking is easy enough as it is all tarmac.
Below peering through a shrubbery and bright orange Cannas (tropical plant which can be grown in this country summer time only as it is not too hardy.You can see a waterfall and a pond.This scene you will come across just before reaching the clubhouse.Any of the pictures on Cabanas-Photographs can be purchased very reasonably.Just as standard files or as calendars,cards etc.Use CONTACT US button at the top of the yellow and blue navigation bar to your left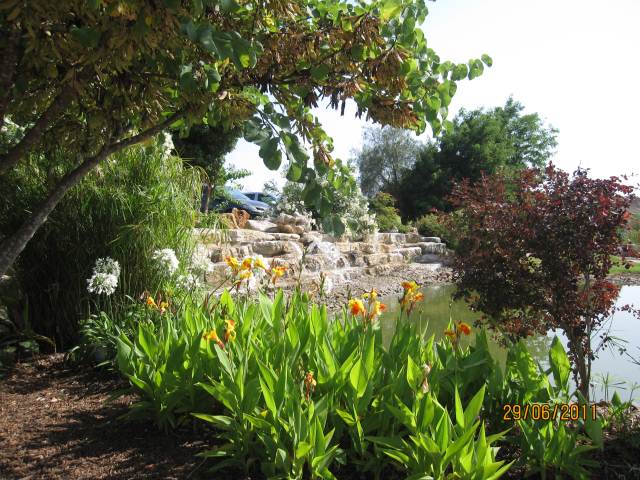 The Church near the clubhouse.I know we showed the chuch earlier on Cabanas-Photographs page but I like this photograph so much and it is very different to the picture before.The staff at the golf club are really friendly and do not mind anybody having a look around.We did not know what to expect the first time we wandered down but we need not have worried.
Below from Cabanas-Photographs this picture really seems to catch the atmosphere that seems to pervade all around wherever you are on this pleasant Benamor walk!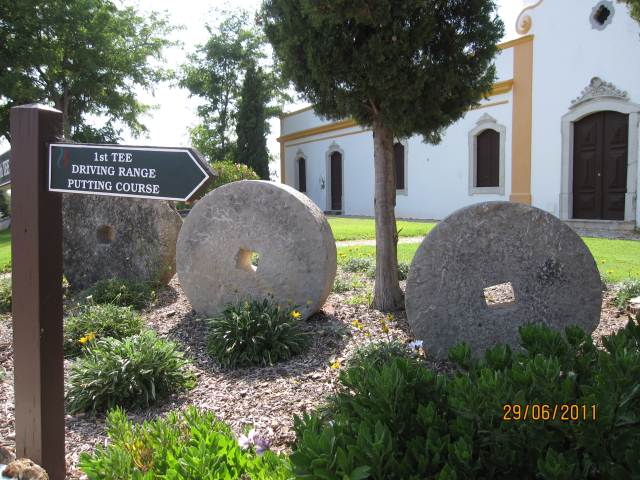 Most of this Benamor scenic walk is pure countryside right on your doorstep when staying in our apartments. When the golf course was constructed they made sure to keep as many of the mature trees in place as they possibly could.From the pictures below you can see what a wise decision this was.Beauty just abounds every where you walk.

What a stunning ancient Olive tree.By the girth on the trunk this tree must have seen a bit of Portuguese history!It certainly must have seen the typically Portuguese "bloodless revolution".When they ever so gently booted out their monarchy!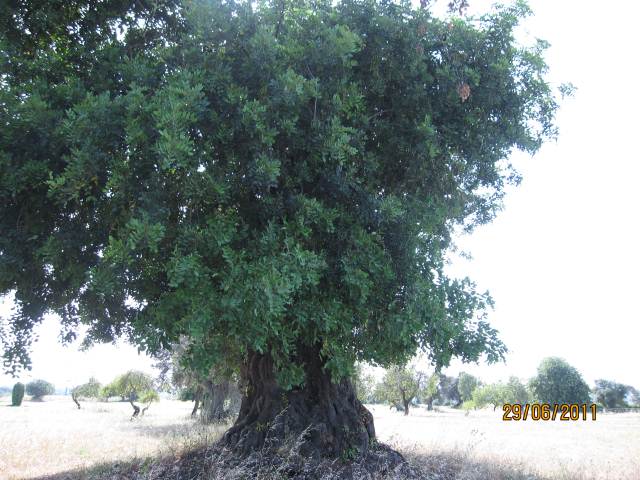 Another couple of pictures from below show the maturity of the countryside you will pass through on this pleasant little walk.On a sunny day it is just a joy,especially when you turn around and see the Atlantic Ocean sparkling away in the distance.You know the clubhouse is just ahead and a nice cold drink awaits you.

I am pretty sure this was an Olive tree but I may be wrong.The idea of this picture was to show off the contorted branches.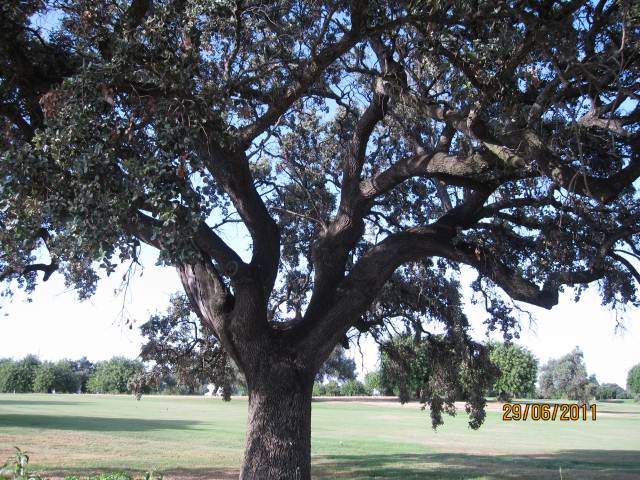 As mentioned behind you on this walk is the Atlantic Ocean and in the distance in front of you are the Algarve mountains as they are called.Not many short walks can provide such variety of views as this Benamor Scenic Walk.All these pictures are our own taken on my super Canon Ixus camera and therefore if you see any you would like we are able to sell them to you.

The picture below just captures the typical scenery you would be walking through.
Cabanas-Photographs covers a large part of East Algarve and what a magical area it is for "things to do".The Lonely Planet website includes it in its top ten for beaches worldwide and indeed the beaches are amazing all being beautiful white sand.Then you have the richness of its wildlife in the very important natural parks including the fabulous Ria Formosa.Next the area is so diverse in its history.Bronze age man left his imprint here as can be seen in many of the museums and ongoing archealogical digs.Following on the Romans invaded the area staying for centuries and who could blame them.I bet they were gutted when they were turfed out.There is still much Roman architecture still in evidence here.Next we see the Moors from Africa invaded.Liked it so much they to stayed for hundreds of years.Their legacy can be seen everywhere in the architecture and in the plant life they brought over from the African continent.The area can hold its own as a holiday destination against anywhere in the world.

Below from Cabanas-Photographs is the stunning Roman Bridge in the lovely town of Tavira.Still in daily use after 2000 odd years.The pavements are literally worn right down in the centre of the stone slabs.How many people must have walked these pavements to wear stone down so dramatically.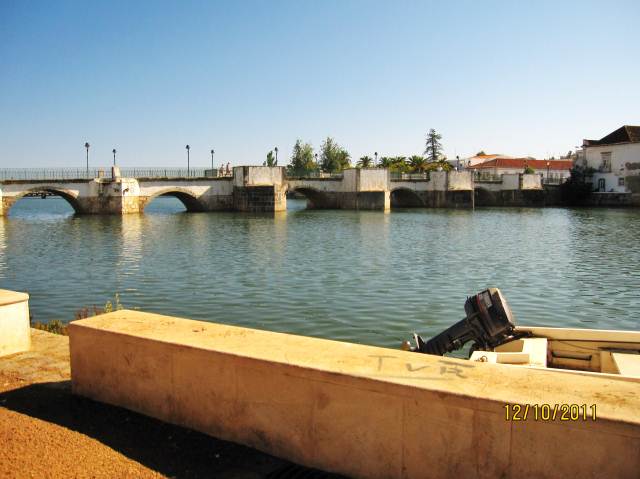 02/01/2012...Cabanas harbour.With Cabanas-Photographs

Great shot of the harbour and the waterfront village of Cabanas.Being a lagoon the fishing village was able to spread lengthwise along the water front for some 1.5 kilometers.This gives Cabanas its unique relaxing feel.You shop,eat and drink looking at the opposite bank of the lagoon and the superb beaches are on the far side of that bank.They are reached by boat taxis which all adds to the fun and flavour of Cabanas.

You can eat and drink pretty cheaply in the village especially if you do a little reconnoitering.(There is a word not often used nowadays.Cannot remember the last time I heard it used.)

For those who do not know what a lagoon actually is.It is where the river meets the ocean but does not flow straight out forming a normal estuary.Instead it turns left or right flowing for miles adjacent to the coastline,a bank then separates the river and the ocean.

It is believed the great earthquake in the 1700,s created the geography for this landscape to form.Picture below by Cabanas-Photographs.Showing the two banks of the lagoon.It looks as if the 2 banks meet up in the distance but they do not.They continue for many more miles yet.This is all part of the famous and very important eco-system known as the "Ria Formosa"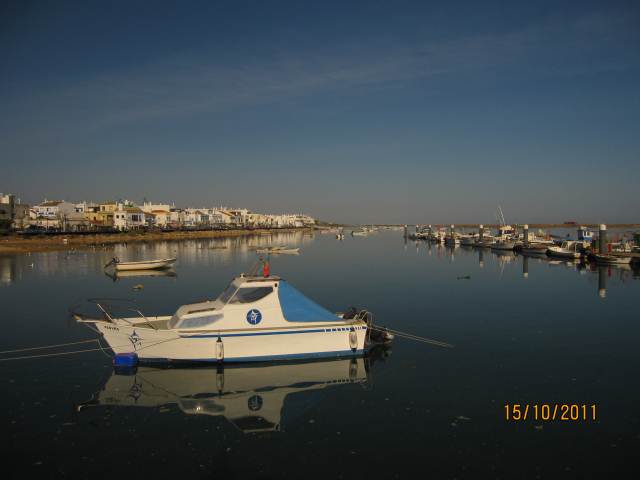 Cabanas-Photographs To Luxury Algarve Apartment

END:Cabanas-Photographs.. ....

...