You will read lower down of other walks in and around the village.Theses walks can make for cheap days entertainment and a welcome rest for ones wallet,or just as likely,purse in these times.We find these walks without use of a car so imagine what other walks are open to those who do have a car and I can tell you that wonderfull places are to be found in a timeless inland.
Look at this for a pleasant walk,just 10 minutes or so from our holiday apartments.So stay in our apartments and you can have many cheap days hiking or just dawdling around just a beautifull and relaxing area.
Walks like this cost you nothing and there are plenty of places to have a lovely picnic.
Don't forget the beaches of Cabanas are no more than 20 minutes walk away.Cabanas itself is 10 minutes walk and then you have a lovely walk on the boardwalk overlooking the lagoon to the boat taxis which will take you to one of the est beaches in the world.
Add to this the little Railway Station with trains taking you just about anywhere along the Algarve,including the Spanish border at Vila Real St Antonio,with its ferry over the Guidiana River to Ayemonte in Spain.You really have a great area to holiday in.
On the way to Cabanas.
Another pleasant scene on the outskirts of CONCEICAO-TAVIRA as one takes a nice stroll down to the waterfront of Cabanas. My wife walks and I am in my wheelchair and it takes us 10 minutes to stroll down to Cabanas and reluctantly I have to say anybody but ourselves would now call us Olduns'. Yes it has arrived on us we have been trying to avoid it but it just creeps up on one. Already a lot of the ones just a little older than ourselves that we used to see regularly over there,we no longer see. I am sure they regret ever buying abroad now.If you cannot visit and cannot sell what use is it.I am glad I decided to set up renting out myself because the agents over there cannot be trusted or they charge so much you end up owing them money.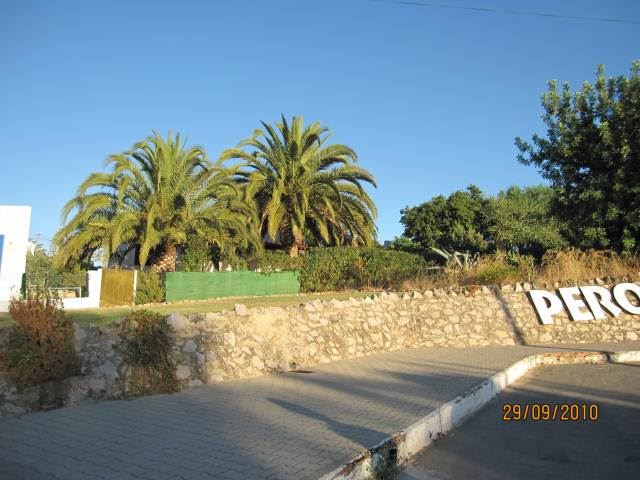 >
Twin Palms in CONCEICAO-TAVIRA
This is the latest picture we have added to this page 11/09/2012. This is a small traditional single storey villa and therefore the epitome of architecture of days gone by.With the advent of double glazing and other advances in modern building this style is not seen so much.Thankfully there is plenty of it in this lovely village.
One can spend many hours strolling around the backstreets admiring and photographing the scenery.This place is for those who want to relax and unwind but have plenty of things to do nearby.Sorry if you want bright lights and nightlife then this just is not for you.
However there are plenty of bars and traditional publc houses giving light entetainment and just 10 minutes walk down in Cabanas you get plenty of street entertainment in the summer months.
Summer is getting longer in this area. Where it used to end right at the end of August it now carries on through september and into most of October and the entertainment is staying on with it.
So CONCEICAO-TAVIRA is a well rounded holiday destination. Relaxing but with lots to do.,p>For me one of its best assets is plenty of short to long walks for those days you want to give your wallet a rest.
---
Another CONCEICAO-TAVIRA original picture which is down by the clubhouse on the golf course.This does make an attractive afternoon (or morning stroll)as mentioned above. There are just so many walks to help keep you active and entertained without spending lots of money.
We think there must have been a little village here,probably before the golf course existed.The church is apparently still very attractive inside.Lovely as this is I cannot help but be sad about the dwellings that used to be here making what must have been a beautifull little hamlet.Still progress will happen and things and places will continue to change,however much we don't want them.
---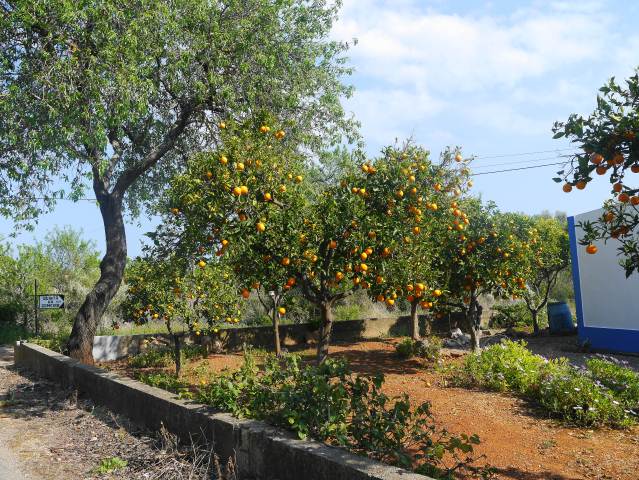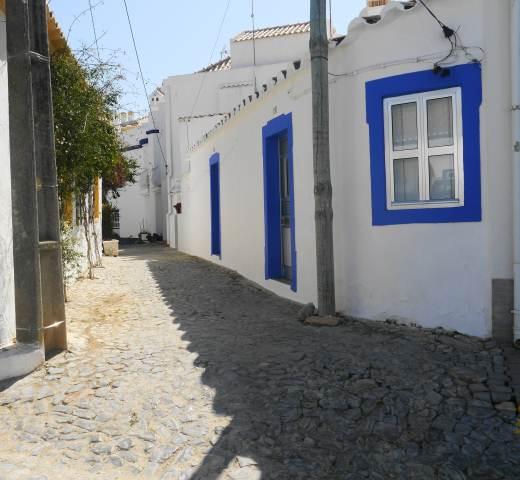 ---
This graphic is in the village of Conceicao, showing a scene as you walk up to the shops.This typifies the classic Portuguese traditional architecture.The blue and white is the traditional colours for Portugal and the Algarve.
Conceicao where you can rent our apartments is in the East Algarve which is in my opinion the most traditional region of the Algarve and also the least spoiled.Those in the West Algarve might want to argue about this.Just my opinion! CONCEICAO-TAVIRA is just charming,whilst still having everything you need.It is not isolated with Cabanas 10 minutes walk and Tavira 10 minuites by the cheap train or by car.The train takes you everywhere along the Algarve and means you can manage without a car.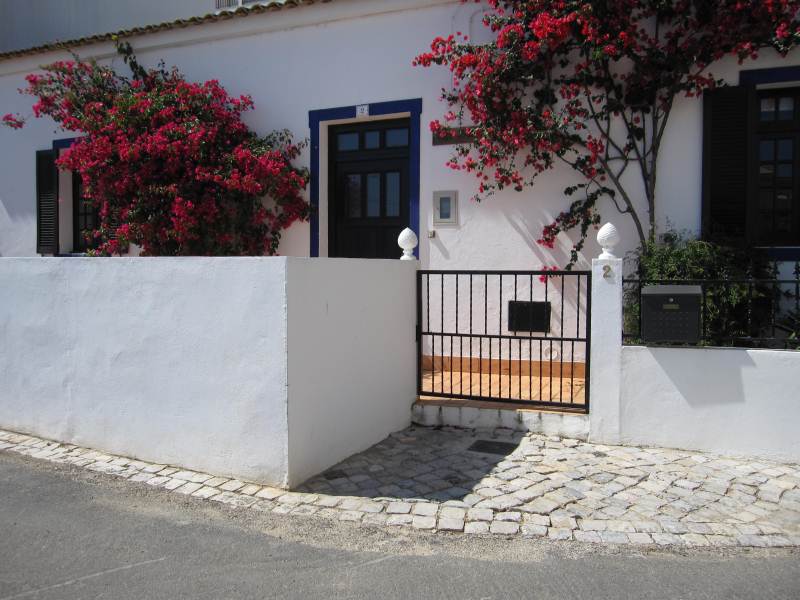 CONCEICAO-TAVIRA is the little village just 4 kms from Tavira and just 1km from Cabanas where our apartments are located.This picture is a typical east algarve cottage.Just a few hundred yards from our apartments.
The new 3 barrels pub with live music some nights is just 5 minutes walk from the apartments.Very popular,adding a new dimension to the holidays here.Scroll down to bottom to see pictures.There is now a public pool with-in sight of the apartments (about 200 yds as the crow flies).It has a restaurant and cafe and a public house called the hairy lemon.Very handy for anyone staying in our apartments.For a little village Conceicao now has just about everything holidaymakers could want.
It is a great little village 15-20 minutes from the Spanish border.In olden times it would have been an important stop off point for traffic going between Portugal and Spain.You can see this in the shops ,bars and restaurants either side of the now quiet road.The new road skirts the village so it is a lot quieter,cleaner and safer.It is now picturesque and a relaxing place to shop or mingle with the cafe and bar culture.
Everything you need is there,just 2 minutes walk from the apartments.Supermarket,bank,post office,local junta offices,cash point,chemist,small general stores,bars,cafes and restaurants.Sounds busy but is more sleepy without being dead.
There are lovely backstreets to wander.With lots of traditional and picturesque properties in typical portuguese architecture to admire and photograph. Follow the village eastwards and follow the road around to the right away from the new mainroad and you will soon find a nice countryside walk.With houses selling local produce and large orange groves.Feeling energetic and a 10 minute countryfied walk will take you down to Cabanas
Quite a few new apartments have been built without ruining the village.Nothing here can be built more than 3 storeys and the new buildings are architectually attractive.Built with wide open roads with lots of gardens;its future as a pleasant little place to stay in a great location is well assured.
With Cabanas just a leisurely 10 minutes walk you can saunter down to all the action at night but be away from the noise when sleep is needed.Last but not least you have the fantastic beaches of Cabanas which has made the area so popular with the Northern Portuguese.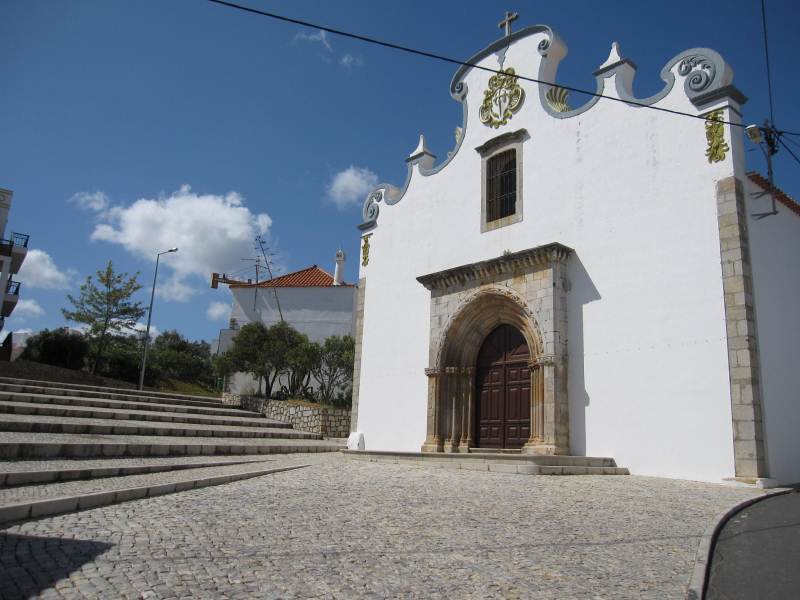 THE LOCAL CHURCH AND SCHOOL.JUST ACROSS THE ROAD FROM OUR APARTMENTS.CONCEICAO-TAVIRA is peaceful but a thriving little,friendly community.You can have an away from it all break with everything you need right on hand.Cabanas and its beaches is just ten minutes walk.Twenty minutes to the boat taxi which takes you over the lagoon to the island beach.Then the large town,small city of Tavira is just ten minutes by car or on the train.It now has a nice modern shopping mall.Shops in the village are 3 minutes walk from our apartments.You will find a cheap supermarket,fish and seafood shop,doctor,chemist,dentist,local store,diy/hardware store,newsagent and hardware shop,cafe and bars.Then there is the local council offices and bank/cash machine.Finally for the sporty you have Benamor golf course.The Spanish border 20 minutes drive,or about the same on the train.Seville can be done in less than 2 hours.Also very handy is the little booking office for tours and trips to Lisbon and Seville and all over the Algarve.You can make trips to the markets of Tavira and Loule.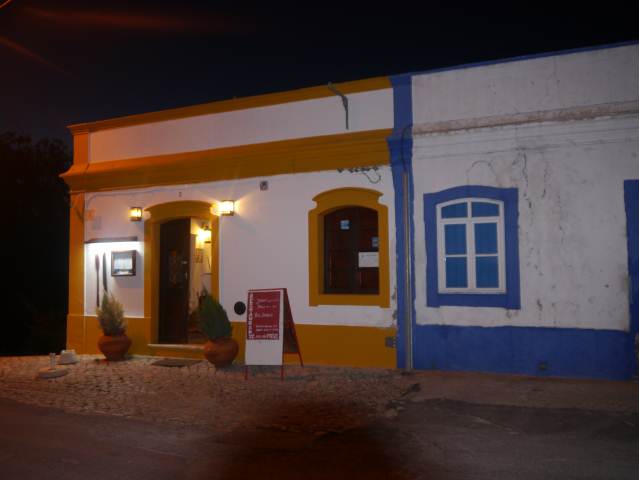 CONCEICAO-TAVIRA,little yellow and white charming and cosy retaurant in Conceicao.This is a romantic little restaurant and the type of place to have a meal the night before you go home.It used to be owned by a very nice older lady who did lovely food.
She just "uppped and was gone",about 2 years ago and we never did find out why,or what happened to her.She probably just retired.
Anyway we think a younger couple took it over but have to confess we do not get out at night anymore (being old and decrepit). If it is anywhere nearly as good as it was before it will be good.
It is like a little landmark in the village you simply cannot walk past without noticing it. It is one of two restaurants in the village,the other being more "cheap and cheerfull" but still good food.More your everyday sort of diner but perfectly adequate for an inexpensive evening meal.
Of course there are less grand bars which do great snacks and there is the community cafe which is one of our favourite places to while away a lazy afternoon with a cool lager,or a large inexpensive gin and tonic or Portuguese brandy. Life is just so different over here,it is lazy and even non drinkers like us,when at home,enjoy a few drinks.That is how it should be when on holiday but not always is.
The Algarve sunshine and special Atlantic air seem to insist on making even the most dedicated worrier relax.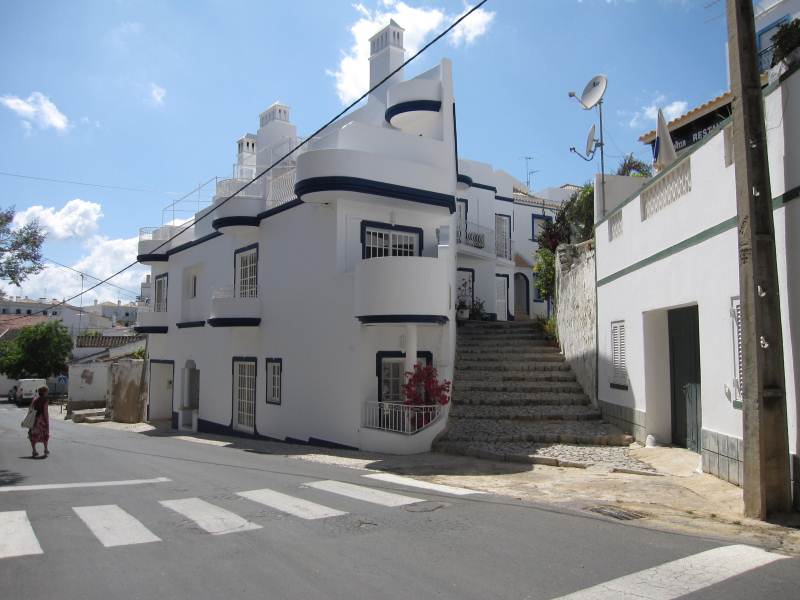 Above a nice example of a back street in CONCEICAO-TAVIRA.Lovely example of Portuguese architecture and the traditional blue and white decoration;which does look so attractive.More examples of this can be seen down in cabanas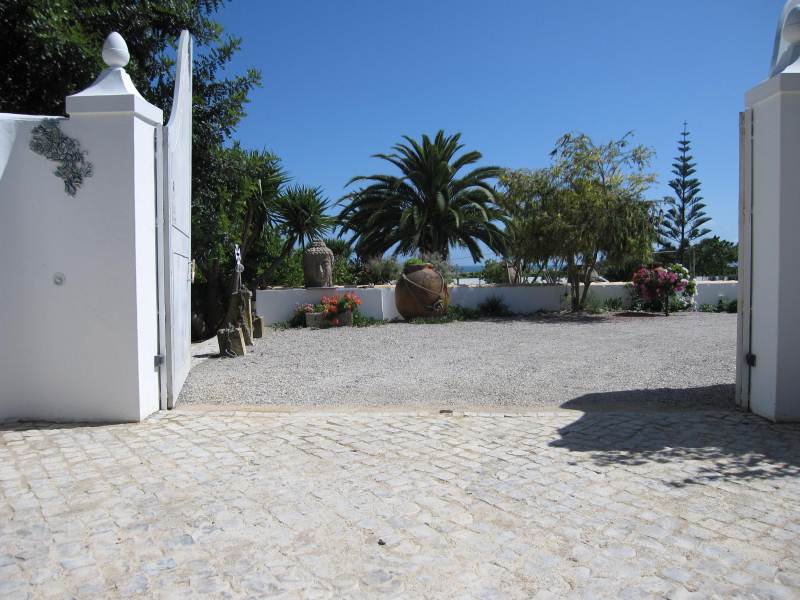 GREAT BIT OF SCENERY IN THE LOCALITY.GATEWAY INTO A PRIVATE HOME.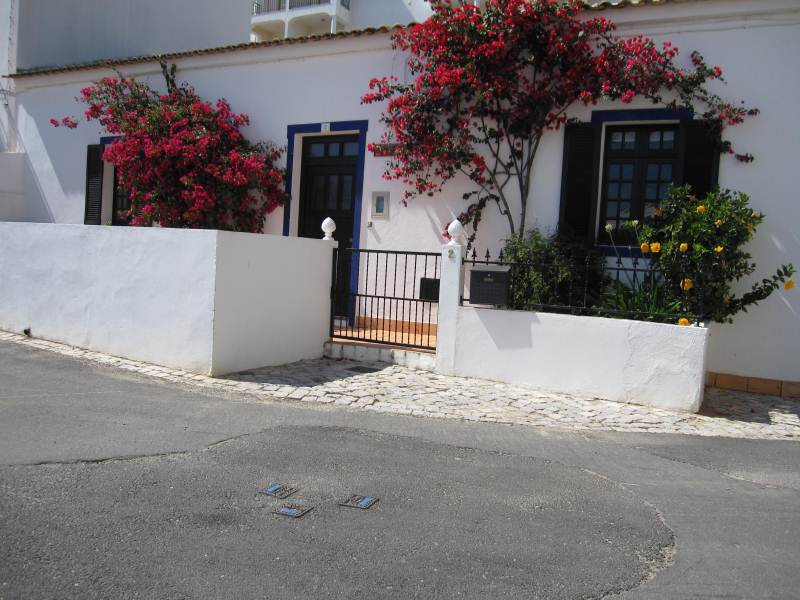 Slightly wider view of the colourful house on the square.We always stand and stare here.It does not get any better!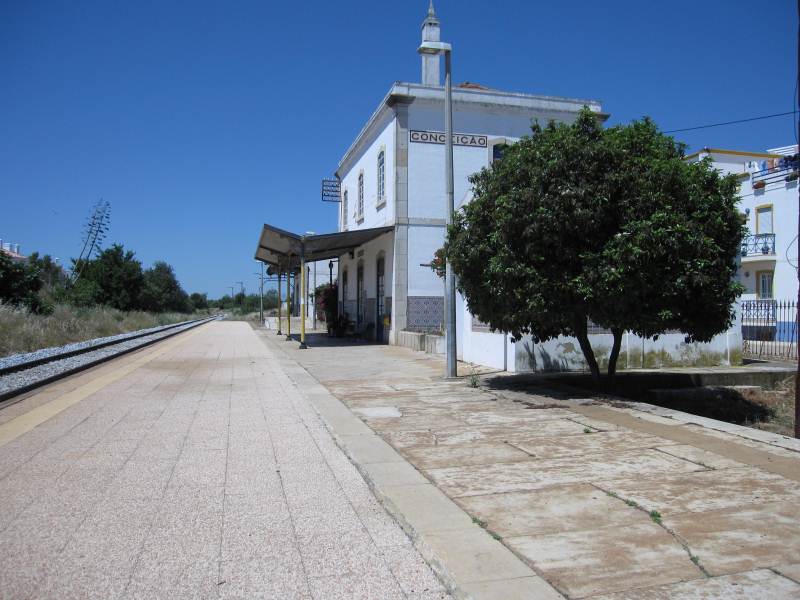 CONCEICAO-TAVIRA this is the little railway station just 2 minutes walk from our apartments.This is very cheap to use and will take you just about anywhere on the algarve. It means you can have a holiday free of the car.Give it a go you will see a lot more.
Add Url To Directory
Add url to our directory, your website will be increased search engine ranking, page rank & link popularity
Links and Directory for Travel websites and more.Linking program for increasing link popularity for business
CONCEICAO-TAVIRA TO VILLAS & APARTMENTS TO RENT WORLDWIDE
Very close to our two apartments in CONCEICAO-TAVIRA this traditional white and yellow cottage,certainly brightens up the area.I say traditional,it is traditional in build.The traditional colours though are a deep blue and white painted walls but this yellow and white works just as well.Just up behind this cottage you can see some apartments and this is where the public pool is situated.Swimming pool with a cafe and restaurant and the "hairy Lemon" Pub'. apparently there is also an internet cafe here as well.It is supposed to be really nice but have to admit i have not been able to go in and see it as there is no wheelchair access.I am certain the council insist on very high standards which is more than can be said for condominium pools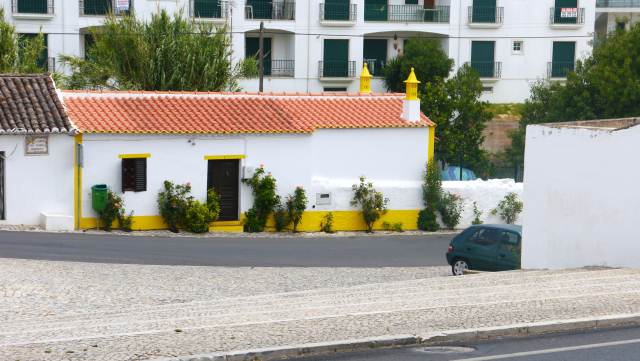 ---
Here we see CONCEICA-TAVIRA at night,we tend to add the Tavira so to distinguish it from the other Conceicao near Faro and the airport.The roadway and the buildings in the photograph are the first of two entrances into the Urbanizacao do Lagar,which is the estate where our apartments are located.In fact our 1 bed is right opposite these buildings.
As you can see Conceicao is well lit up at night and the roads on the estate are all really wide,giving the estate a nice open feel and aspect. Cabanas of the famed beach ios just 10 minutes walk down the road.
CONCEIOCAO-TAVIRA has all the shops you need for a good holiday.Vital is a good but cheap supermarket,a decent and friendly cafe and a couple of restaurants.Then there are numerous cheap bars and a local small store,newsagent and hardware shop.Must not forget the chemists and a very handy dentist.
It might be a small village but it has plenty going on! The reason it is so well serviced is because it is on the main ropute through to Spain.That main road skirts along outside of the main village road.so you can walk safely throuigh the main street of the village,oblivious to that busy main road.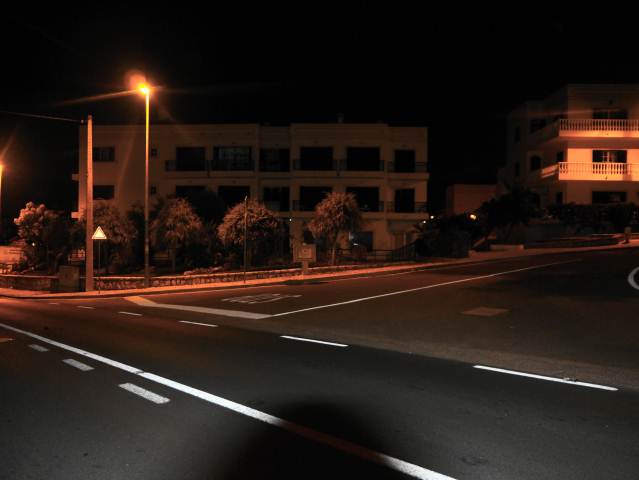 ---
The Fountain in the Square That the Pub overlooks.CONCEICAO-TAVIRA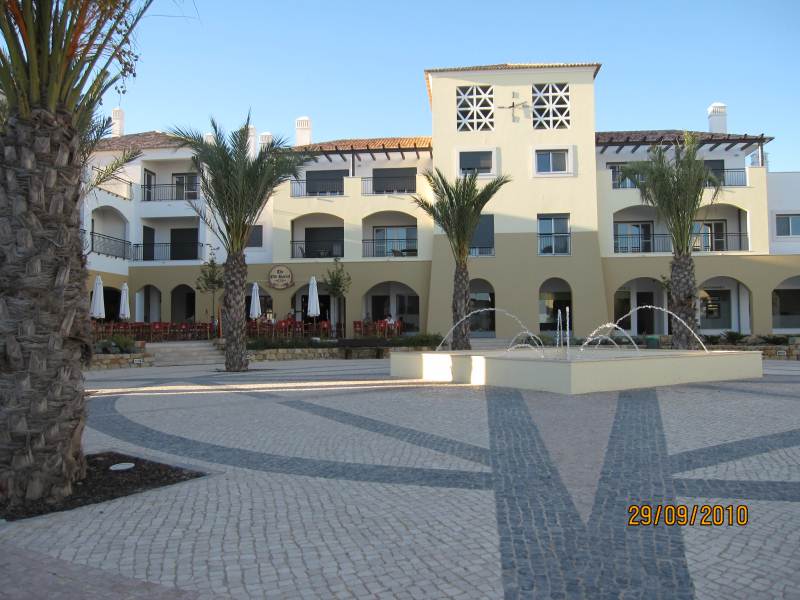 View Across Square to the Traditional pub.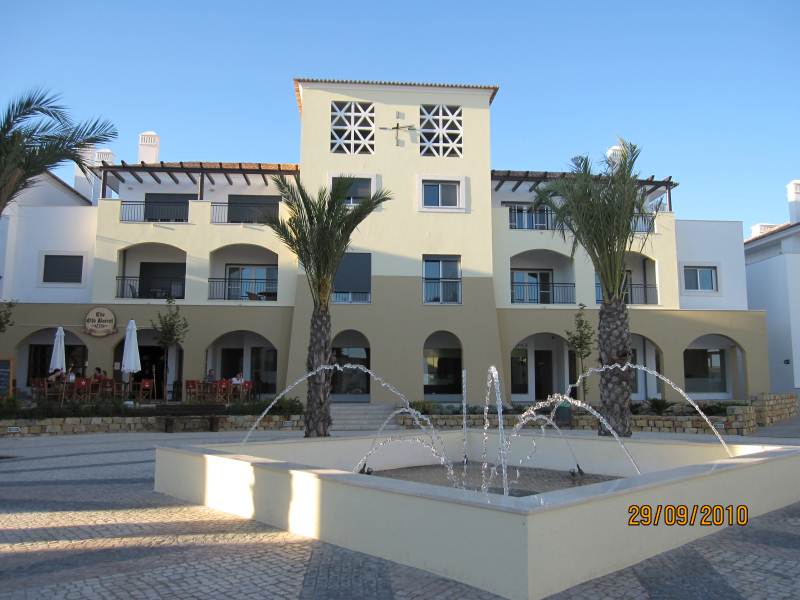 Looking Through the fountain in the Middle of the Square.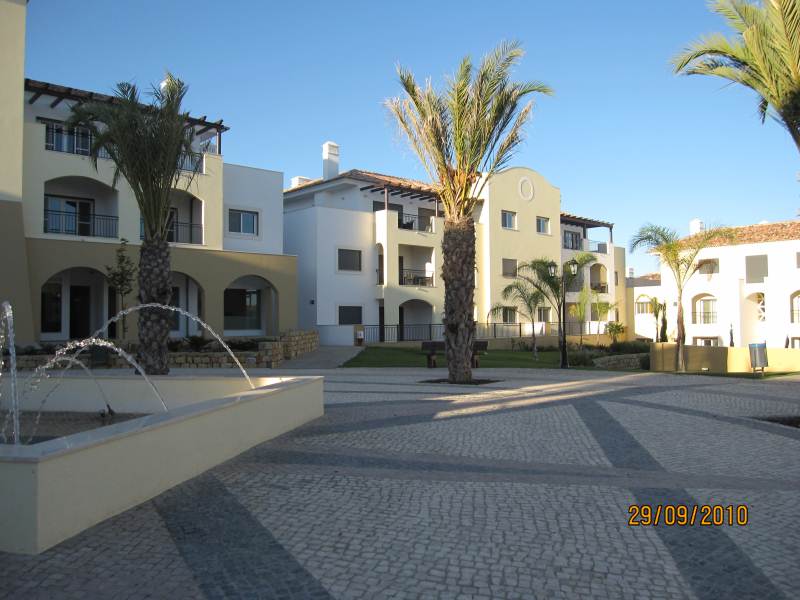 Palm Trees on the Square outside The Broken Barrel
Below a scene on the local golf course.If you do not play golf it makes a nice walk of 1.5 kilometers.
Great Countryside Walk
When on a long holiday the spending money can get a little stretched and you need some cheap days which cost you next to nothing.One can only lounge around the Rental Property only so long.
What is needed is some sort of gentle activity which costs nothing to partake in. This is where CONCEICAO-TAVIRA scores really well.It has numerous walks which are fun and interesting and long enough but not too long.
This Graphic shows part of a walk which starts at the apartments,goes through the shopping area of the village and then winds around the backstreets amongst some nice traditional cottages and posh villas.The picture shows where the walk moves out of the village into virtual countryside. You can see the quaint little cemetery upahead which is most unusual and well worth having a wander around.Depending on how far you want to walk you can carry on past fields of ancient olive trees and a large Orange grove. You can cross the railway line and walk about another kilometer down to the waterfront of Cabanas.You can then walk along the boardwalk and take a right turn up to CONCEICAO-TAVIRA. The full walk just described is probably is probably getting on for 4 kilometers and the final bit from Cabanas up to the apartments is uphill.So you want to be fairly energetic to take on the complete walk.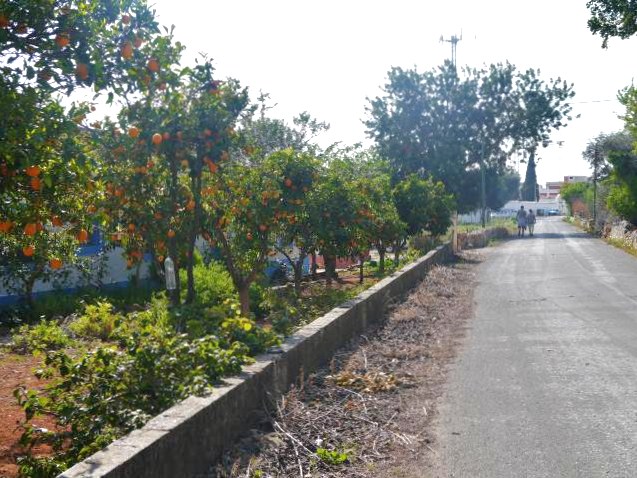 CONCEICAO-TAVIRA original graphics .Below a scene on the local golf course.If you do not play golf it makes a nice walk of 1.5 kilometers.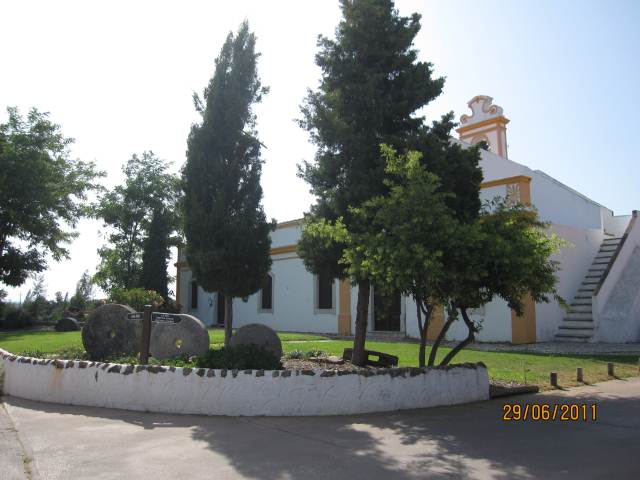 This has to be one of the nicest short walks in CONCEICAO-TAVIRA.It is on the local golf course Benamor.If you like golf this is a stunning and greatly respected golf course.If not they do not mind you walking around and one of the rewards,apart from the glorious scenery,is the lovely club house where you can get a coffee or nice cold drink.
The scenery is superb making for a great afternoon stroll.You will have views of the Atlantic Ocean in one direction and the Algarve mountains in the other inland direction.For those who love their nature you will see a great many very mature trees in the gently rolling countryside.(p>You will find ancient Olive and Carob trees with gnarled trunks of great girth.Also you will find Almond trees which at certain times of the year are a mass of pure white blossom.Your walk could be greatly increased if you sride off the tarmac road and onto the rolling grassy slopes,avoiding the fairways and greens of the golfing areas.This could then be a good long countryside walk.
We come over to Portugal often as we have 2 rental apartments here (see them on the blue buttons on your left.Near top of the page)so we are always looking for inexpensive things to do to preserve our euros.So to find this walk was fantastic for us.There are plenty of other good walks around the village.

CONCEICAO-TAVIRA walks 2
Another nice little walk is to the local pottery,which is well worth a visit on its own.It is probably just over 1 km walk
Leaving the apartment you walk up to the golf roundabout and head in the Faro direction.You will be on a busy main road but it is quite safe as on both sides of the road are cycle and Paedestrian lanes separating you from the traffic.You will go past the white water tower on the Benamor golf course and a lot of the walk is downhill.So uphill on the way back I am afraid,just tell yourself it will be good for you."Burn off some Calories"..
Either side of you is mainly wild countryside.You will cross a bridge and it is worth stopping here to admire the River/Stream depending on time of year.It meanders most attractively.
If you are patient you might spot some fish in the sparkling water and often ducks and other wildlife can be seen from the lofty position on the bridge.
You will be able to see the pottery up ahead now as the road is now flat and straight.You will need to cross the road now but you can do this quite safely if you do it on the straight section well before getting to the site.On this straight section you can see a long way in both directions.
The pottery is quite big and you will see an amazing amont of pots,cast animals,stone or concrete seats and tables,plus many large and small ststues.In fact just about everything for all size of gardens.
Outside is the larger stuff and inside more delicate plates and cups,bowls,egg cups and many traditional Portuguese pottery ware in the bright cheerfull colours they always use.
You will be able to have lunch and a nice drink in the pleasant cafeteria.Then around the back is a large netted shade tunnel full of bright flowers and plants.There is plenty to see and keep your interest even if you do not wish to buy.We always enjoy this walk and we think you might do to!
CONCEICAO-TAVIRA.To worldwide holiday rentals.Direct from the owners.
CONCEICAO-TAVIRA END OF PAGE...
CONCEICAO-TAVIRA